Choose among our three offerings: Brunch Box, Gourmet Box or Comfort Box. These themed meal kits include dishes ranging from bold to revisited classics, ideal for giving yourself a break from cooking. You'll have everything you need to spend precious moments together around the table, including for Valentine's Day and the upcoming March Break. Ready to enjoy?
Brunch Box
It's the weekend, so why not sleep in a bit and wake up later in the morning? With our Brunch box, you have everything you need to make the most of a lazy Sunday. And be sure to enjoy this gourmet brunch in your pajamas! $65 for two people or $130 for four.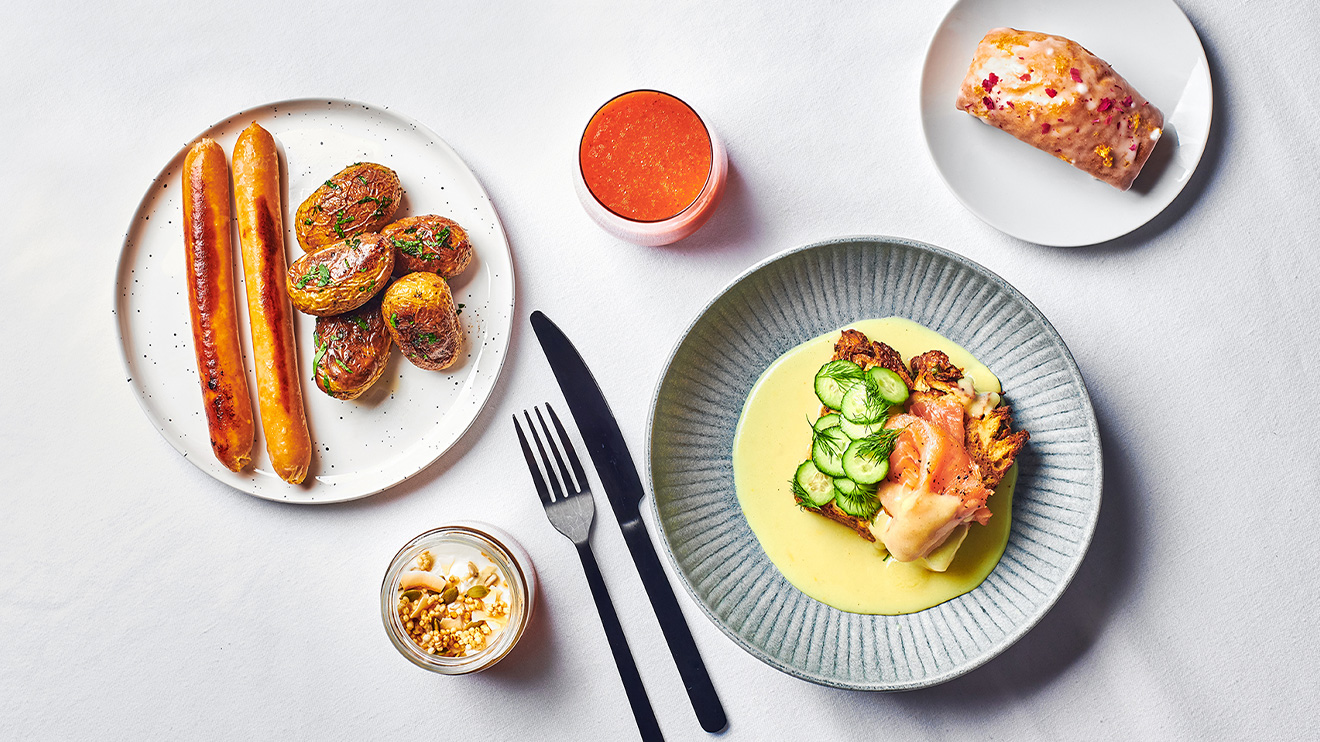 The Brunch Box includes:
DRINK
• Mango, orange and strawberry smoothie (additional $)
MAIN
• Croissant French toast with herbs, smoked salmon, lemon hollandaise sauce and dill cucumber salad
SIDE DISHES
• Ferme Gaspor breakfast sausages
• Roasted Gabrielle potatoes
• Sweet clover yogourt, apricot compote and quinoa-coconut granola
• Grapefruit loaves
Gourmet Box
Since you can't visit our restaurant for the evening, bring the Café RICARDO experience directly to your home! With our epicurean meal kit, you have the opportunity to enjoy a finely prepared meal, made with local artisanal ingredients. $90 for two people or $180 for four.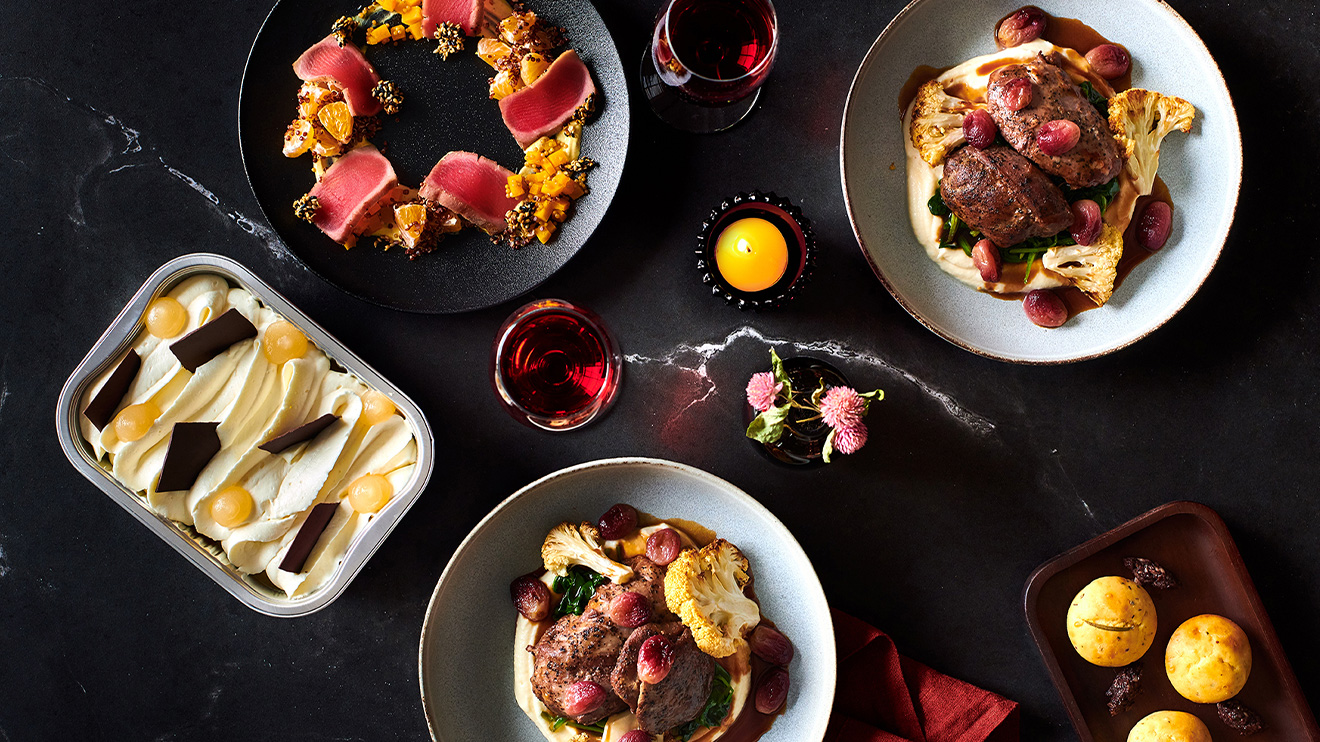 The Gourmet Box includes:
APPETIZER
• Olive oil cakes, olive and sunflower seed tapenade
STARTER
• Sustainable tuna tataki, citrus quinoa, pickled squash, grilled sesame and curry yogourt
MAIN
• Braised pork cheeks from Quebec, bordelaise sauce and roasted grapes
SIDE DISHES
• Cauliflower purée with butter
• Roasted cauliflower with spinach
DESSERT
• Mousse cheesecake with sweet clover, pear, buckwheat and caramel
Comfort Box
After having hit the slopes or enjoyed a long walk in the snow, there's nothing like enjoying the simple pleasure of a comforting and cozy meal. Picture yourself in a log cabin and warm up with this hearty kit! $70 for two people or $140 for four.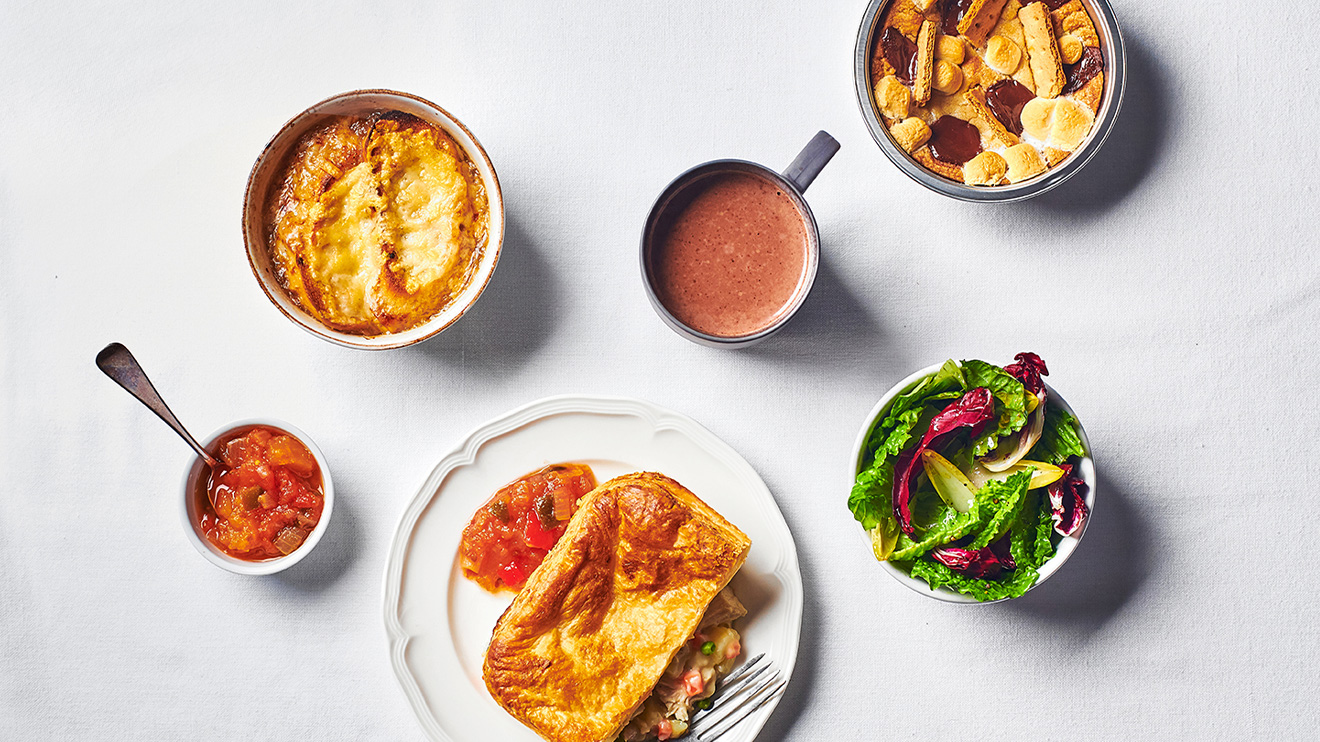 The Comfort Box includes:
DRINK
• Homemade hot chocolate mix
STARTER
• French onion soup, gratinéed garlic croutons with Louis d'Or cheese
MAIN
• Poultry pot pie, buttery puff pastry, green peas and celery
SIDE DISHES
• Vegetables and honey vinaigrette
DESSERT
• Warm and chewy s'mores cookie
How to order
Our meal kits come in two formats, for 2 or 4 people, and are made with fresh, local ingredients. The boxes are only available via online order. Cooking instructions are included, and you can complete your meal by choosing from our selection of beers, wines and sodas.
How to pick up
Pick-up information available at cafericardo.com.
Upon ordering, choose your preferred pick-up date and time.
Everything will be ready upon your arrival. Pick-up is safe and easy.
Please note that no payment will be made in person. Payment can only be made during online ordering.
We also offer home delivery across the Greater Montreal Area for $15.
We're deploying a lot of love and energy into putting together these meal boxes, no matter the season or the circumstances. And we promise: We will continue to be there for you, no matter how long this situation lasts! Once again, thank you so much for your continued loyalty and support.