"A turkey roast is a must-have, especially when it can be cooked straight out of the freezer! For our family, turkey is a classic meal and I hope it will become one in your home as well." – Ricardo
Seasoning
Boneless, seasoned and stuffed with ground pork, caramelized onions, sliced apples and bacon, this turkey roast feeds a crowd and goes from the freezer to the oven in a snap.
Cooking instructions
All you have to do is set the temperature of the oven, line a baking sheet with aluminum foil, and place a baking rack on top. Placed the roast on the rack and brush it with vegetable oil, then let the frozen roast cook for about 2 hours, until the center of the stuffing reaches the internal temperature indicated on the package.
Ready to serve
After covering the roast with aluminum foil when it comes out of the oven, let it rest for 15 minutes. Then, remove the string and cut it into slices. We like to accompany this share-worthy meal with creamy mashed potatoes, greens and a traditional gravy.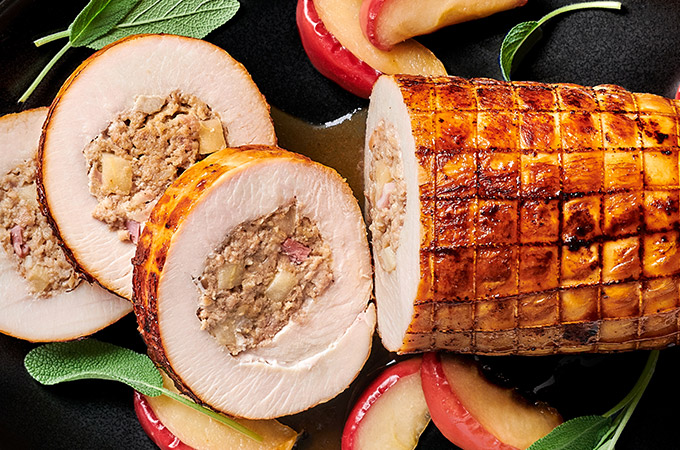 Sold in a family size of 1.2 kg, our stuffed turkey roast is perfect for all occasions. Find this family-style dish—made in Quebec—in the meat section at your IGA store.