There's nothing more Canadian than the doughnut hole. Glazed, stuffed or dusted with sugar, these pillows of sweetness are the ultimate one-bite treat. During the rush of the holiday season, it's tempting to buy a box for the dessert table, but where's the fun in that? Making merry is key, and the RICARDO Test Kitchen team truly took that message to heart with our latest cover: the Doughnut-Hole Tower!
Our hole-in-one take on the croquembouche, a French dessert traditionally made with choux pastry balls, will not only be the showpiece at your dinner party—it will have your family and friends talking about it for years! It took five tries before our persistent kitchen team got the tower just right (each doughnut hole layer needs to be placed at just the right angle) so we created a step-by-step guide so you can get it right the first time, on page 111!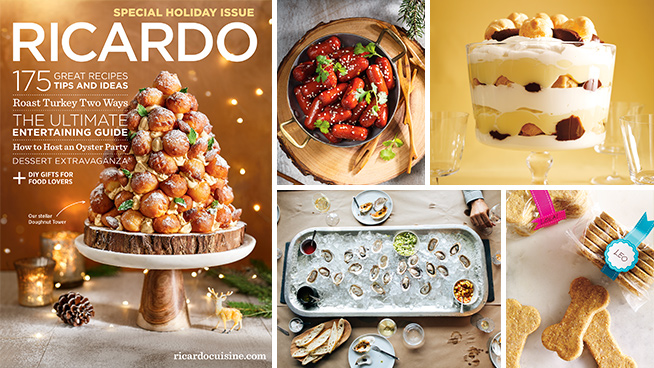 Be warned: the recipe calls for more scrumptious doughnut holes than you may need, but a little restraint is key: you don't want to be missing the last one on top because you ate one too many! When you've assembled this towering masterpiece, show us the final result—be sure to take a photo and share it with us on our Twitter or Facebook page.
And if more holiday recipes are what you seek, check out our complete holiday survival guide starting on page 84. Our favourites? A sweet and tangy holiday punch, roast turkey two ways, and a savoury and flaky salmon koulibiac. And we also gave the cheese ball and cocktail sausage a retro twist with a jalapeño kick and a pecan crunch (the former), whereas the latter gets its sweet tang thanks to a lashing of General Tao glaze.
Also in this issue:
- We decided to shuck things up with an oyster party this year. John Bil, champion oyster shucker and owner of Toronto fish counter and restaurant Honest Weight, recently stopped by RICARDO Headquarters to show us his shucking skills, so we decided to host a BYOS (Bring Your Own Shucker) party! Fresh oysters, from raw to fried to topped with chorizo and cheese, flowing bubbly, good company: it made for a special holiday get-together between friends. Host your own oyster party this season (page 44).
- While we never tire of reinventing nostalgic holiday desserts (this year, we covered our yule log with maple-pecan white chocolate shards!), sometimes we seek inspiration from elsewhere. We travelled across the pond and took a cue from our British friends, whose seasonal staple is the crown jewel of all desserts: the trifle. Tier after tier of sweet and creamy goodness, we added our own twists with brownies and bourbon drizzled in sweet and salty caramel, and a slightly tart, bright red cranberry and raspberry version. (Check out the decadence, starting on page 131.)
- Now that we've done the holiday menu planning for you, there's the little matter of gifts. Shopping for the perfect present for everyone on your list can be quite the endeavour so, as our gift to you, we whipped up five simple and delicious gourmet DIY gift ideas. Even your BFFF (Best Furry Friend Forever) can be on the receiving end of the annual gift exchange: we've got a six-ingredient doggy biscuit recipe Fido will dive right into. Just be sure to unwrap the packaging for him first…
We wish you and yours the best holiday season ever!
Our holiday issue hits newsstands on November 9. You can also find our tablet issue, available on Texture by Next Issue.