We all didn't think this moment would ever arrive, but it finally has! It's summer!
As the days get longer, backyard barbecues and picnics in the park become our preferred ways to enjoy a meal with loved ones. Ricardo knows this: some of his best memories, after all, consist of summer evenings simply spent in the backyard. So in this issue—your ultimate warm-weather reference for the next three months—we've packed tips and recipes to take with you this summer… and summers for years to come!
For example, our Portuguese-Style Grilled Chicken (p. 30) will quickly become your barbecue's new BFF. Tender meat, crispy skin and a spicy kick, it's a recipe comparable to those found in restaurants, so you'll be extra proud to share this dish with your loved ones this season.
We also pay homage to summer picnics, a celebration of food and sharing. Starting on page 49, we see that the love for the outdoors is still alive and well, so we've taken a few barbecue classics and provided you with picnic-friendly advice so that you can enjoy them outside the kitchen. From a veggie and deli meat filled muffuletta sandwich (perfect for sharing!) and garam masala chicken skewers, to sides like a classic egg and potato salad, these are reason enough to get out and enjoy all the parks Canada has to offer.
A feast in the park doesn't come without a few rules. After all, you want to take the worry out of eating outdoors, so we've provided you with the ultimate survival guide to ensure a fun (and safe!) time. There are packing tips, advice on keeping germs and bacteria at bay, a list of foods you must keep in the cooler, and more practical info you can use.
And with that, you can now pack up that picnic basket and go! But before you do, be sure to charge up your smartphone, because we want visual evidence of your epic summer spent outdoors. So be sure to snap lots of pics of the tasty recipe attempts you'll be making this summer. And don't forget to use our #ricardocuisine hashtag on Twitter and Instagram!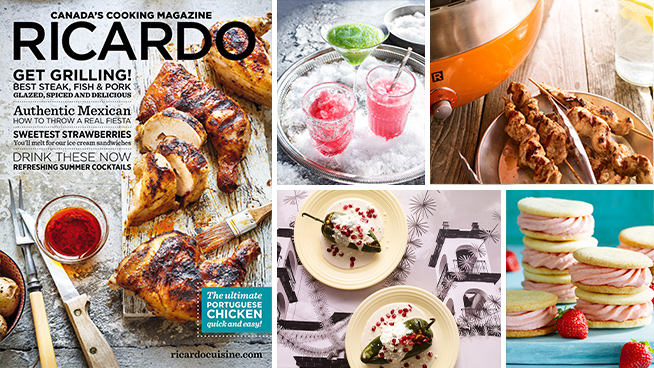 (Clockwise from left: Our smokin' summer cover; some slushy cocktails, perfect for your next patio party; sizzling and spicy garam masala skewers; classic frozen strawberry parfaits with a sandwich twist; and stuffed poblanos for your next fiesta.)
Also in this issue:
- Patio season is here: ready to get boozy? We sought the advice of some of Canada's top mixologists about the hottest trends in… ice? That's right! While ice normally tends to take a backseat when it comes to cocktails, we're placing them front and centre in our summer drinks feature, starting on page 76. From crushed ice in a classic Mint Julep to scraped ice in a for-adults-only Cosmo Slush (Ricardo's favourite!), we've got the coolest drinks to try this summer, and tips for a n'ice and successful execution.
- Who doesn't love Mexican food? No, we're not talking about Tex-Mex… but actual authentic fare. Our six featured recipes are rich in flavour and bursting with colour, ready to add some international flare to your next patio party. From poblano peppers stuffed to the brim and topped with a creamy walnut sauce, to a refreshing and surprising avocado ice pop (don't forget that squeeze of lime juice!), we're taking you on the culinary journey of the summer. Come join our fiesta on page 95.
- Is there a better summer feeling than biting into a fresh, juicy strawberry? Given they're a seasonal bounty simply begging to be put to work, we made sure to make the most of them in our recipes starting on page 112. From a no-cook berry jam (paired perfectly with our pillowy doughtnut knots) to frozen strawberry parfait sandwiches, we're berry excited to share them with you.
Our summer issue hits newsstands on June 13. You can also download our iPad edition, available on the App Store.