Decorations are starting to go up and festive music is in the air; yes, the holiday season is upon us! This also means that in the coming weeks, your stress level may start to go up. But it doesn't have to!
Truly, holiday hosting doesn't have to be a taxing event, and that's what we're showcasing in the holiday issue of RICARDO. It's filled with recipes and tips that'll facilitate the cooking and baking process, and help you bring back the simple pleasure of being together during the festive season. So relax, and let us show you how to ease your holiday workload and still pull off a glorious feast… it's easier than you think! After all, turkey is just a big chicken.
Which of our recipes will you attempt this holiday season? And what will you do with all the free time you've saved? Show us by posting your festive photos to Twitter and Instagram. And don't forget to use our #ricardocuisine hashtag!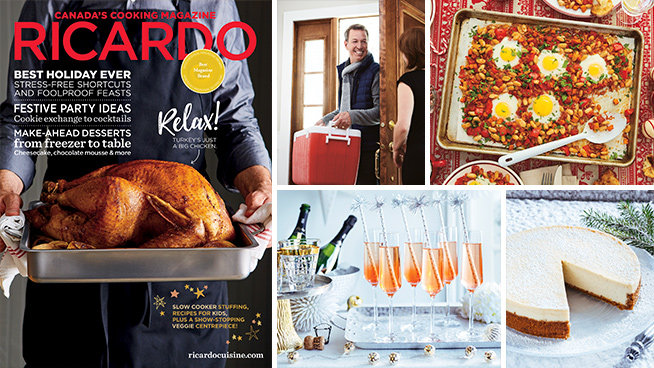 (Clockwise from left: Our holiday cover; Ricardo makes a surprise holiday visit, gift included; a warm egg and bacon dish is the star of your Boxing Day brunch feast; bake and freeze this eggnog cheesecake for later; and cap off the holiday season with a festive toast to the year ahead.)
Also in this issue:

- Want to bring some holiday cheer to all the special people in your life? Starting on p. 43, we've got four gift basket ideas that are absolutely easy to put together. From a muffin mix gift box to welcome wagon of bread, wine and salt for the new neighbours, you'll truly get into the spirit of giving this holiday season.
- The holidays are all about bringing people together. But how does one offer a memorable time without all that hosting angst? Check out page p. 83 for three simple ways to create lasting memories: a cookie exchange party, a Boxing Day brunch, and a classic NYE cocktail party.
- You've got your holiday menu planned, but what about dessert? We'll admit that the last course can become an afterthought, but it doesn't have to be when you can whip something up days, or even weeks, in advance! From an eggnog cheesecake to chocolate mousse cake, we've got five freezer-friendly desserts on p. 142 that you can just thaw and serve!

Our holiday issue is on newsstands now. You can also download our iPad edition, available on the App Store and TEXTURE.