Once the new year hits and that credit card bill shows up in the mail, you know it's time for some post-holiday damage control. Stretching your dollar doesn't have to come with sacrifices, and we've got a few tricks up our sleeve to share with you.
From saving scraps to making cheap ingredients taste great, a hearty meal doesn't have to come at a hefty price. So we've compiled a slew of recipes that'll simplify dinnertime, as well as shave a few bucks off your grocery bill. Pork tonkatsu breaded with saltine crackers you already have in your pantry? Check! A honey-spiced ham that pulls double-duty? You've got it! And we've got can't-miss pro tips from Canadian chefs on how they stretch their food budgets.
How will you save money in the kitchen this year? We'd love to hear a few of your own tried and true tricks! And if you'll be attempting a few of our money-saving recipes this new year, be sure to post your photos to Twitter and Instagram. And don't forget to use our #ricardocuisine hashtag!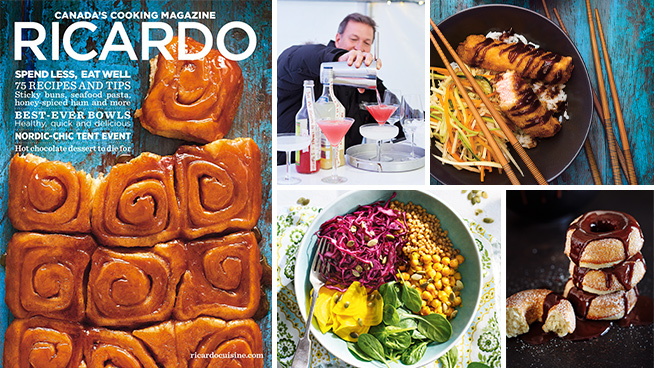 (Clockwise from left: Our winter cover; Ricardo plays bartender at his daughter's Nordic-inspired birthday party; our saltine cracker pork tonkatsu is the ultimate cheap eat; you won't be able to resist a churro-inspired doughnut drenched in hot chocolate sauce; and a super-colourful bowl of wheat berries, chickpeas and pickled veggies will chase away the winter blues.)

Also in this issue:
- Everything tastes better in a bowl. Case in point: our five flawless recipes that are bursting with flavour. From a quinoa salad bowl that utilizes last night's chicken leftovers to a breakfast rice pudding that'll start your day on the right foot, get ready to be bowled over, starting on p. 81.
- Hot, meltingly, and messy chocolate… Drooling yet? During the cold winter months, comfort comes in the form of a gooey chocolate soufflé or a piping mug of hot chocolate. So we've whipped up five decadent chocolate delights, with extra melt factor. Grab a napkin and head on over to p. 96.
- Last February, Ricardo's eldest daughter, Béatrice, turned 18 years old. Not one to let such a milestone slide by, the family surprised her with a Nordic-inspired birthday party… held in a car shelter! How did they transform a plain white tent into a winter wonderland? All the recipes and décor tips you need begin on p. 67.

Our winter issue is on newsstands now. You can also download our iPad edition, available on the App Store and TEXTURE.
SaveSave