Now that winter's in the rear-view mirror, our plates (and bowls) are filled with sun-sational possibilities.
On the menu? Classic sugar shack flavours (but with an Asian twist!) in our maple-glazed pork belly tart; seasonal asparagus with a creamy carbonara sauce; local crab served atop savoury silver dollar parsnip pancakes; and more!
Yes, this season is all about colourful ingredients, bright tastes and fresh takes on classic dishes.
If you decide to spring forward with one of our new seasonal recipes, be sure to post your photo to Twitter and Instagram. And don't forget to use our #ricardocuisine hashtag!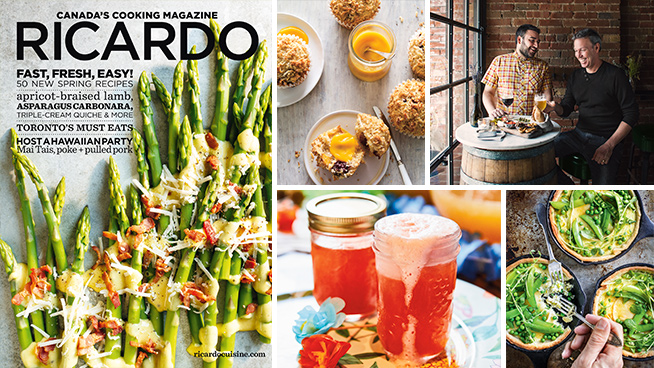 (Clockwise from left: Our fresh and vibrant spring cover; mango, coconut and blackberry muffins with mango butter; Ricardo with Julian Morana of Toronto's Birreria Volo; brunch-worthy triple-cream and leek mini quiches; and a passion fruit limeade volcano both kids and grown-ups alike will love.)

Also in this issue:
- When spring break at home involves funky décor, colourful drinks and a Hawaiian-inspired menu (hello, poke nachos and guava cake!), the only response is: Lei it on! Grab a Mai Tai and check out the luau on p. 70.
- Where should you eat in Toronto? The food scene in the 416 is the best it's ever been, so restaurant critic and Top Chef Canada: All-Stars judge Chris Nuttall-Smith answers our initial question with a whirlwind food crawl of the city. From mom-and-pop gems to transcendent tasting menus, head on over to p. 116.
- We can't think of a fruit brighter than the mango. Sweet, refreshing and with that telltale yellow hue, we knew it'd fit right in with our spring issue. We took the king of fruits to new heights, whipping up five vibrant desserts (starting on p. 100) like a refreshing mango-lassi ice pop and delectable mango squares.

Our spring issue is on newsstands now. You can also download our iPad edition, available on the App Store and TEXTURE.
SaveSave
SaveSave