1. BOSSA Prêt à Manger
This is a real institution in the heart of Verdun. BOSSA Prêt à Manger is a grocery counter filled with Italian products, but above all it's a gourmet sandwicheria. Try out the Diavolo, a stacked sandwich with salami, calabria, capicollo, fontina, provolone, lettuce, tomatoes, banana peppers, pickled red onions, aioli and giardiniera. For an even more gourmet experience, add a little Fiore di Latte cheese. Too much? Never!
4354, Rue Wellington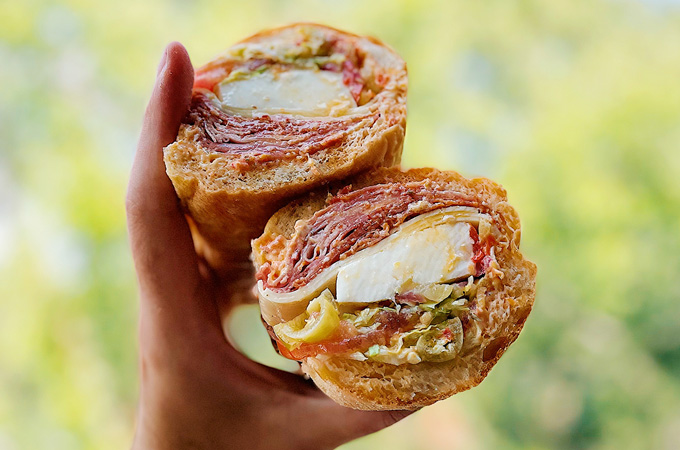 2. McKiernan
McKiernan is always a fun experience. A luncheonette-rotisserie-canteen, this place offers endless possibilities. Nothing is overly complicated and everything is executed with thoughtful elements and ingredients. Make a detour for their infamous Muffuletta marinara, served with mortadella, salami and ham, mozzarella cheese, tomatoes, crispy lettuce and pickled eggplant. Pickled peppers and marinara sauce accompany this whopper of a sandwich.
5524, Rue Saint-Patrick, # 200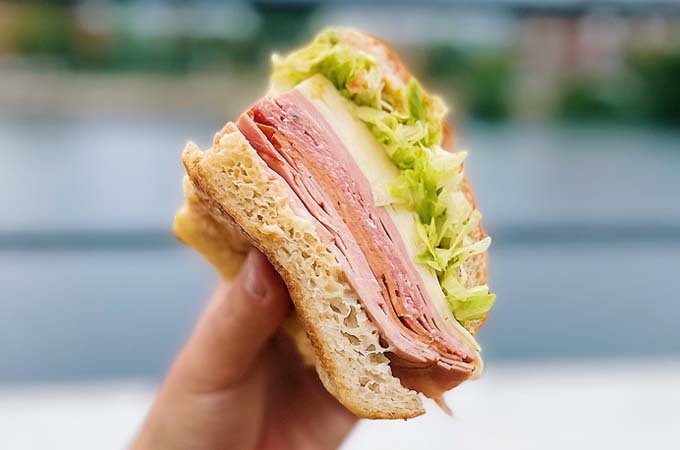 3. Elena
Elena's hoagies are certainly one of my best memories from last summer. With sandwiches that vary every day or week (and some classics that stay à la carte), visiting this establishment quickly became my summer weekend must. The bread, made with sourdough pizza dough from the restaurant, is flavoured in an "everything bagel" way, and my choice offering comes with meatballs, tomato sauce, mozzarella, banana peppers and basil. These sandwiches make visiting this Saint-Henri borough restaurant a must.
5090, Rue Notre-Dame Ouest (entrance at the back)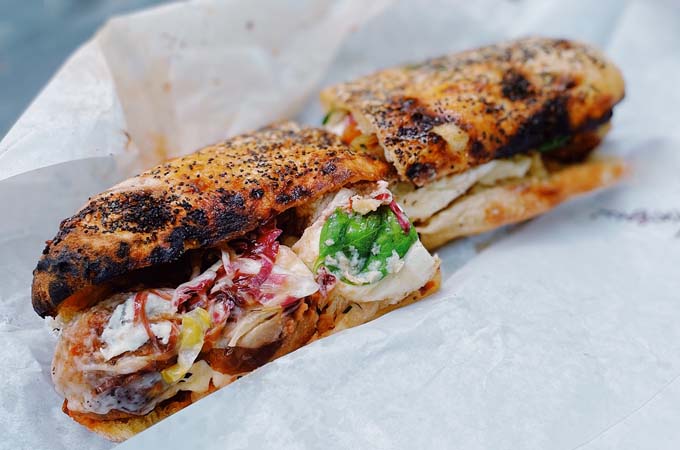 4. Forno West
Several reasons could justify a visit to Forno West: the prepared dishes, the imported products, the wine, but especially its Sicilian-influenced bakery and pastry shop. I can't get enough of their Italian mortadella sandwich, served on homemade ciabatta bread, and accompanied by crushed pistachios as well as a gourmet pistachio cream. Simple, but delicious!
1235, Avenue Greene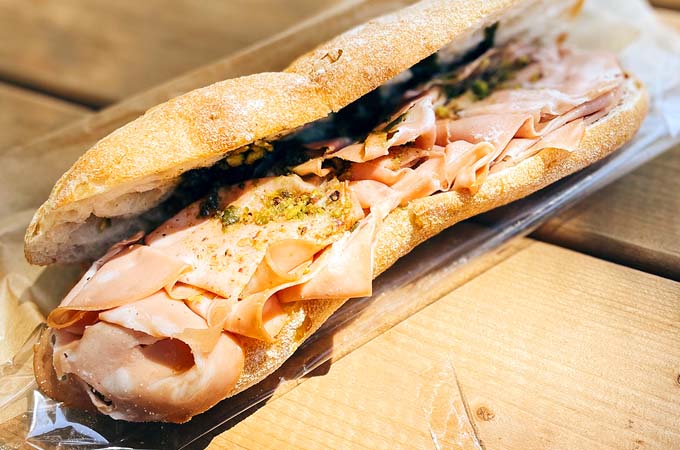 5. Osmo x Marusan
Osmo x Marusan is one of the most fascinating hybrids in Montreal. Presenting itself as a social club where music, culture, coffee and Japanese food meet, it's the perfect place for a sandwich stop. I always opt for the Katsu Sando, a breaded pork sandwich on homemade milk bread with a crunchy cabbage salad. The classic Tamago Sando, an egg sandwich, is a close second.
51, Rue Sherbrooke Ouest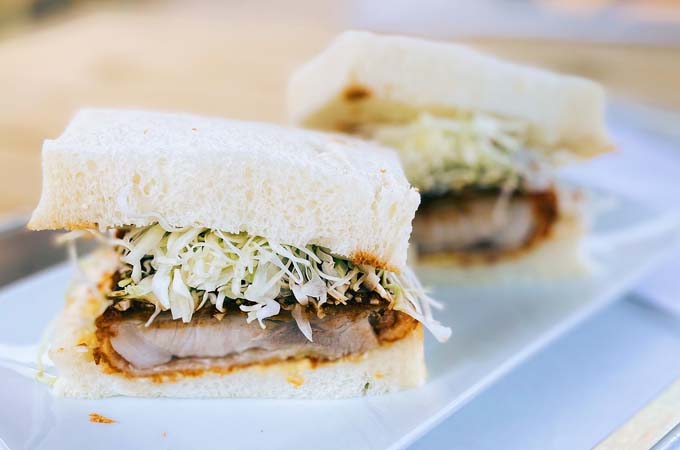 6. L'Española
L'Española offers one of the largest selections of gourmet products from Spain and South America in Quebec. In addition to this, the space has a small counter that serves coffee and prepared food. It's always an easy decision here: bocata de jamón serrano y manchego. A nice Serrano ham sandwich accompanied by Manchego cheese. Perfection!
3811, Boulevard Saint-Laurent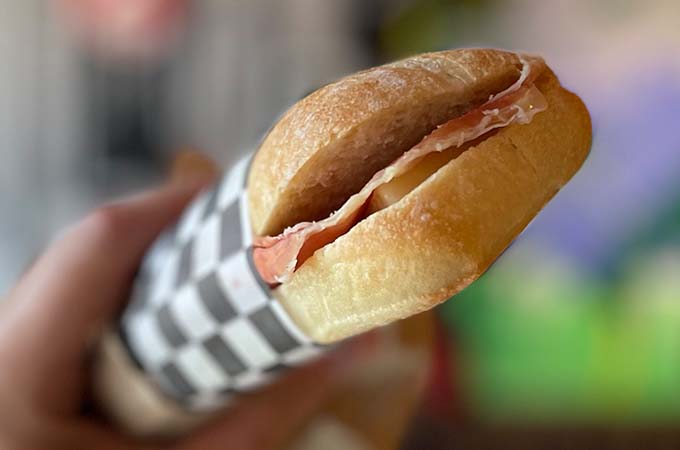 7. La Panzeria
I'll admit it, I cheated. The street food menu at La Panzeria made it too hard to resist trying their focaccia barese with burrata. At peak fig season, it was obvious that my choice had to be that day's special: a beautiful focaccia with cherry tomatoes, capocollo (coppa), a generous portion of burrata, fresh figs (seasonal!), quality olive oil and spicy honey. Was it a sandwich? Maybe not, but it was very good regardless!
4084, Rue Saint-Denis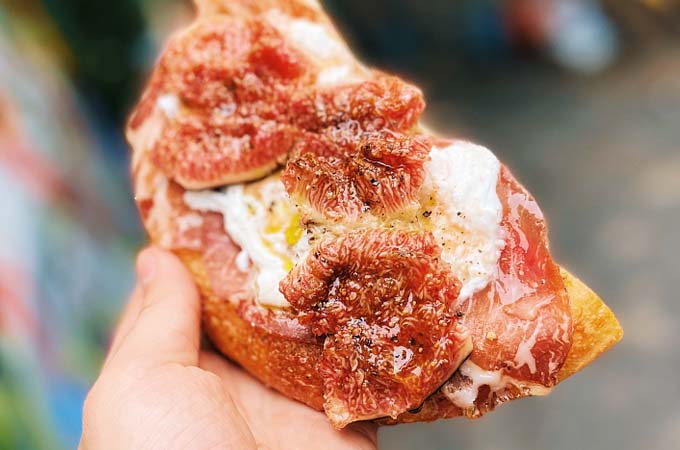 8- Wilensky's
Since Wilensky's has been a local family-run institution since 1932, I had to stop by as I made my way north. Here the original sandwich is mandatory, made up of beef salami, served on a round bun (halfway between a Kaiser roll and an English muffin), yellow mustard (a non-negotiable) and, if you want something extra, a slice of Swiss cheese. As for the price, it's one of the best deals in town!
34, Avenue Fairmount Ouest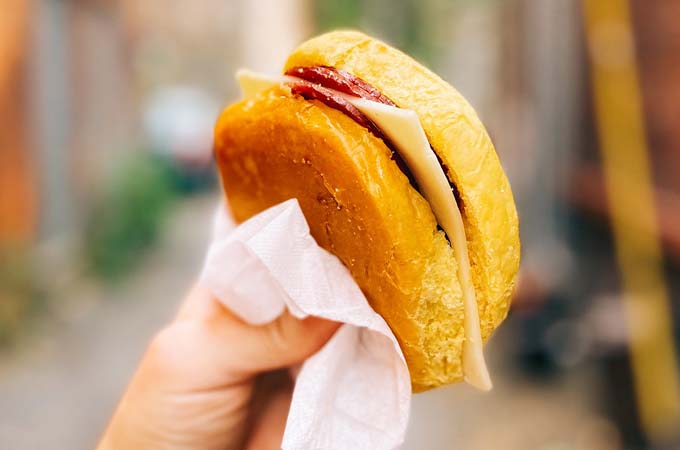 9. Nita Tout Garni
Located in the Mile-End, Nita Tout Garni is a sandwich and wine shop that offers a quality menu, where everything is homemade. I chose the lunch sandwich with trout gravlax accompanied by a flavoured soda. The sandwiches are varied and all truly delicious; without a doubt it's a stop to consider for all your lunches on the go if you happen to be in this hood.
5687B, Avenue du Parc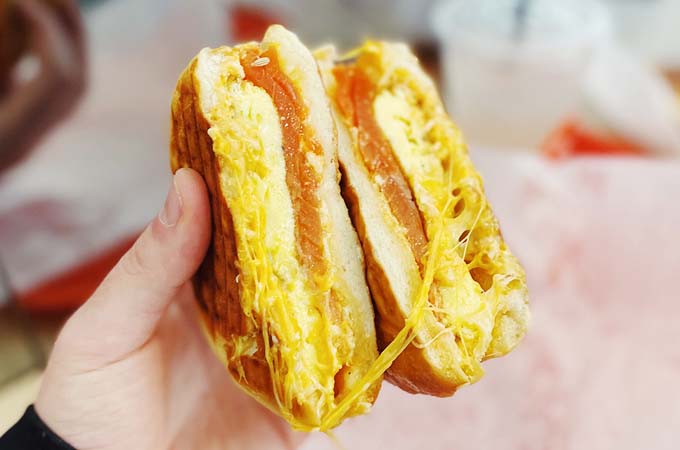 10. Automne Boulangerie
Oh, Automne Boulangerie! A popular destination for all the city's gluten lovers, I had to stop here to try one of their lunchtime sandwiches, served on their homemade bread with olives, pesto, cold cuts, cheese and Boston lettuce. Everything was accompanied by a Greek salad and a cookie (also homemade!) The perfect combo for a meal in a park.
6500, Avenue Christophe-Colomb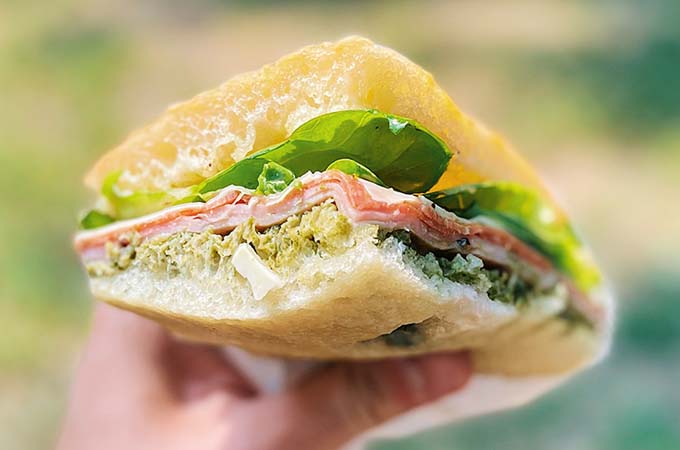 11. Mitch Deli
Words fail me when I try to describe the love I have for Mitch Deli. Being a huge sandwich fan (after 10 suggestions, there's hardly a doubt), my evenings in this restaurant are always perfect. Gourmet sandwiches (fried chicken, BLT, falafel, squid, local mushrooms, etc.), fresh salads, seasonal side dishes and, above all, good wine: it's unbeatable. In this photo, the BLT sandwich is made up of superbly fresh produce.
2660, Rue Beaubien Est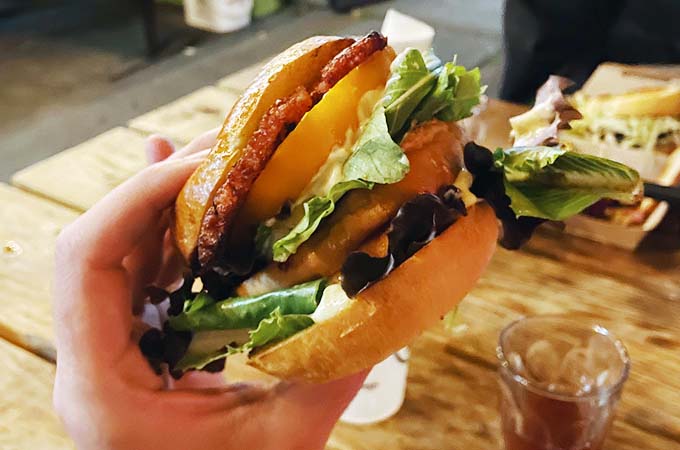 12. Porchetta
At this Little Italy institution known for—you guessed it—porchetta, you can enjoy this Italian classic in all its forms. I was tempted by the exuberant porchetta-rapini and burrata sandwich, which was a mad delight consumed in one sitting (and benefited from a post-meal nap!). Equally delicious classic versions are also available.
6887, Boulevard Saint-Laurent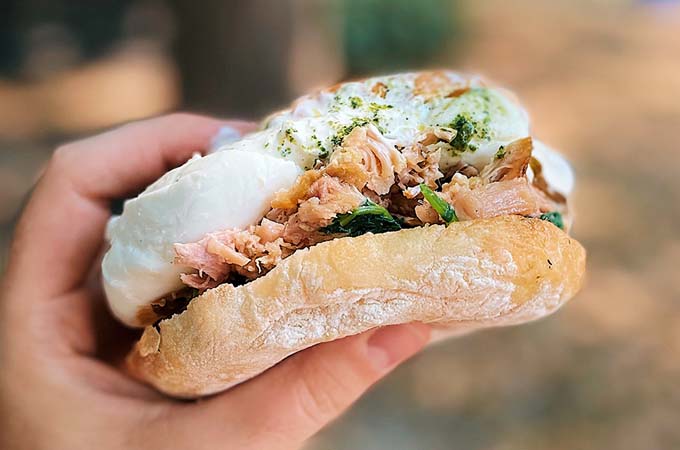 13. Café Gentile
Open since 1959, Café Gentile is a Montreal Italian mainstay. For a real time warp, I stopped at the café, located in the Chabanel district on the north of the island, to finish my culinary journey. For lunch, I decided on a must-have: the Italian combo. Accompanied by their famous iced tea, it was a truly typical Montreal lunch,  and so tasty to boot!
9299, Avenue du Parc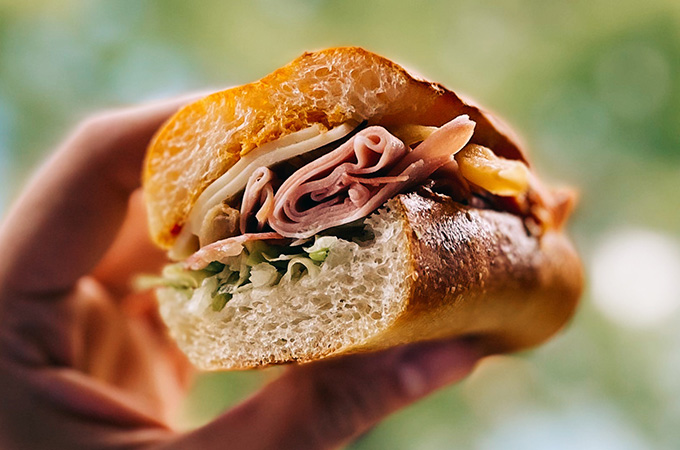 Note: It's possible that some of the sandwiches presented in this article are no longer offered, or only for a limited time during the summer. However, the restaurants and cafés in this list will be able to offer you equally excellent alternatives.