A non-alcoholic toast
For our content director Maude, the new Bière Sans Alcool (BSA) (non-alcoholic beer) is perfect for happy hour, given that it truly tastes like beer, with its lightly hoppy citrus aromas. Frothy as it should be and with a light taste, here's a refreshing brew for simple nights at home. It tastes great with a chicken burger or Caesar salad. (Approx. $3.99 per can.) Also a fan of mocktails, Maude enjoys this Alambika cocktail kit, created to help local distilleries by offering an alternative to suggest to their clients during the COVID crisis. Two great ways to enjoy the sun and stay refreshed, all without the effects of alcohol! $39.95 for the kit.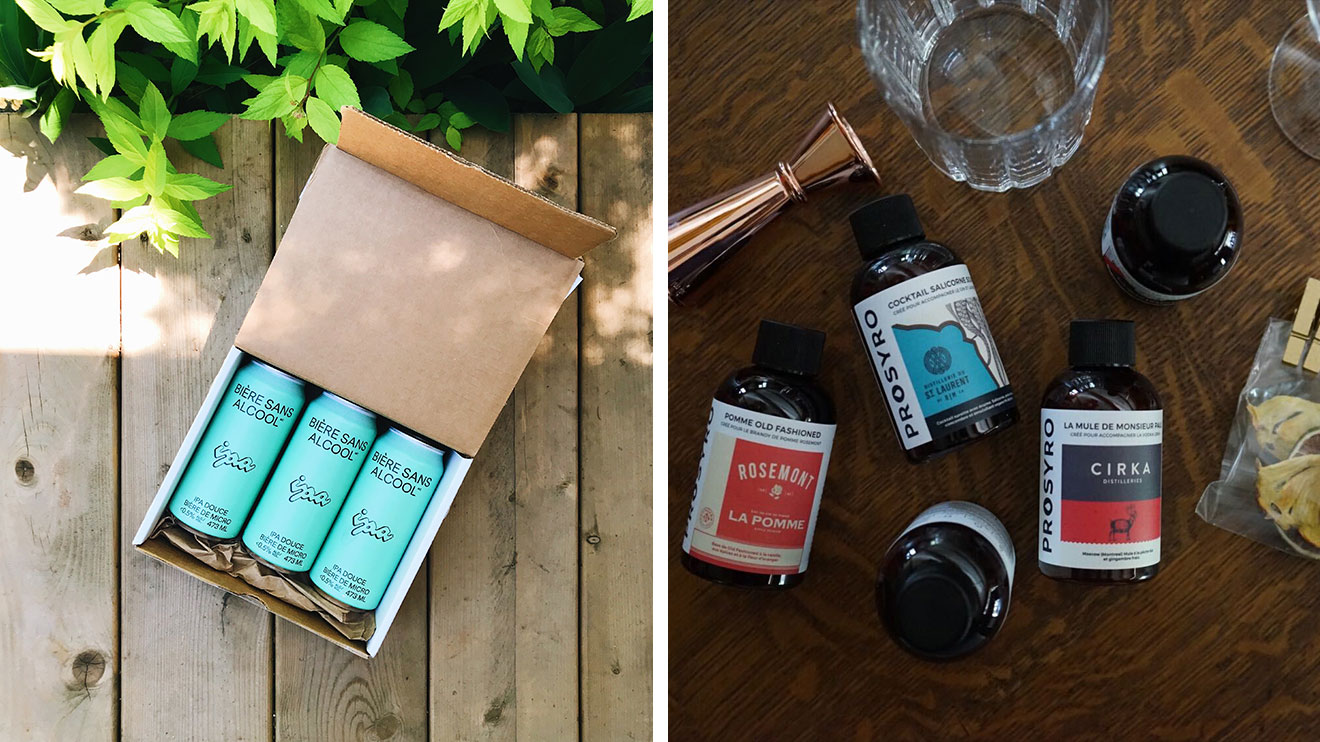 Local passion
Our colleague Marie-Pier loved ordering products from La Tite Frette. The mission of this new kind of grocery store is to make local products accessible to everyone. You'll find Quebec products like beer, wine, cider, sausages and potato doughnuts. She particularly enjoys Ta meilleure beer ($3.99 for 473 ml in specialty beer stores), a Northeast IPA from Lagabière, an artisanal brasserie. It's also possible to place an order for a gourmet "survival kit"! This boutique has three storefronts (in St-Jean-sur-Richelieu, Granby and Cowansville) and a fourth one opening soon in St-Hyacinthe.
Favourite infusion
There's nothing like a well-earned drink after a long day of work. But there are so many options other than beer. Among them? The Mate Libre, a drink made with yerba mate and infused with different flavours like lime and mint or rose and hibiscus, which our colleague Charline-Ève particularly enjoyed. The herbaceous style of the tea, lightly sweetened with agave syrup, is perfect any time of day. The drinks are organic and fair trade and naturally contain caffeine. For a little boost of energy that'll last all day! $3.05 per can in specialty grocery stores.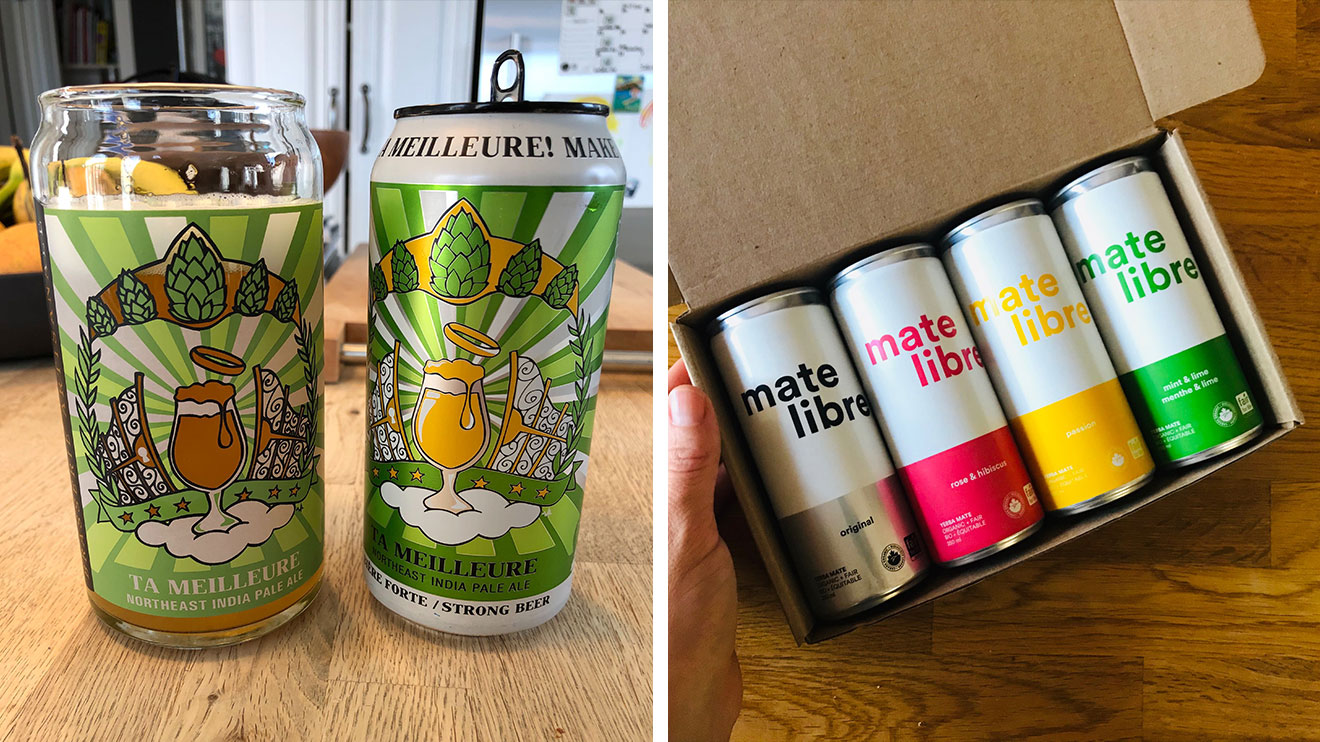 Instant pleasure
Our colleague Anouk has a weakness for iced coffee. When she first heard of Dalgona coffee, that drink-gone-viral where you whip instant coffee with sugar and hot water and then add a few dollops to milk, she didn't think she had it in her. She tried Ricardo's recipe, to which she added extra coffee, and enjoyed its slight bitterness, as well as the drink's fresh and creamy side. You can also switch things up by using chocolate milk instead. That trendy springtime drink is sticking around for summer!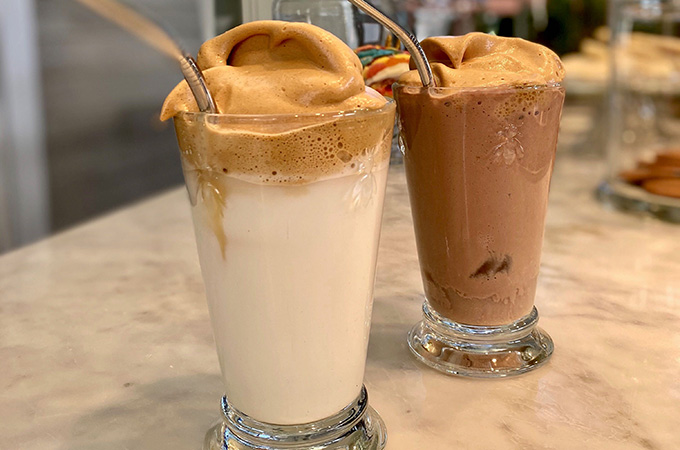 At-home barista
The Atwater Cocktail Club is a bar in Montreal's Pointe-St-Charles neighbourhood. And while they were closed, the establishment brought their ambiance to us via Instagram. They teamed up with Milky Way Cocktail Bar and Fugazzi Pizza to showcase cocktail mixes you can easily make at home. Our content coordinator, Marisol, tried a few and particularly loved the Glitter Green, which includes two lime segments, cucumber, jalapeño mix, with Regan bitters and two dehydrated lime rounds. Add tequila or mezcal, and you've got tasty drinks to enjoy at your at-home counter! $10 for two servings at atwatercocktailclub.com.
The perfect blend in your cup
Every morning, Montreal roasters ZAB bring moments of joy with their coffee beans. Our graphic designer Jean-Michel tried the Brewmance brew, which he had delivered to his home. The beans come from two varieties of coffee, Red Catuai and Heirloom, which are brewed in a unique fashion, giving off notes of brownies, hazelnut and blueberries. They're extremely tasty if you're craving a sublime fruity espresso! This company roasts beans from the four corners of the globe, selected from small producers. Starting at $20 for a 340 g bag.