Preparation
On a work surface, separate the stems from the chard leaves. Thinly slice the stems. Set aside.

In a pot of salted boiling water, blanch the chard leaves until tender, about 1 minute. Drain. Plunge into a bowl of ice water. Drain again. Pat very dry with a clean dishcloth. Clean out the pot.

Finely chop 1 cup (150 g) of the mushrooms. Set the chopped mushrooms and whole mushrooms aside separately.

In the clean pot over high heat, brown the chopped mushrooms and shallots in 2 tbsp of the butter. Add the chard stems, buckwheat and garlic. Cook for 2 minutes while stirring. Add 1 ½ cups (375 ml) of the broth. Bring to a boil. Cover and simmer for 15 to 20 minutes, stirring occasionally, until the liquid has completely evaporated and the buckwheat is tender. Season with salt and pepper. Remove from the heat. Let sit for 5 minutes.

Meanwhile, in another pot, bring the remaining broth to a boil with the ginger. Let reduce by half, about 10 minutes. Add the soy sauce. Strain through a sieve and keep warm. Compost the ginger.

In a skillet over medium-high heat, brown the whole mushrooms in the remaining butter. Season with salt and pepper. Keep warm.

On a work surface, spread out the Swiss chard leaves. Divide the buckwheat mixture between the four leaves, placing it at the centre of each leaf. Fold the two long sides in towards the centre and roll up, starting at the pointed tip of each leaf.

Serve the Swiss chard rolls in bowls. Pour the hot broth over top and garnish with the whole mushrooms.
Note
If you only have small Swiss chard leaves, you can overlap 2 or 3 leaves to build each roll.
You can use the mushroom stems to flavour the broth by adding them at the same time as the ginger.
To help you with this recipe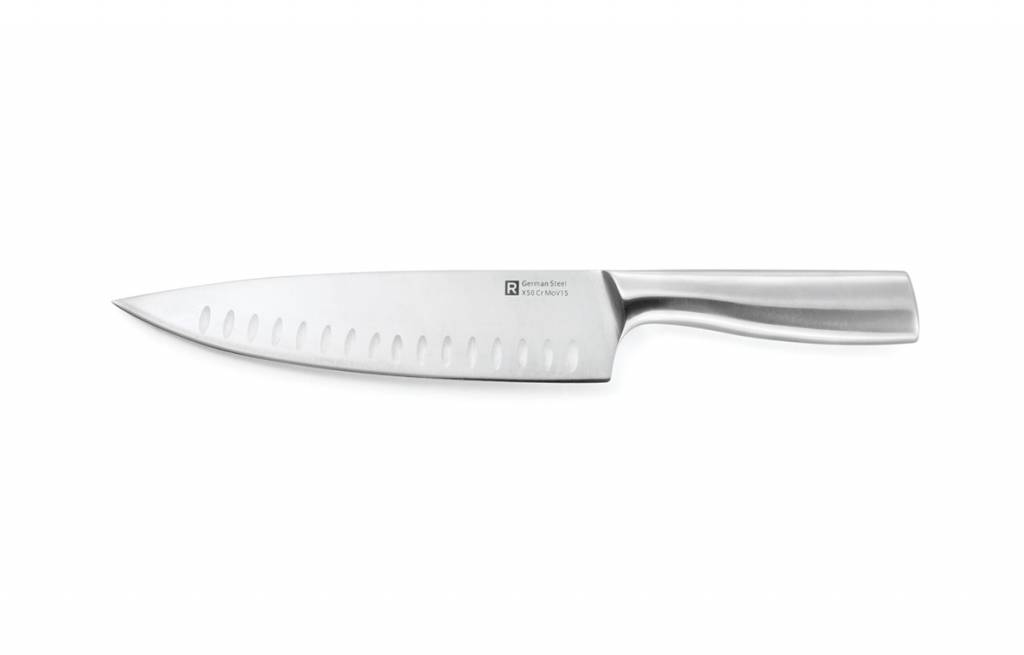 This chef's knife was designed by RICARDO's Test Kitchen staff. Its weight and ergonomic handle are perfectly balanced. The sharp blade provides perfect cuts, while its bevelled grooves ensure meat will not stick to it.
54.99 $
SHOP NOW