Preparation
In a pot with a capacity of at least 6 cups (1.5 litres), bring the water, lemon juice and quince to a boil. Simmer for 20 minutes, skimming the surface with a ladle. Add the sugar.

Simmer over medium-low heat for 1 hour 40 minutes, until a candy thermometer reads 219°F (104°C) or until the jam passes the plate test (see note). Skim the surface of the jam regularly as it cooks.

Meanwhile, place four jars on a canning rack in a large pot and cover with water. Bring to a simmer over medium heat. Reduce the heat to low and leave the jars in the water while you continue with the recipe. Drain the jars only when you are ready to start the canning process.

In a small pot, place the lids (discs) and cover with water. Bring to a simmer over medium heat, turn off the heat and leave the lids in the hot (not boiling) water to activate the rubber sealing band.

Divide the jam among the warm jars, leaving ¼ inch (5 mm) of space at the top. Remove air bubbles with a non-metallic utensil and wipe the rim of the jar with a clean dishcloth.

Centre the lids (discs) on the jars and screw the rings down until the point of resistance, without forcing.

Place the jars upright on the canning rack in the large pot of hot water. Make sure the jars are covered by at least 1 inch (2.5 cm) of water. Cover the pot. Bring to a boil over high heat. From the moment the water starts to boil, continue processing for 10 minutes.

Using canning tongs, remove the jars from the water and place upright on a double layer of dishcloth. Let cool for 24 hours, without tightening the lids. The jars of jam will keep for 1 year in a cool, dark spot.

Delicious spread on slices of toasted challah bread.
Note
Use the plate test to check the jam's consistency. Before you begin cooking the jam, place two or three small plates in the freezer. After the suggested cooking time, remove the pot from the heat to stop the cooking and place about 1 tsp (5 ml) of the jam on one of the chilled plates. Immediately return the plate to the freezer for 2 minutes. Tilt the plate. If the jam is thick and runs slowly, it's ready. If the jam is too runny, continue cooking for a few minutes and repeat the plate test.
To help you with this recipe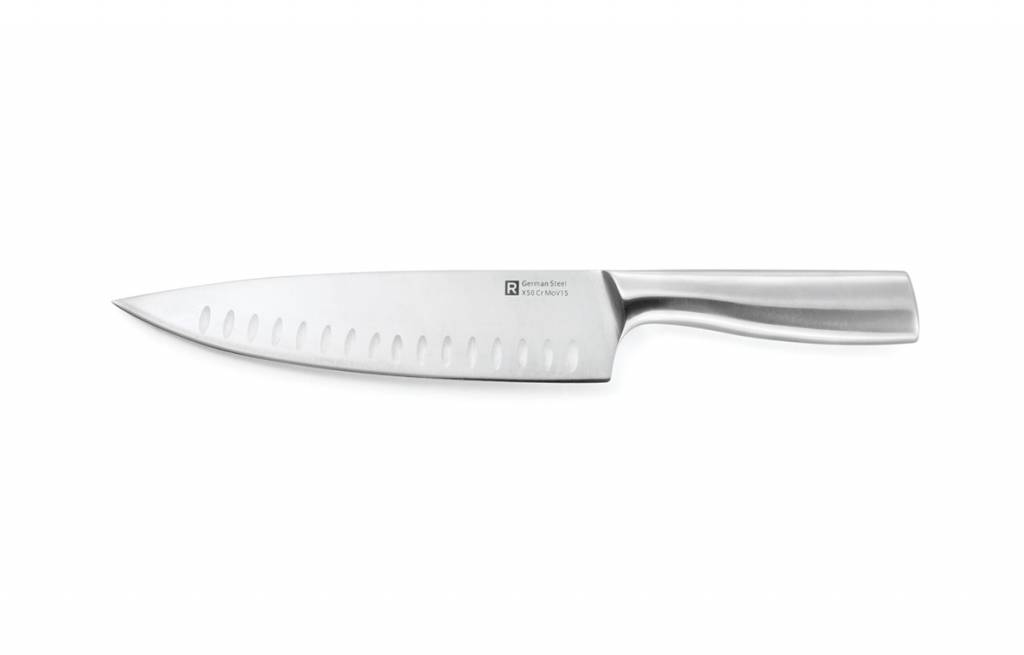 This chef's knife was designed by RICARDO's Test Kitchen staff. Its weight and ergonomic handle are perfectly balanced. The sharp blade provides perfect cuts, while its bevelled grooves ensure meat will not stick to it.
54.99 $
SHOP NOW