*Video in French only.

1. Lentil and Coconut Milk Soup
"My recipe is more about assembling: I take a jar of RICARDO Butter Chicken cooking sauce and make a soup out of it. After 20 minutes, the lentils are cooked. Then I add some fresh cilantro and a little yogurt, and top with chopped onions and curry powder!"
– Étienne Marquis, Test Kitchen chef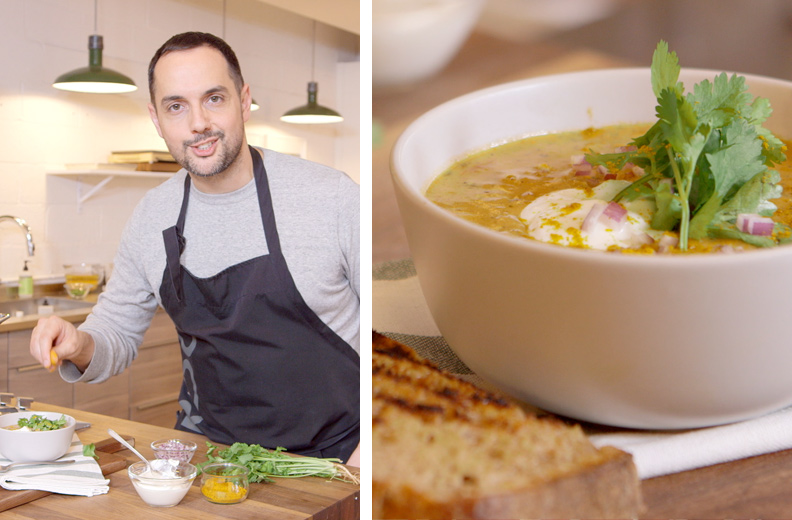 Recipe
In a pot over medium heat, combine 1 jar of RICARDO Butter Chicken cooking sauce, 1 ½ cups chicken broth, 1 ½ cups coconut milk and 1 cup dried red lentils. Cook for 20 minutes or until the lentils are tender. Add more broth as needed. Serve the soup in bowls. Garnish with cilantro, plain yogurt and finely chopped red onion. Add a pinch of curry powder, if desired.
2. Chicken Pizza on Naan Bread
 "Here's a raid-the-fridge idea! This pizza uses naan bread (because when you think butter chicken, you naturally think naan) topped with leftover chicken, tomatoes, avocado, lime and some green onion. To make the dish a little richer, pan-fry some cubes of halloumi and add them when the pizza comes out of the oven!" – Isabelle Deschamps-Plante, Café RICARDO chef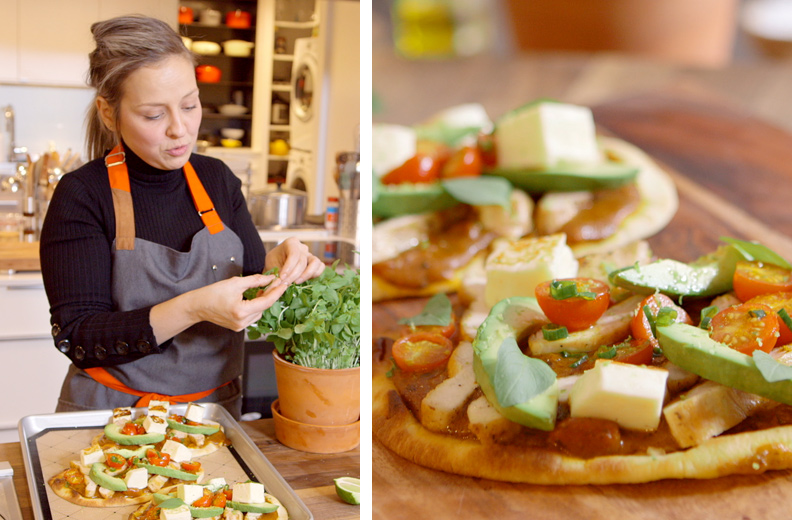 Recipe
Cherry tomato salsa: In a bowl, combine 1 cup halved cherry tomatoes, 1 thinly sliced green onion, 1 pinch curry powder and 1 tbsp olive oil. Season with salt. 
Naan pizza: Place 4 naan breads on a baking sheet and generously brush with RICARDO Butter Chicken cooking sauce. Garnish with slices of grilled chicken. Bake in a 450°F oven for 5 to 6 minutes or until the bread is hot and crispy. Meanwhile, in a non-stick skillet over high heat, brown ¼ lb cubed halloumi cheese. Remove the pizzas from the oven and top with avocado slices, cherry tomato salsa and browned halloumi. Season with salt and pepper. Sprinkle with lime zest, if desired.
3. Indian-Style Eggplant
"I propose sticking to the Indian theme and making an eggplant curry. It's perfect for leftover cooking sauce, and it can be eaten hot or just warm. I add green peas (they provide colour), some tomato, chili peppers and soaked onion (to soften it). I also add toasted cumin seeds, a touch of cilantro and my new fave: paratha bread!"
– Lisa Birri, Test Kitchen chef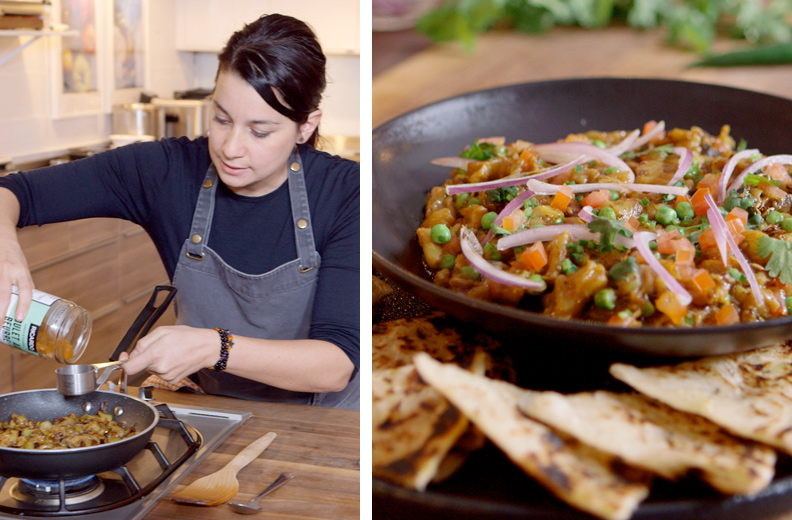 Recipe
In a large skillet over medium-high heat, brown 2 diced eggplants in 3 tbsp olive oil. Season with salt and pepper. Add ¼ cup RICARDO Butter Chicken cooking sauce and simmer for 2 minutes or until the mixture is warm. With a potato masher, coarsely crush the mixture. Add ½ cup blanched frozen peas and 1 small diced tomato. Mix well. Meanwhile, in another skillet over medium heat, toast cumin seeds in 1 tbsp olive oil. Transfer the eggplant mixture to a bowl. Garnish with finely chopped chili peppers, thinly sliced red onion (previously soaked in cold water), cilantro leaves and diced tomatoes. Top with the cumin seeds and drizzle with oil. Serve with warmed paratha or naan bread.
This all goes to show that when you're feeling creative, one jar can be used to make a variety of tasty dishes at home. RICARDO cooking sauces are available exclusively at IGA, at the RICARDO Boutiques in Quebec City, Laval and Saint-Lambert, and online. And be sure to try out the Test Kitchen chefs' handy recipes!