While we were closed we used the time to rearrange our space to easily allow for social distancing between patrons. We also took all possible measures to ensure everyone's safety, starting with:
A restricted number of patrons allowed in the dining area and patio.
Space between tables, which are disinfected after each patron.
Laminated menus, disinfected for each patron.
A hand sanitizer station at the restaurant's entrance and exit.
Distance markers on the floor to help facilitate social distancing.
Reduced staff, wearing masks or visors for your protection.
Installation of Plexiglas panels at the cash register.
Regular cleaning of frequently touched surfaces and equipment.
Only one patron at a time in the washroom.
Contactless payment made with debit or credit card only.
Remember, it's always possible to order online, for example, our ready-to-eat boxes (in Quebec City and Saint-Lambert) and cakes (all three locations), for delivery to your home or for pick-up in store. It's simple and all you have to do is visit us online!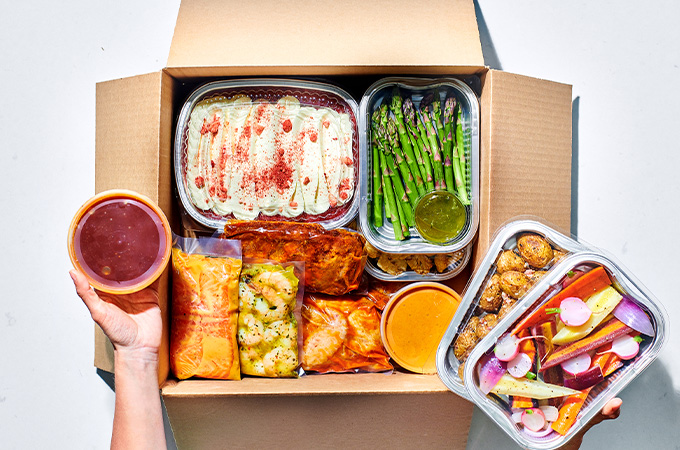 To save a spot in either our Laval or Quebec City eating areas, we recommend you make an online reservation. Reservations are not necessary for our Saint-Lambert location.
Our opening hours:  
Monday and Tuesday: Closed
Wednesday, Thursday and Friday: 11 a.m. to 2 p.m.
Saturday and Sunday: 10 a.m. to 2 p.m. (brunch)
We're very excited for you to discover our new menu, served from Wednesday to Friday starting at 10 a.m., inspired by our themed ready-to-eat boxes and our favourites from previous summers. We also have a brunch menu on Saturdays and Sundays starting at 10 a.m. Consisting of fresh local produce, our dishes highlight local artisans and food producers. Here's a taste!
Menu estival
Starters
Heirloom tomatoes and Maccione mozzarella de bufflonne, garlic scape aioli, almond breadcrumbs and arugula pesto
Salmon and grapefruit tartare, quinoa, Little Gem lettuce, sumac yogurt (also available as a main dish)
Main Dishes
Chicken, watermelon and fennel salad, cucumber, feta cheese, spinach and basil vinaigrette
Pork ribs from Gaspor Farms, barbecue sauce, Gabrielle potatoes with bacon and crunchy coleslaw
Nordic shrimp rolls, celeriac remoulade, green apple, samphire and lemon mayonnaise (also available at brunch)
Brunch
Waffles with strawberries, oats and almonds, apple and strawberry butter, sweet clover and white chocolate crémeux
poached egg, potato, hollandaise sauce and toasted country bread
BLT breakfast sandwich, egg, heirloom tomato, Little Gem lettuce and lemon mayonnaise
We also have a drinks menu that includes homemade beverages, coffee, tea and infusions, as well as wines.
Now's the time to safely come in and discover our new seasonal menu. We hope you'll soon stop in for a bite or a meal at one of our three Café RICARDO locations. We can't wait to see you!
Brigitte and Ricardo