Six cuts from here
There are six cuts of meat inspired by family recipes available:
1 / 6

Chimichurri Flap Steaks

This premium flank steak is infused with a tasty herb-packed marinade.

2 / 6

Miso and Ginger Chicken Breasts

Inspired by Japanese flavours, the marinade of these chicken breasts combines miso and ginger, all the while keeping the meat tender and juicy.

3 / 6

Flap Steaks with Montreal Steak Seasoning

A classic blend of black pepper, coriander, salt and chilli that coats the meat and enhances its taste.

4 / 6

Curry and Ginger Pork Chops

Subtle Asian-inspired flavors, including curry powder, which adds a beautiful coloring.

5 / 6

Garlic and Herbs Pork Tenderloin

Delicious herbs blend including oregano, parsley and chives for a bright freshness.

6 / 6

Mediterranean-Style Chicken Breasts

Packed with lemon, parsley and garlic, these flavours are inspired by the Mediterranean.
Sous-vide cooking
Our team took this opportunity to develop bags suitable for sous-vide cooking. This cooking method, often used in catering, is gaining more and more followers. It makes obtaining uniform, perfect results easy, and it helps preserve the meat's flavour.
Cooking method
You can opt for sous-vide cooking with our sous-vide precision cooker, which has the advantage of allowing ultra-precise, fast cooking while preserving flavours and textures. The way to do it is also quite simple: All you have to do is attach the device to the side of a pot filled with water and set it to the temperature indicated on the package. Then, once the temperature is reached, the bags are immersed in the water. 
You can also use two other more conventional cooking methods with these products: either in the oven or on the barbecue. For each option, simply follow the steps indicated on the package.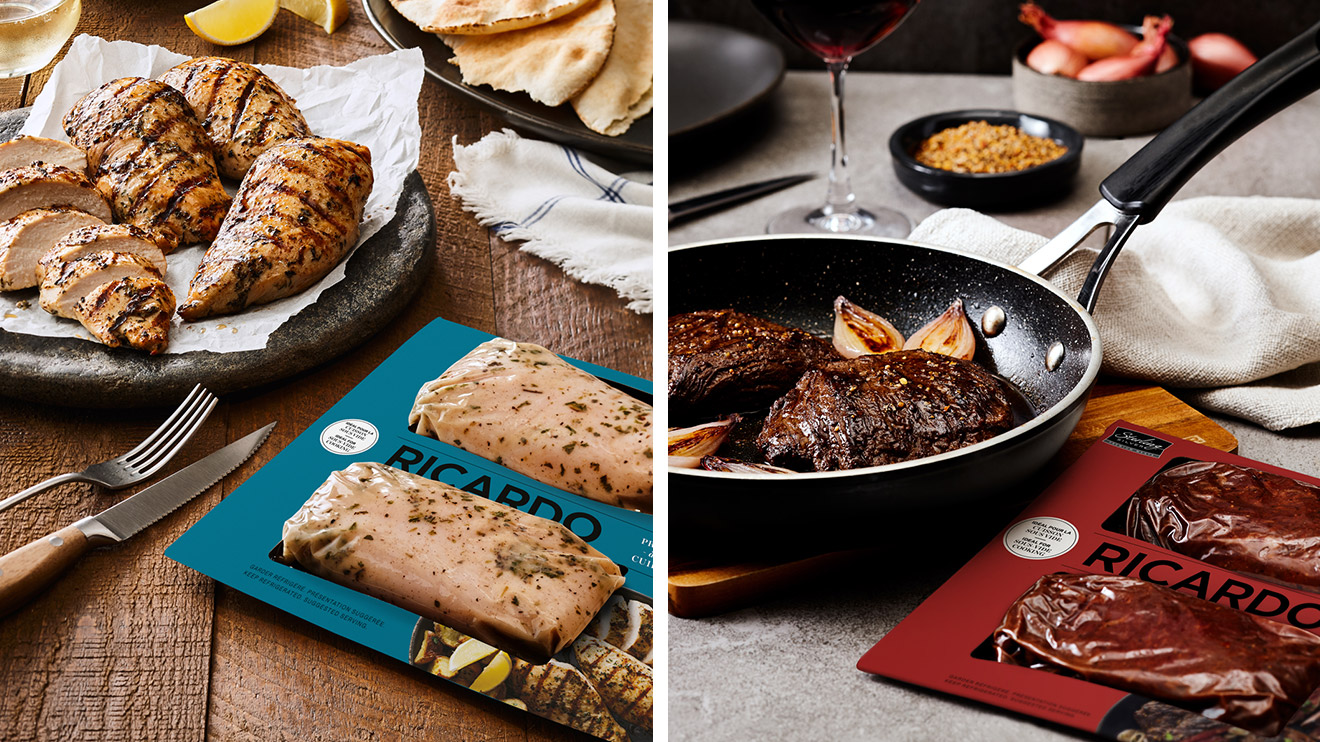 "With this range of marinated meat, you have restaurant-worthy cuisine at home. We even developed a bag that is suitable for sous-vide cooking, a revolutionary technique that allows you to achieve perfect and uniform results, every time. It's a first here!" — Ricardo
All the meats are prepared with local products. While the pork chops and tenderloin feature Le Porc du Québec, the bavette comes from Sterling, quality Canadian beef, as does the chicken, also a Canadian product.
These new ready-to-cook products can be found in the meat section of IGA stores. Their price varies depending on the weight of the meat.