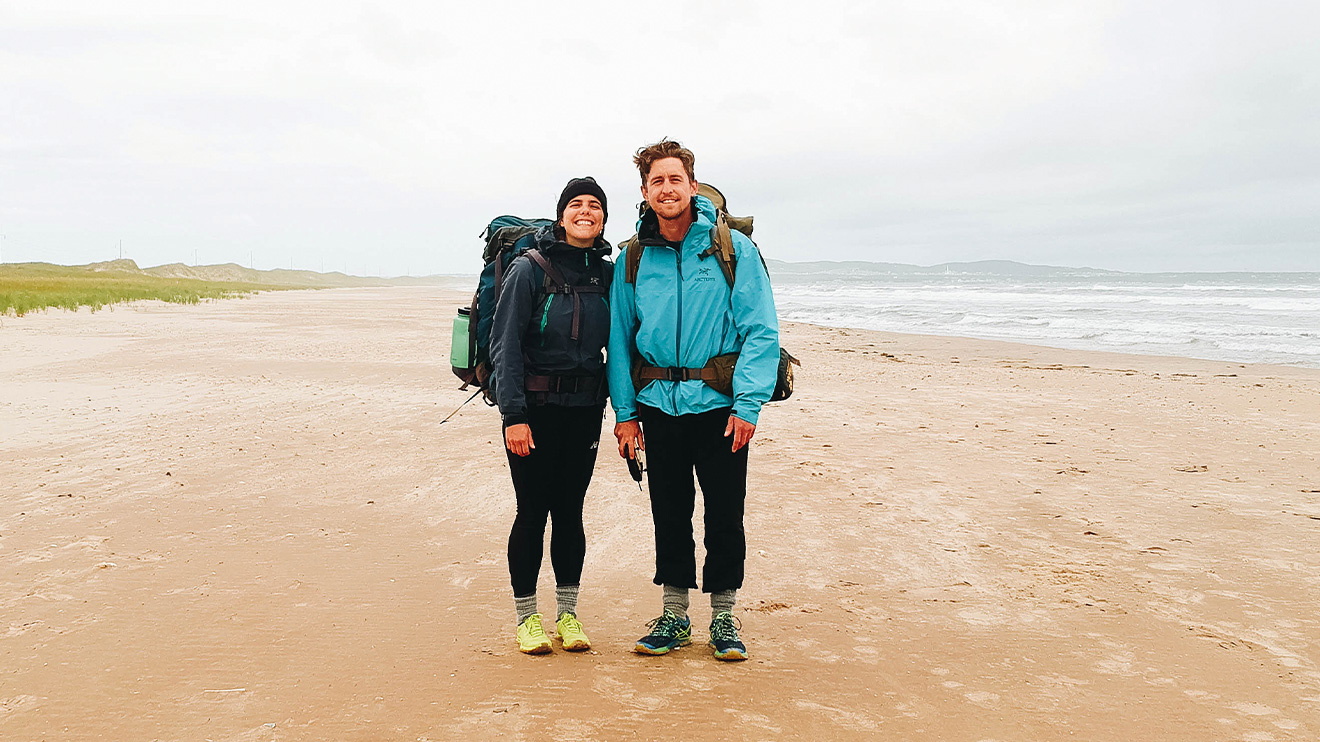 Our trek took place in summer 2019. It began the moment we exited the airport, walking towards the southern dunes. A 30 lb rucksack on each of our backs, which contained a tent, sleeping pad, sleeping bag, cooking pot, sports clothes, camping chair, sudoku puzzle book (my must), coffee and packets of oatmeal. Our travels had officially started. And when I say travels, the word was purposely chosen. I have always said that there is a big difference between the words "travel" and "vacation," and that it is important to balance them both. On "vacation," we do next to nothing; we simply relax. When we "travel," however, we discover and surpass even ourselves. We come back exhausted, our feet covered in blisters, our faces hot, but our heads filled with the best of memories and our hearts overflowing with pride. Often, we even need a vacation after our travels. But every time, it's worth it.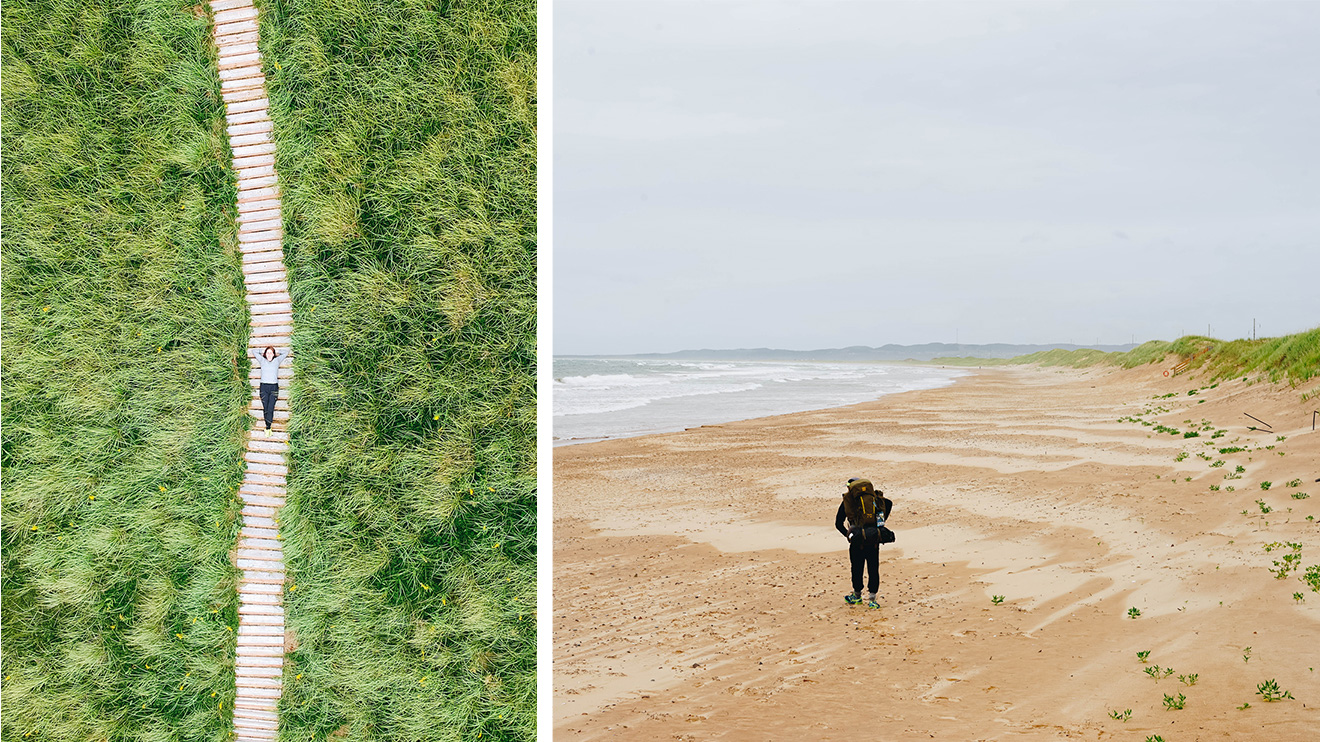 Sea bass, beer and cheese
Our first full day of walking: We follow the Sentiers entre Vents et Tides to the Cape Alright Lighthouse. What a beautiful beach! We then head over to Le Fumoir d'Antan for brunch by the water: sea bass pepperettes, smoked mackerel and salmon gravlax (photo opposite). And before having even had our coffee, we uncork a tasty beer brewed with sea water from the À l'Abri de la Tempête microbrewery. And then we take our next walk, to dessert: a slice of cheesecake from the Pied-de-Vent cheese shop.
For dinner, we enjoy a scallop-lobster-shrimp pizza at Pizza d'la Pointe, followed by delicacies at Hélène des Îles: cookies and brioche. We've earned them.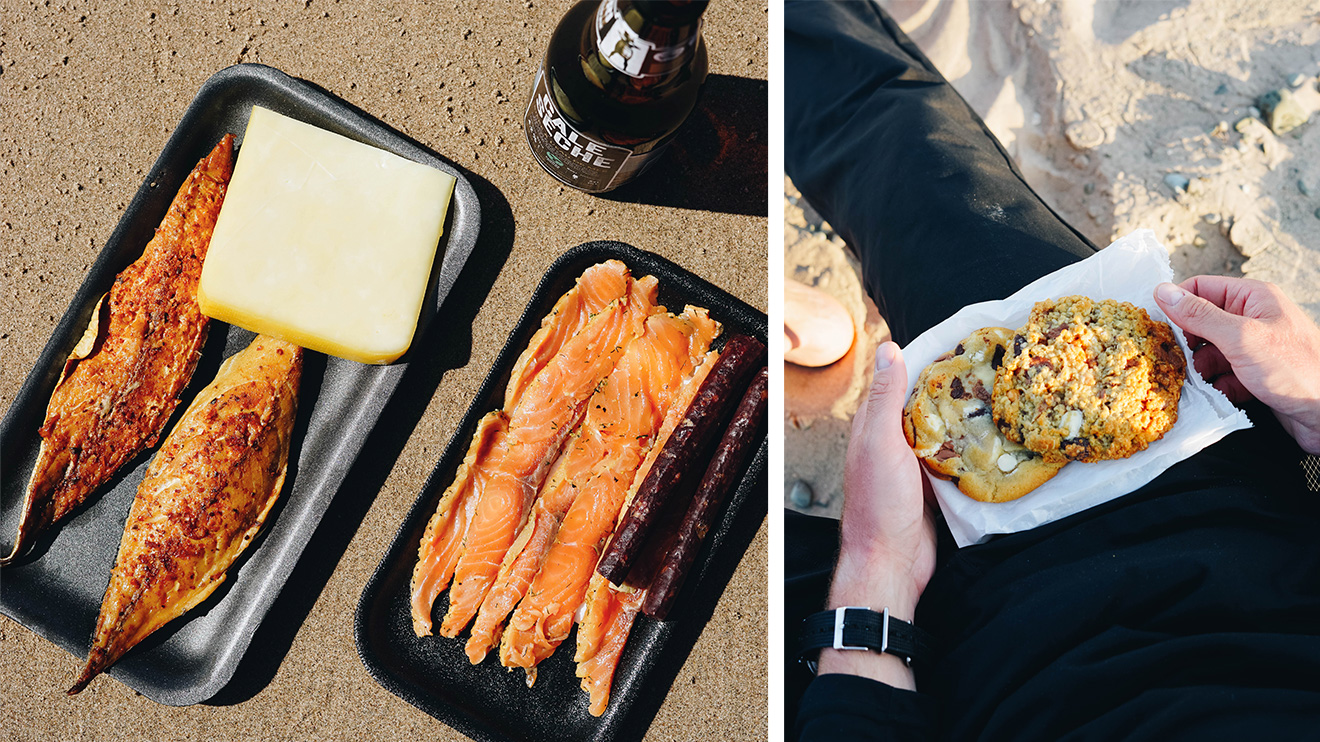 Adventure picnic and marine snack bar
The next day, we decided to take the ferry to Entry Island and spend the night there among its 70 English-speaking inhabitants. The last strategic stop before crossing: Boucherie Côte à Côte to pick up a few picnic essentials for when we get to the other side. We venture to Big Hill, the highest peak (read: a small hill) on the Islands. Oddly, in the middle of this community pasture, it feels as if we're in Iceland.
Back in Cap-aux-Meules, we begin our long walk towards Portage-du-Cap, with a stop at the Échoueries and at LA Cantine for lobster poutine and crab rolls. It's a filling snack before heading out to face a 13 km trek in the sand. It was probably the most difficult part, mentally, of our journey. With our bags weighing a ton, the constant drizzle of rain, the dark clouds passing by and the wind (oh, the wind), we really had to motivate ourselves. Tonight, it will simply be ramen and reading in the tent.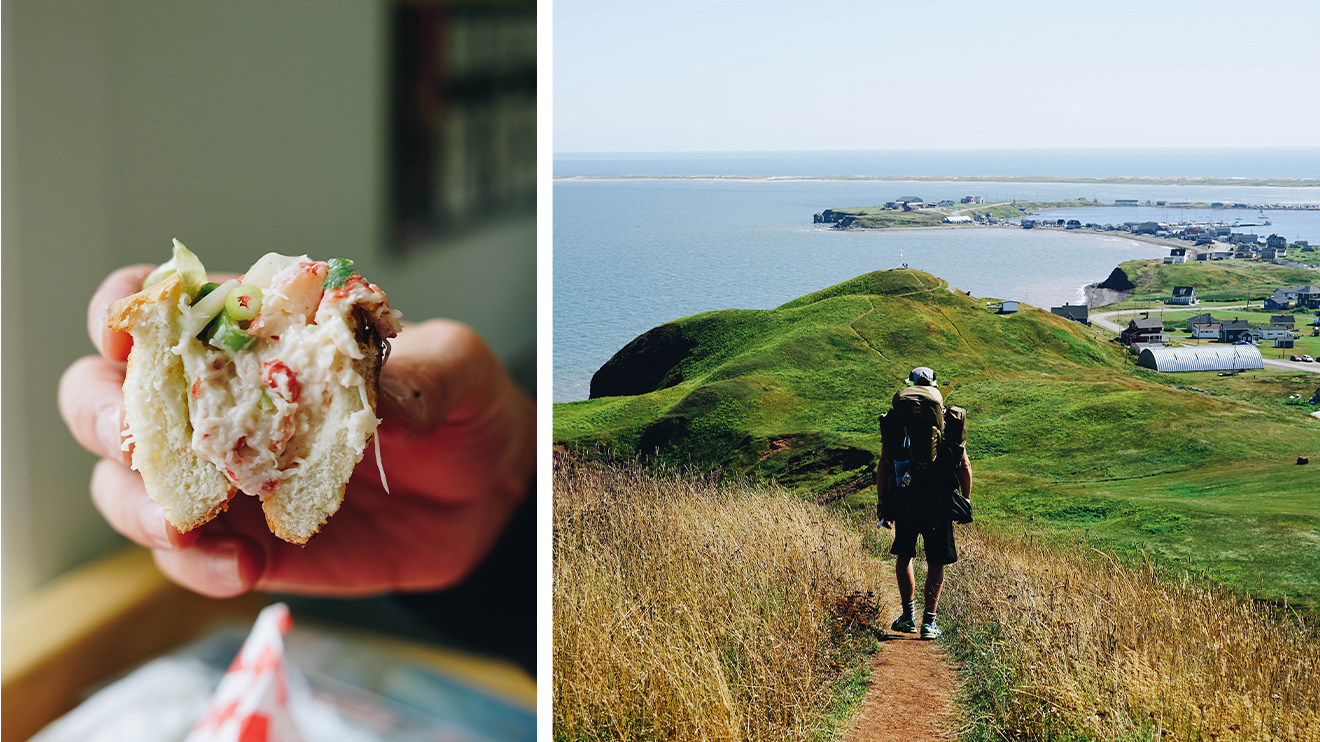 Beach and goats
The weather is lovely. We take the opportunity to install a clothesline and have some breakfast on the beach. Direction: Havre-Aubert via the dunes of Demoiselles. We arrive at La Grave and stop for lunch at the famous Café de la Grave to taste their sea bass poutine, accompanied by the wonderful sound of the piano. We then head to Sandy Hook, but not before grabbing a few picnic essentials from Elmer, which we're saving for our Bout du Banc hike.
We hit the seashore in the morning and take a salty dip. Oatmeal and coffee, and then we don our hiking shoes as we head towards Bassin. A stop at the Les Biquettes cheese shop is a must. If there is one Island activity that we'd do again in a heartbeat, it would be this one: hiking with goats. After our walk and a tour of the facilities, the owners served us a snack made up of their products...a shot of goat's milk included! What a magical place.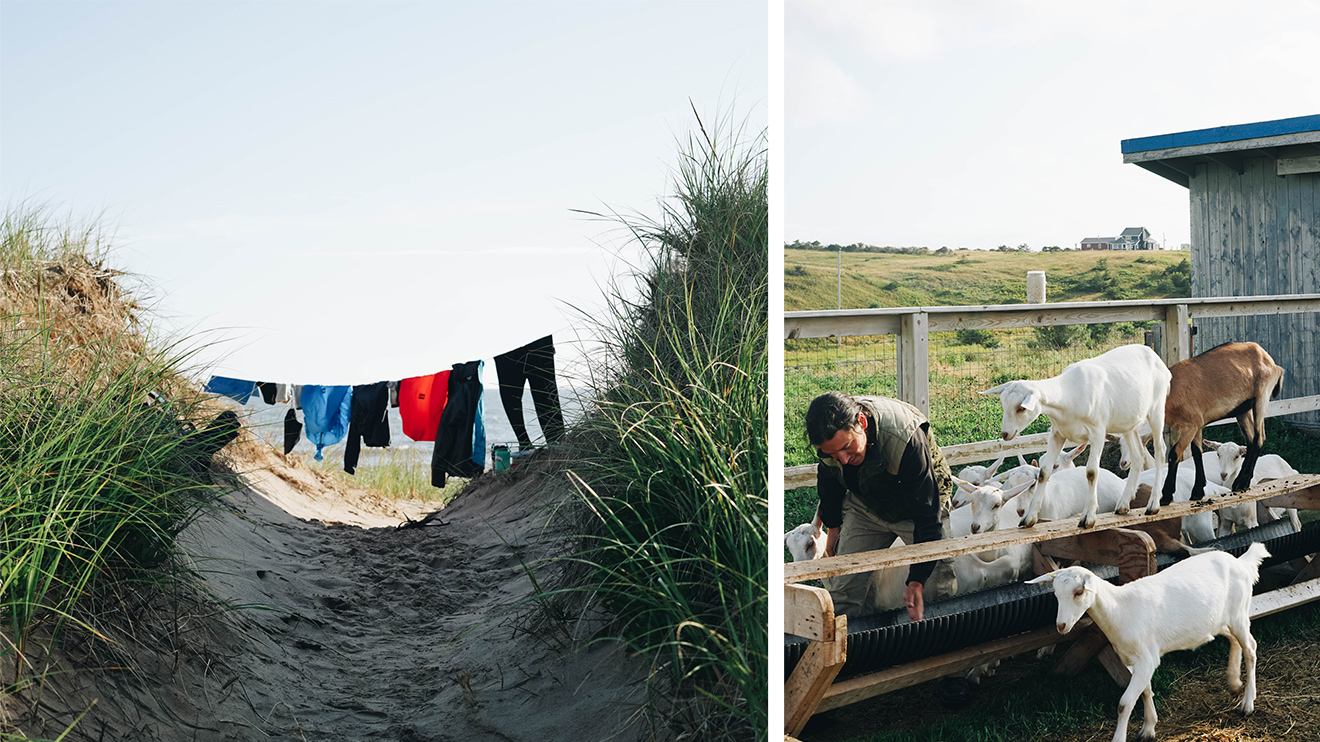 Long distances and fish shacks
We leave our cozy studio in Istorlet to face what's called the Caps leg of our journey. We get a lift and are dropped off at Site de la Côte, where we begin our 18 km trek of the day. Along the way we see the Borgot Lighthouse, the cliffs of Belle-Anse, and lots and lots of mist. We arrive at Fatima and pick up provisions that will last us for the next two days of walking, given that there are no other stores along the way. And we take this opportunity to relax in L'Anse-aux-Baleiniers with a little Acadian music at the Le Gabier bar.
While the kitesurfers begin their day, we enjoy our breakfast before beginning that day's long stretch. From Fatima to Pointe-aux-Loups, past the northern dunes, along 19 km of beach we only come across two other people. When we arrive at the church of Pointe-aux-Loups we're exhausted, and we find the most beautiful spot to have a drink and take in the sunset. That will be all for today. Awakened by the wind the next morning, we begin that day's itinerary: 20 km to Grosse-Île, with a ramen stop along the way. The trail follows along off-roads and Route 199. We arrive at Grosse-Île and order fried clams at the B&J snack bar. Before dinner, we venture out to the hillock in Grosse-Île. On the menu tonight at the Fish Shack (our favourite restaurant of the trip): lobster rolls, seafood chowder and fried scallops accompanied by poutine. What a treat! And then, yet another evening at the beach meditating to the sound of the waves. We never tire of it.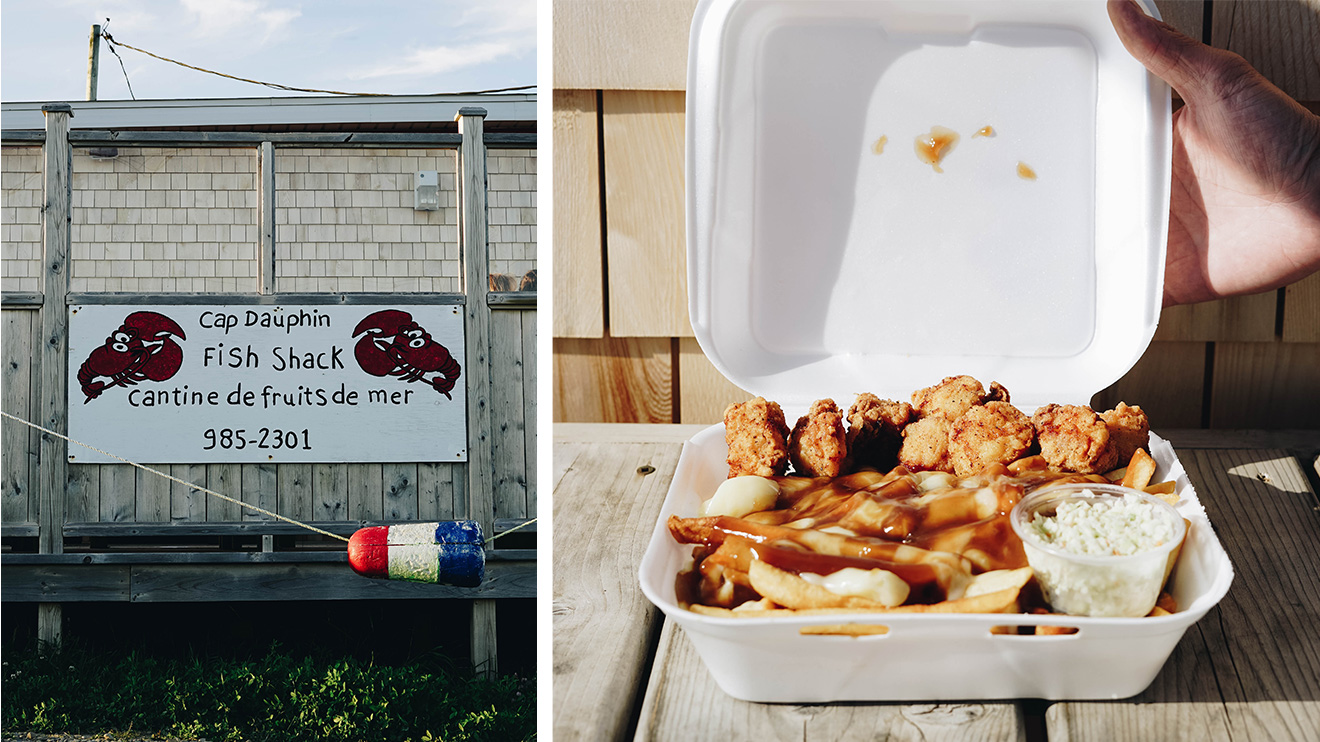 The road back
On the way to Grande-Entrée, we come across Old Harry Passage, the East Point National Wildlife Reserve and Grandma's Bakery. We are greeted at Grande-Entrée by a wave of kitesurfers. They are everywhere! We then have supper at Resto Pub Halabolina: fish and chips and club sandwiches, followed by a tasty local bubbly. To attack the next leg, we have to retrace our steps back. On the way, my boyfriend and I were misty-eyed. It was as if the credits were rolling on these final days of our trip. What we've seen and explored during our trek, the blisters, the giggles, the dancing in the middle of nowhere... That night, we went to bed with the feeling of a mission accomplished.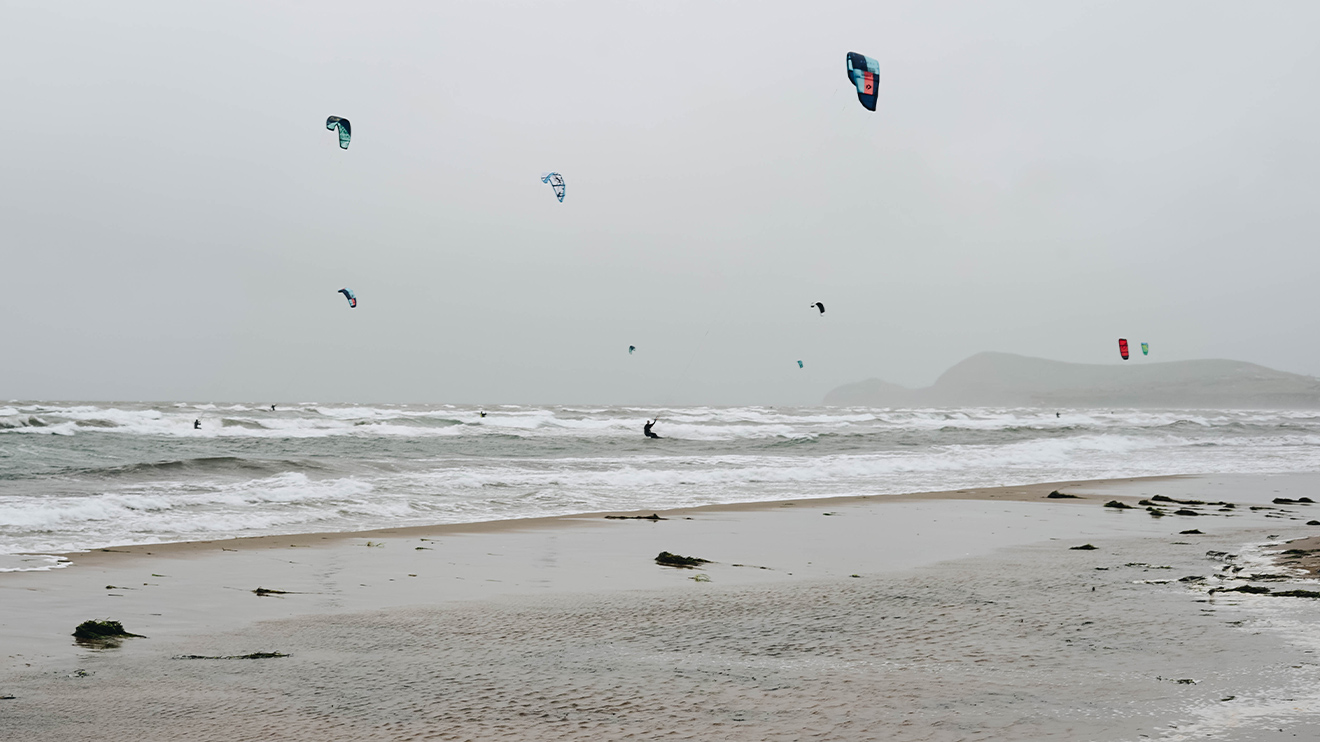 After a warm and cozy night, we head to Boulangerie Madelon for pastries. So we start the last leg of our trek: 11 km across the southern dunes. There was no better place to celebrate the end of our 225 km walk than at À l'abri de la Tempête: a tasting platter of local products, discovery of different beers, and more. That evening, we hung around until closing time and then admired the 1,001 stars above us on Corfu beach, beneath  and a delicate crescent moon. We quickly realize that we had sat near a shipwreck. Wow! That morning, we took our time, because we'd earned it. And because we're on island time, and have all the time in the world.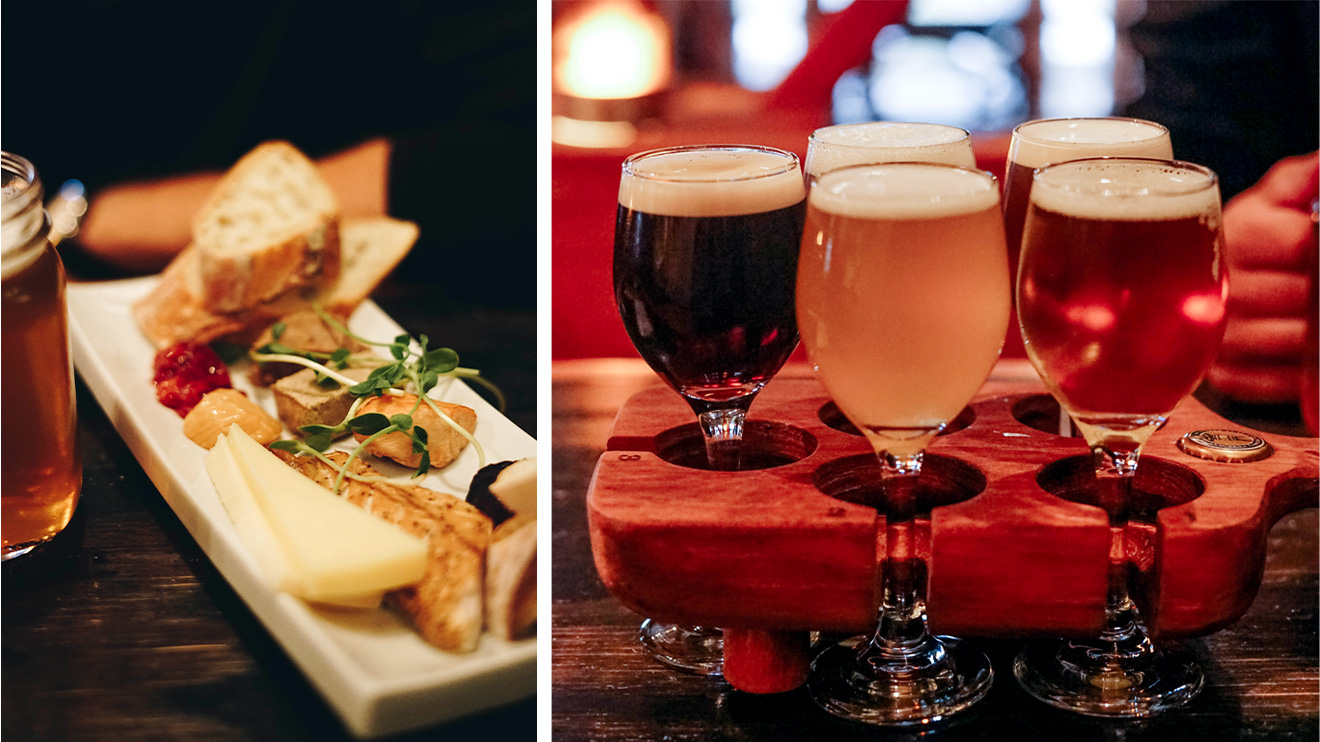 On our final morning on the Islands, it feels like we're back in Montreal: lunch at L'Arbre à Pains bakery, which also hosts Café Lili. At noon, we arrive at the opening of Poméloi Orchard for a cider tasting, and we fall for these bottles with apples that grow right inside! Last stop before boarding the plane: a second stop at Hélène des Îles. We will leave with both our hearts and our bellies full. Until next time, Magdalen Islands. With or without our hiking shoes.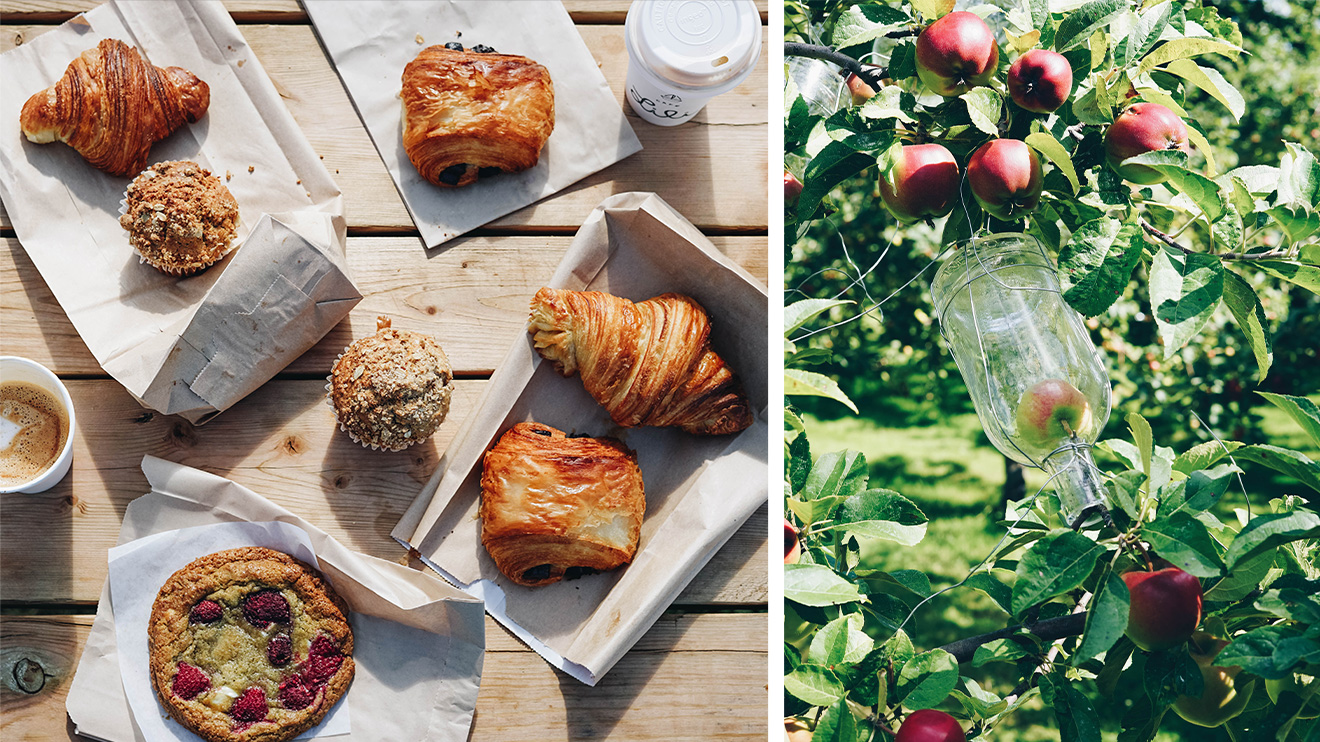 For a few of the addresses visited by Maude, check out the list below:
Le Fumoir d'Antan : 27, chemin du Quai, Havre-aux-Maisons, fumoirdantan.com
 
Microbrasserie À l'abri de la Tempête : 286, chemin Coulombe, L'Étang-du-Nord, alabridelatempete.com
 
Fromagerie Les Biquettes à l'air : 833, chemin du Bassin, Bassin, biquettes.ca
 
Boulangerie L'Arbre à Pains et Café Lili : 317-1, chemin du Quai, Cap-aux-Meules, arbreapains.com
 
Verger Poméloi : 33, chemin du P'tit Bois Nord, Bassin, levergerpomeloi.com
 
Pâtisserie Hélène des Îles : 90, route 199, Havre-aux-Maisons
 
Pizza d'la Pointe : 86, route 199, Havre-aux-Maisons, pizzadlapointe.ca
 
LA Cantine: 521 Chemin du Gros-Cap, L'Étang-du-Nord, lrdi.ca
 
Café de la Grave: 969 Chemin de la Grave, Havre-Aubert, cafedelagrave.com
 
Fromagerie du Pied-de-Vent: 149 Chemin de la Pointe-Basse, Havre-aux-Maisons, fromageriedupieddevent.com
 
Fish Shack: 51 Chemin Shore, Grosse-Île