It's noon when we arrive at an ancestral house on the edge of highway 132, now transformed into a microbrewery. The waitress invites us to take a seat on the terrace, located at the back of the building. The view is stunning. The river, which widens as it flows into the Bas-Saint-Laurent, moves along calmly. The air is saline and sweet. Around us, a handful of summer visitors mingle with the locals. During the high season, the locals share this idyllic spot with the hordes of tourists who arrive from all over Quebec—more and more each summer—before returning to a regular pace of life after Thanksgiving, once the vacationers leave for the city. This explains the number of people here on this radiant August day.
Our waitress puts some salty snacks on the table—homemade pogos, local sausages, smoked mackerel—and our tasting flight, the very first of a long series. This wooden tray with four balloon glasses with a capacity of about 60 ml (2 oz) each is the best way to sample (in small quantities) the beers brewed on site and to discover new styles or seasonal brews. At the Tête d'Allumette, they have the particularity of being boiled over a wood fire. The smoky taste is not transmitted to the beer, but this ancestral European technique caramelizes the must during the cooking process, yielding a flavour that can be subtle or sometimes more pronounced, depending on the recipe. Our trip is off to a fiery start.
265, route 132 O., Saint-André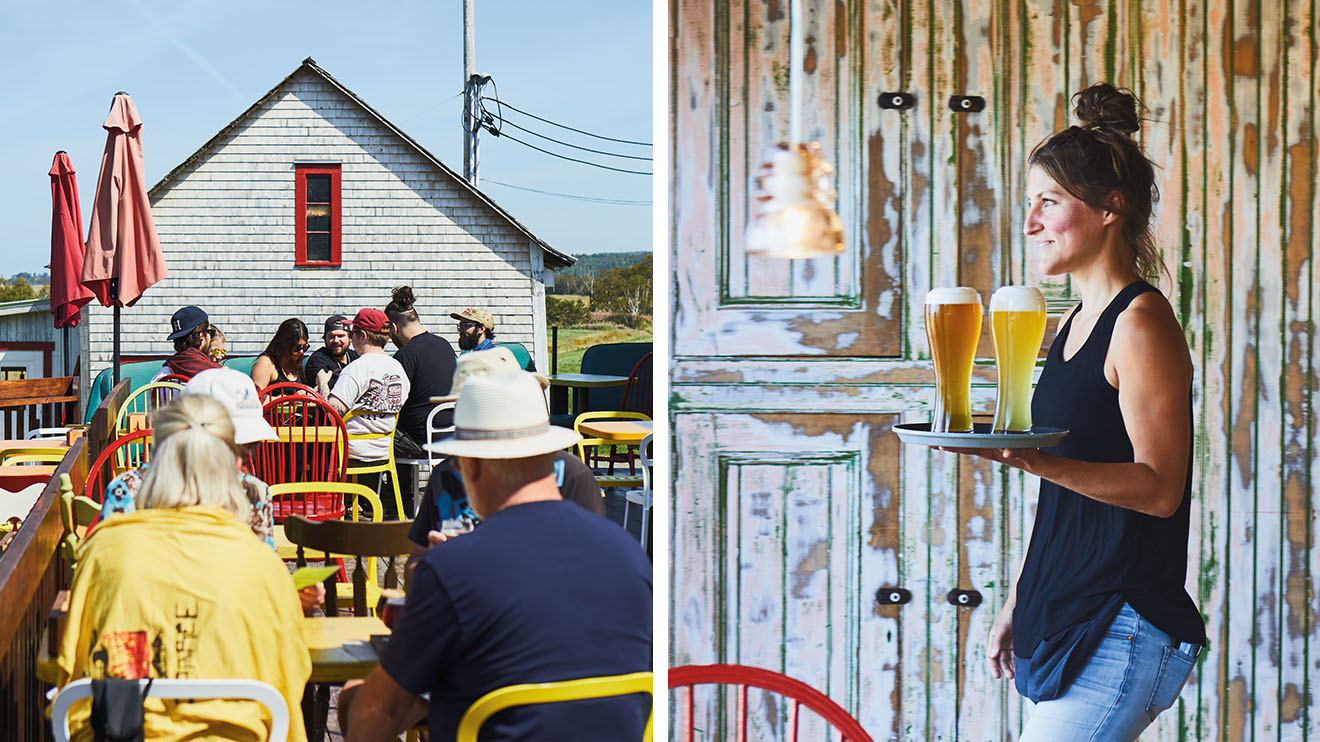 Frédéric Labrie, co-owner of Aux Fous Brassant, a brewpub on the main street, has a lot to say about this effervescent beer tourism industry. Like a large majority of his fellow brewers, he began by experimenting for fun in the kitchen of a friend (the other "fou" in this duo, Eric Viens), before embarking on a business venture with him, turning his hobby into a profession.
Open since 2012, it quickly became the headquarters of the Rivière-du-Loup region.  "Something has been going on for two or three summers, and tourists make detours to quench their thirst at our establishment," says Labrie while taking a sip of Yellow Dog, a golden beer with lemon notes. "People arrive informed, they have questions to ask, a list of beers to try. Their tastes are becoming more and more precise. Sometimes they even know more than we do!" he says.
Gone are the days when the customer ordered a "blonde" or a "rousse" indiscriminately (a nomenclature invented by Boréale, by the way; Quebecers are the only ones in the world to designate a beer by its colour and not by its style). Today, the most discerning beer palates differentiate between an ale and a lager, distinguish a one-season Berliner weisse, pronounce with aplomb the term brettanomyces (wild yeasts) and recognize the varieties of hops (Citra, Chinook or Simcoe) that go into the manufacture of their IPA. In the same way that we want to know where the food on our plate comes from, beer fans want to know what they are drinking.
262, rue Lafontaine, Rivière-du-Loup
The same goes for Le Secret des Dieux, where we're headed the next morning. Located on the edge of a lake famous for its legendary sea monster, Ponik, this restaurant-pub equipped with a brewhouse is in the former presbytery of the village. Is the microbrewery on its way to becoming the new church? "This would be especially true in our case," laughs Daniel Blier, brewmaster and one of the three shareholders in the place. "Even the priest comes for a drink from time to time!" As soon as they opened in May 2016, they were swept up in the brew-head wave, which forced them to grow from 5 to 32 employees in one year. Tourists passing through stop to taste the beers religiously made by Blier, and enjoy their hearty menu (including ribs, steak and fish and chips). But the region's locals also responded to them positively. And that's his biggest reward: "We are from the generation that saw our friends leave. We are proud to show that we stayed and that we succeeded."
1252, chemin Guérette, Pohénégamook
4. LE MALBORD, Sainte-Anne-des-Monts
We set sail for the Gaspé Peninsula, where the beautiful Malbord strip awaits us. As in "T'es un petit Malbord, toi!" says Thierry Lafargue, one of the co-owners, referring to the folkloric expression that designates the inhabitants of Haute-Gaspésie. Located on the shores of the St. Lawrence and built in a former general grocery store, Le Malbord quickly became a must for people passing through this side of the peninsula. The summer is particularly busy.
The establishment, which has since become a tasting room, has closed its bistro due to the pandemic, explains Félix Labrecque, the other co-owner. "People are invited to taste our beers on site and can pair them with snacks, such as sausage, smoked salmon, or salted tortillon cheese." After consulting the beer menu, our hearts swing between a thirst-quenching white, Le Voile de la Mariée, and La coup de tambour, a rose-coloured light and sour beer with the delicate taste of strawberry.
One of the advantages of this tour is that we often have the chance to taste exclusive brews, produced in smaller quantities, and through which the brewer can have more fun outside the roster of their usual beers. During our visit, Phare-Est was on the menu that summer. This slightly salty kelp gose had been created in partnership with a wild algae picker in the region.
178, 1re avenue O., Sainte-Anne-des-Monts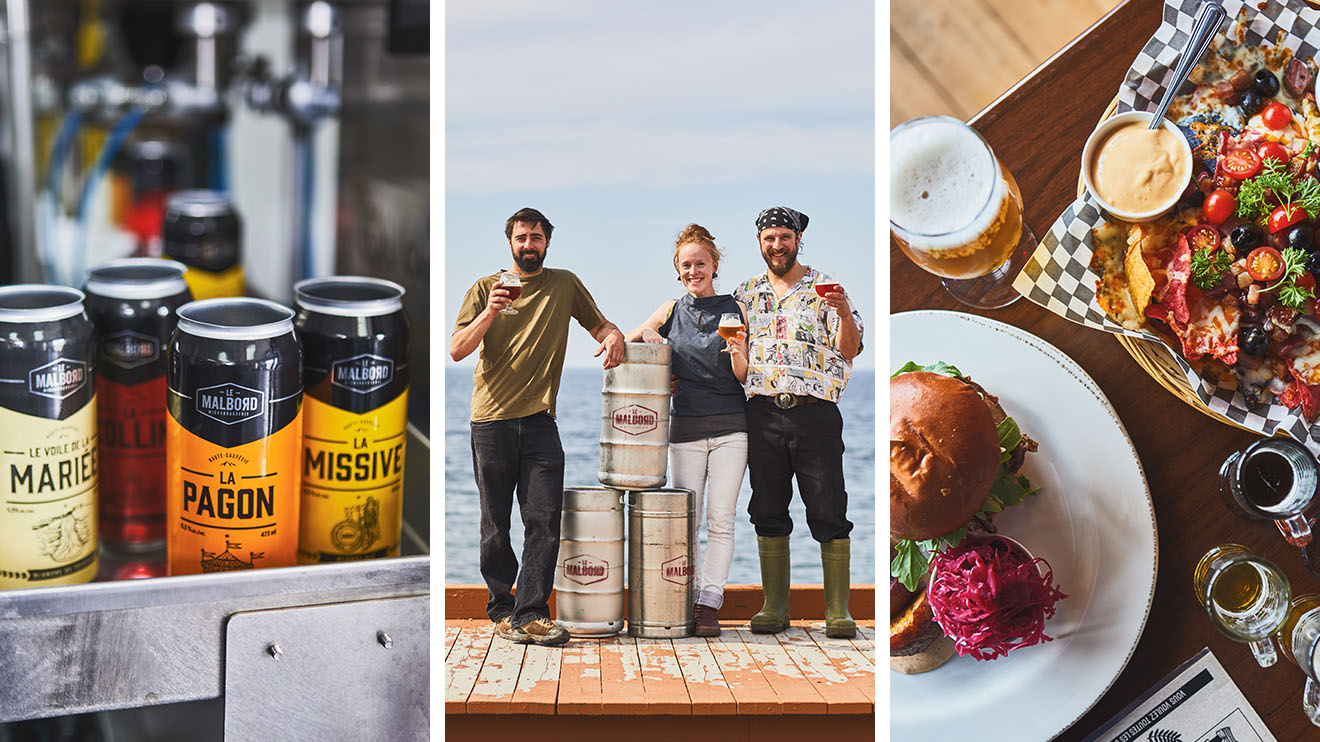 Le Malbord is not the only establishment that works in this spirit of collaboration with local producers—on the contrary. In the same way that we see chefs proudly claiming their proximity to suppliers, many brewers value local ingredients in their creations.
This is what Audrey-Anne Côté (one of the only women brewmasters in Quebec in a still predominantly male environment) is doing in her young Cap Gaspé microbrewery, where she doesn't hesitate to take advantage of local resources. On the pretty terrace lined with hop plants, you can taste fine beers featuring—depending on their availability—berries (blueberries, raspberries and native aronia and Saskatoon berries) and Gulf treasures (wakame for its saline and iodized aromas).
286, boul. de York S., Gaspé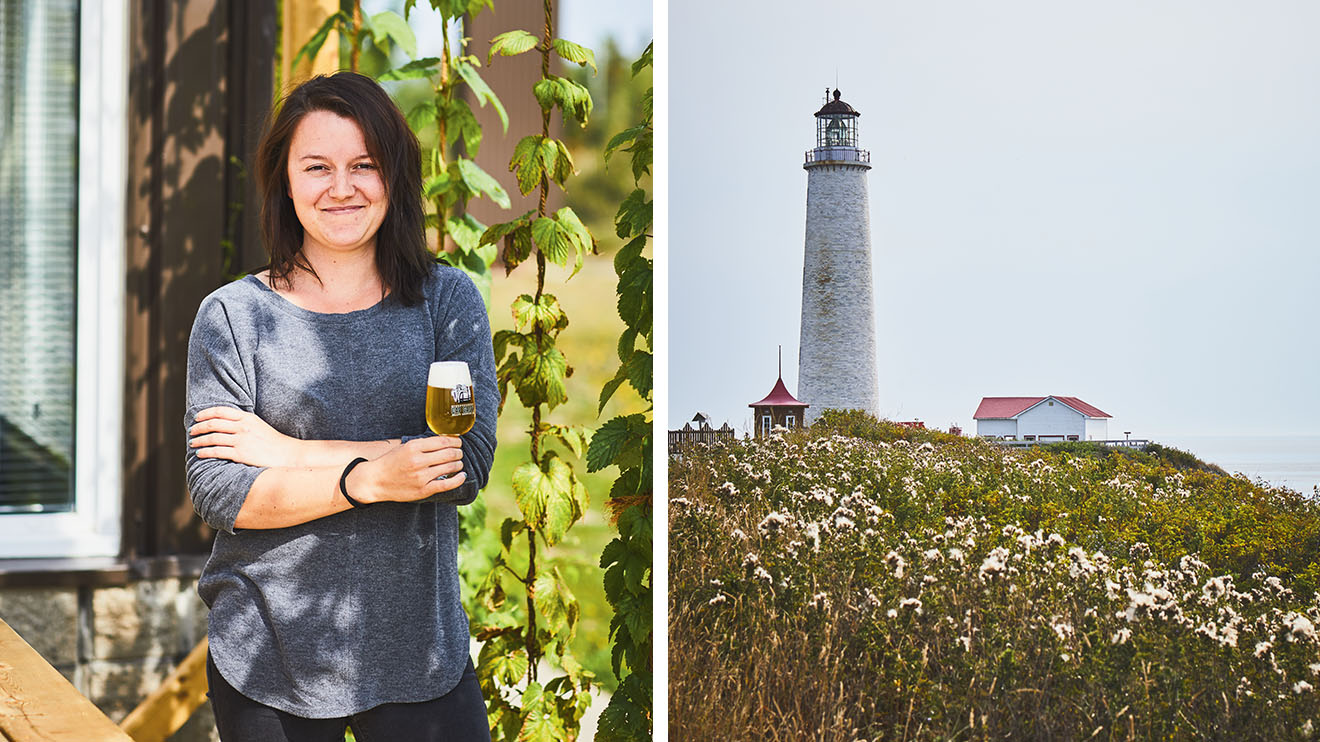 6. PIT CARIBOU, L'Anse-à-Beaufils
It is impossible to do a brewery tour of the Gaspé Peninsula without going through Percé, with its two microbreweries whose reputations go far beyond borders. As soon as we arrived, Annie Tremblay (former director of Pit Caribou) warned us jokingly, "We don't have much left, we were pillaged!" Born out of a need for good quality beer 12 years ago, the microbrewery today is a haven of regulars as well as tourists. Its appeal is easy to understand; housed in a former seal processing plant (where seal skins were tanned), it borders the bucolic fishing haven of L'Anse-à-Beaufils, where you can sip one of their options—either from the barrel or in a bottle—in the sun. "We understood that there was a buzz when we realized that our visitors were having their picture taken in front of our microphone sign, as if it were the Percé rock!" says Tremblay, laughing.
As a pioneer, Pit Caribou is fulfilling its role as a big sister to younger microbreweries. It was with their equipment that the first red beer of the Malbord was developed, and it was under the repeated encouragement of the master brewer that Côté set out to embark on her Cap Gaspé adventure. The notion of helping each other is central to the community: "We are passionate about craft beer and that we are working hard to develop our environment," says Tremblay.
27, rue de l'Anse, Cap-d'Espoir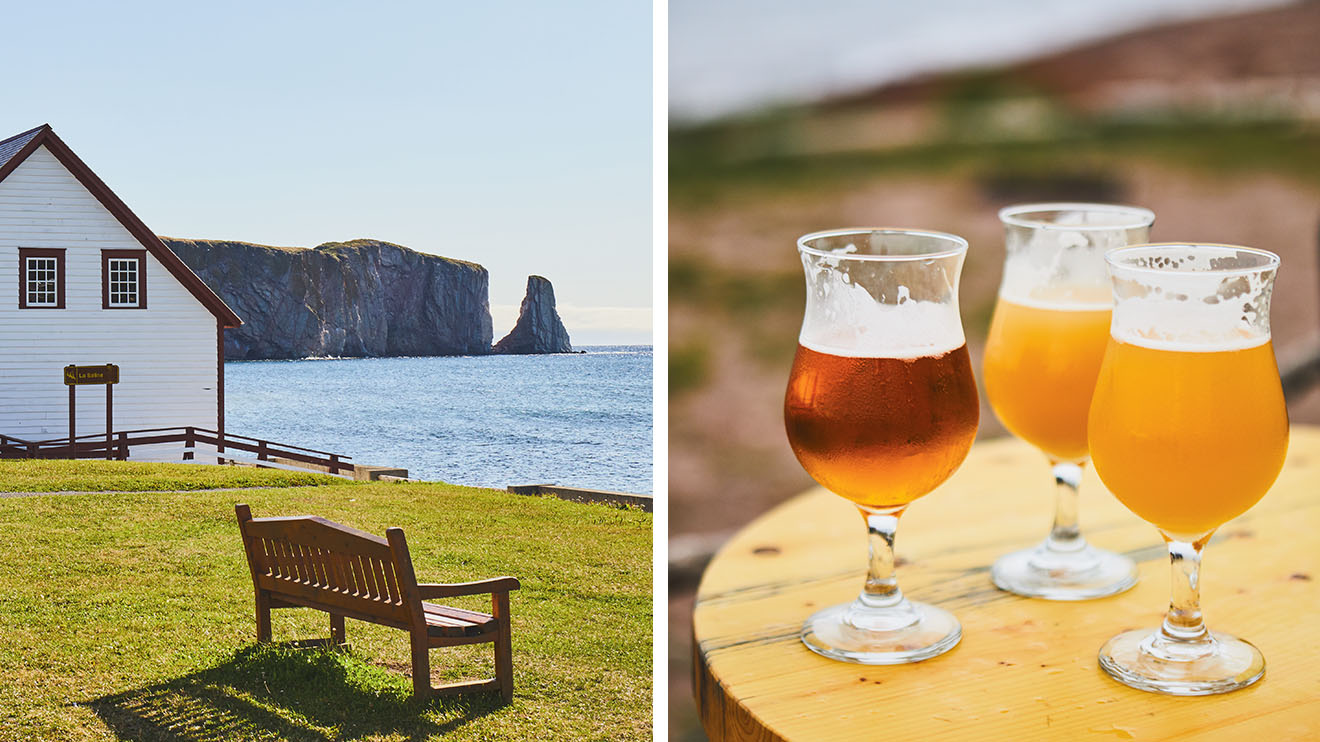 7. AUVAL, Val-d'Espoir
Pit Caribou was originally founded by three friends, Gilles Blanchet, Francis Joncas and Benoit Couillard. In 2015, Couillard, wanting to devote time to his family and return to a more small-scale production, sold his shares and launched his own project: Auval. In his shed transformed into a laboratory, Couillard says that he created a job for himself "to be able to pick up the kids at 5 p.m. at daycare." Very quickly, his microbrewery was a dazzling success. The beers aged in barrels, including hoppy experiments and fruit-based options, are now ranked among the best in the world. Stocks run out quickly, and the convenience stores that carry them are cleared out in just a few hours. Fans travel hundreds of kilometres to refuel (if they're lucky) at the shop on his brewing farm in Val-d'Espoir, inland near Percé. He pours us his youngest offering, a season ale with a beautiful pink hue thanks to sour cherries (those of his friend Gérard Mathar at Gaspésie Sauvage—always local!).
397, chemin de St Isidore, Val-d'Espoir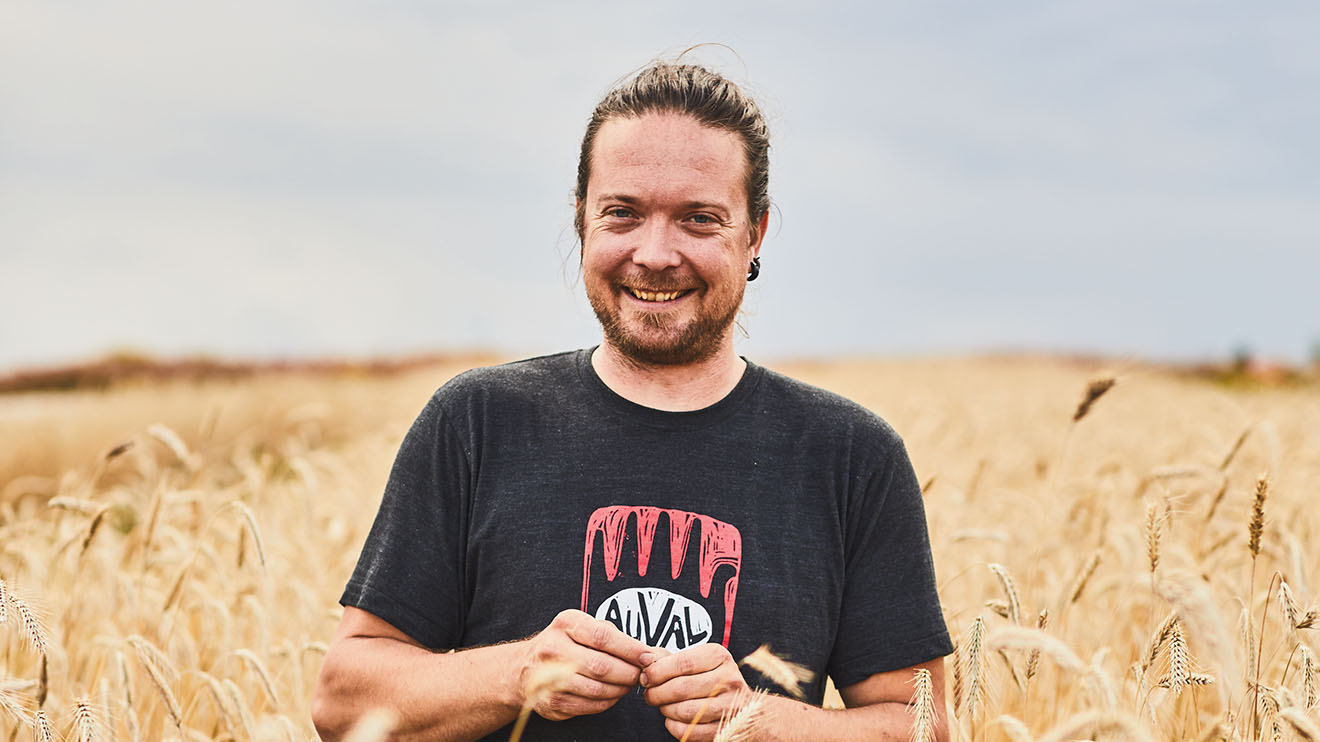 This institution, launched in 2008 by the Valade brothers, has always reflected the taste of terroir. Amongst its many offerings is a range of Amerindian ales flavoured with plants such as balsam myric, elderflower and tansy. They also pride themselves on using grains (including malt) and hops (the "spice" of beer) grown in the province as much as possible. "In ten years, the reputation of Quebec products has changed a lot," explains Sébastien Valade. "Initially, we didn't brag about it, but today, that's what makes us strong."
586, boul. Perron, Carleton-sur-Mer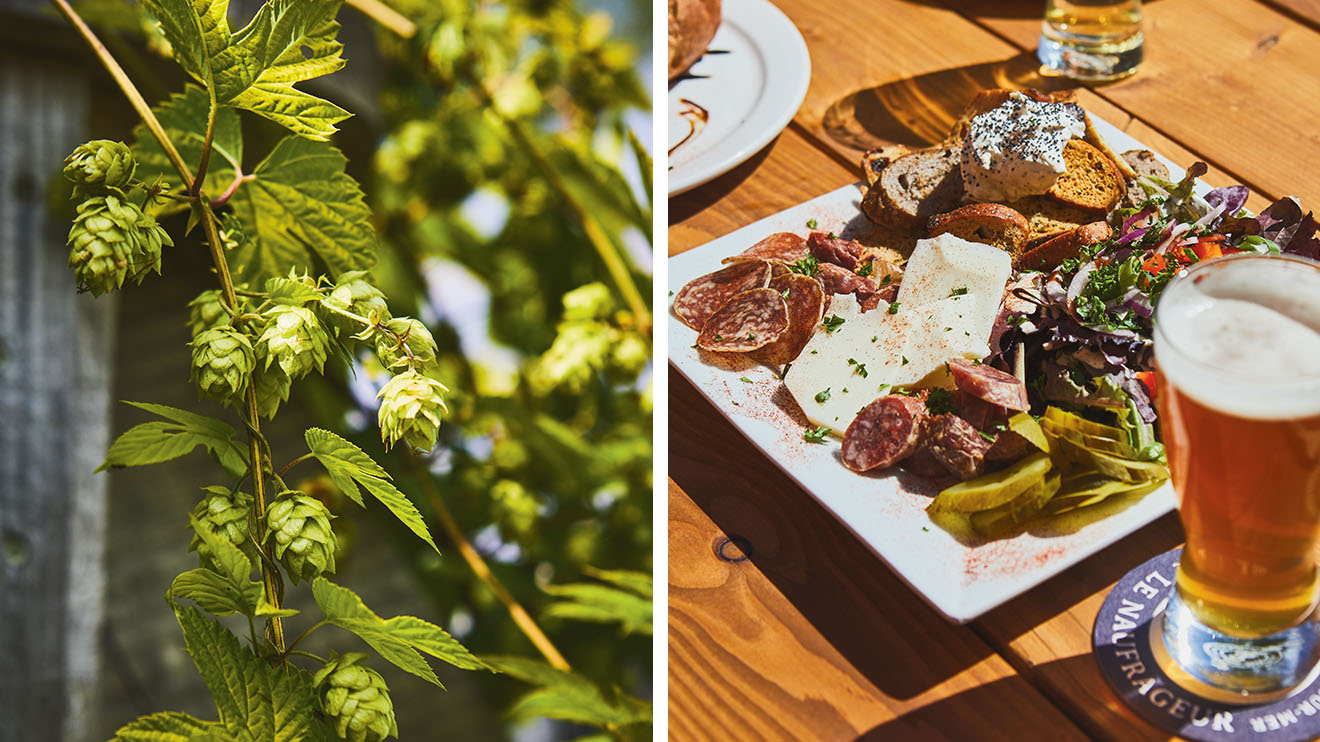 In the eyes of brewing artisans, beer making is a passion and know-how that directly or indirectly engages the entire community. The brewing business contributes to the cultivation of local products, but it is also an experience that, as Benoit Couillard would say, is understood in the glass. Moreover, this artist by training, who does not particularly see the interest of intellectualizing his practice, is happy to hear that the photographer who accompanies us admits to having a kind of physical reaction when tasting his beers: "It goes down to the tip of my toes!" he exclaims. This is a compliment that Couillard accepts wholeheartedly. In other words, we don't want to know about it, we want to drink it!
WRITTEN BY: MÉLANIE ROY