So now, what does 2021 have in store for us? Our whole team came together from a distance to imagine what the next 12 months will look like in the culinary world. A basket more local than ever, a new love for the art of cooking, the importance of traceability of our ingredients—in short, we found the 21 culinary trends that will mark 2021.
1. A local basket, now more than ever
The craze for local products and foods took off in 2020, but will look even better in 2021. Buying locally will no longer be an effort, but the norm, even if it means adapting our diets to the seasonality of the ingredients.
2. The return of culinary projects
With all these months of practice while confined at home, large-scale projects in the kitchen will invade our social networks. We've seen endless bread and fermentation. What will be the next viral challenge? One thing is certain; kitchen challenges will no longer surprise us.
3. A natural choice
The accessibility of natural products will also take hold in 2021. Forget about that dated "granola" term used for health food fans and instead, welcome the contemporary collective interest to better understand what we eat and how it affects our bodies. This goes hand in hand with the idea of local baskets and the traceability of our ingredients. You'll see this more and more in grocery stores.
4. Reduce rather than eliminate
Compromise is on the horizon! In 2021, we'll see the return of balance in eating habits. We've tried all the diets, alcohol has been eliminated, so has sugar. This year, we're making compromises. Instead of eliminating alcohol or meat overnight, we'll reduce it!
5. To our health
Now, more than ever, health is at the heart of our concerns. The extra time we've had the last few months has allowed us to cook more, but above all, to cook better! This awareness of what we eat will result in what we choose to put on our plates.
6. Breakfast comeback
Let's face it, brunch remains, and will forever be, a food trend. We're talking about the real deal weekday breakfast here. By eliminating the work commute, our breakfasts took on more importance. No more dry toast and coffee on the go!
7. Online grocery shopping
It gained popularity in 2020, and will gain notoriety in 2021. With grocers who worked hard to integrate a digital service last year, we'll see online food service diversify. Consider Lufa Farms, more popular than ever, or all the new monthly subscription services for products like Saint-Henri coffee or Oatbox granola.  
8. Traceability
"We don't want to just know, we want to see!" Now that the word "local" is on everyone's lips, we're trying to really understand where the products found in our baskets and plates come from—even going as far as seeking out producers to learn more about their products. In fact, the popularity of agritourism is likely to take off next summer in Quebec.
9. Gardening madness
We already saw a gardening craze last summer, when everyone was getting their hands dirty and everything was out of stock. The explosion of balcony gardens and urban gardens last season suggests green thumbs are on the rise. Growing your own little collection of vegetables and herbs is also a great way to take advantage of the summer, so bring on this new passion!
10. Pottery
In order to keep your eyes and hands as far away from the computer as possible, why not try the art of pottery? As much as we want to put good things on our plates, the appeal of kitchen accessories matters just as much! There is nothing more 2021 than eating local, seasonal produce on handmade plates. Several local artisans distribute their pieces in our shops, too!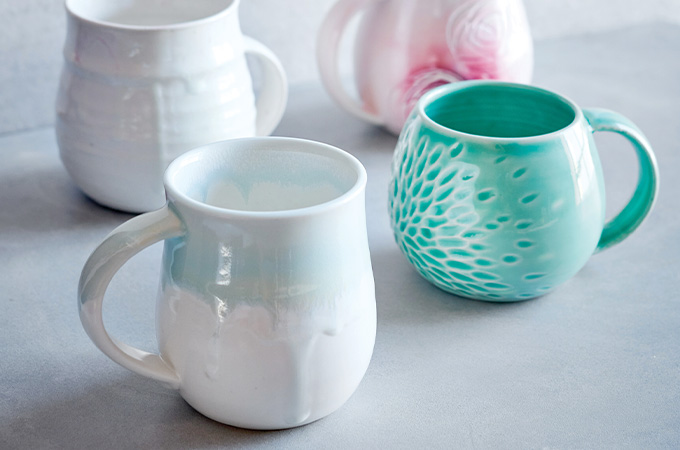 11. Chickpeas and olive oil: a love story
This year, we fell in love with classics that had been forgotten in the pantry. And a lot of these products embody the trends that we will see in 2021: They're versatile, relatively inexpensive and allow us to diversify our plates. Yes, there is always hummus, but there's so much more to do with these two ingredients!
12. Restaurant products
We're seeing these familiar products appear on our grocery store shelves, as more restaurants are entering the product marketing realm. Think Amir's garlic sauce, the famous Dic Ann's spicy sauce, or the many products offered by Joe Beef. Out of necessity, our restaurateurs have diversified their offerings this year, and you will see all their efforts pay off in 2021.
13. Kitchen TLC
With all the time spent at home in the kitchen, the importance of good equipment is more apparent. We've realized that this room deserves a small dose of love. To try all of our chef Isabelle's new homemade bread or cake recipes, you'll need the right tools! At least you can always visit our online shop. It's just a suggestion!
14. The rise of the regional kitchen
We've seen the emergence of several regional food projects,  such as the Bika Farm and Kitchen. Similar to farm tables, there will be more pop-ups or small establishments which will allow everyone to discover regional produce and cuisine. The people behind the Menu Extra project tested the formula by preparing meals at the Fragments organic vineyard in Ripon and the Les Pervenches vineyard in Farnham, with much success.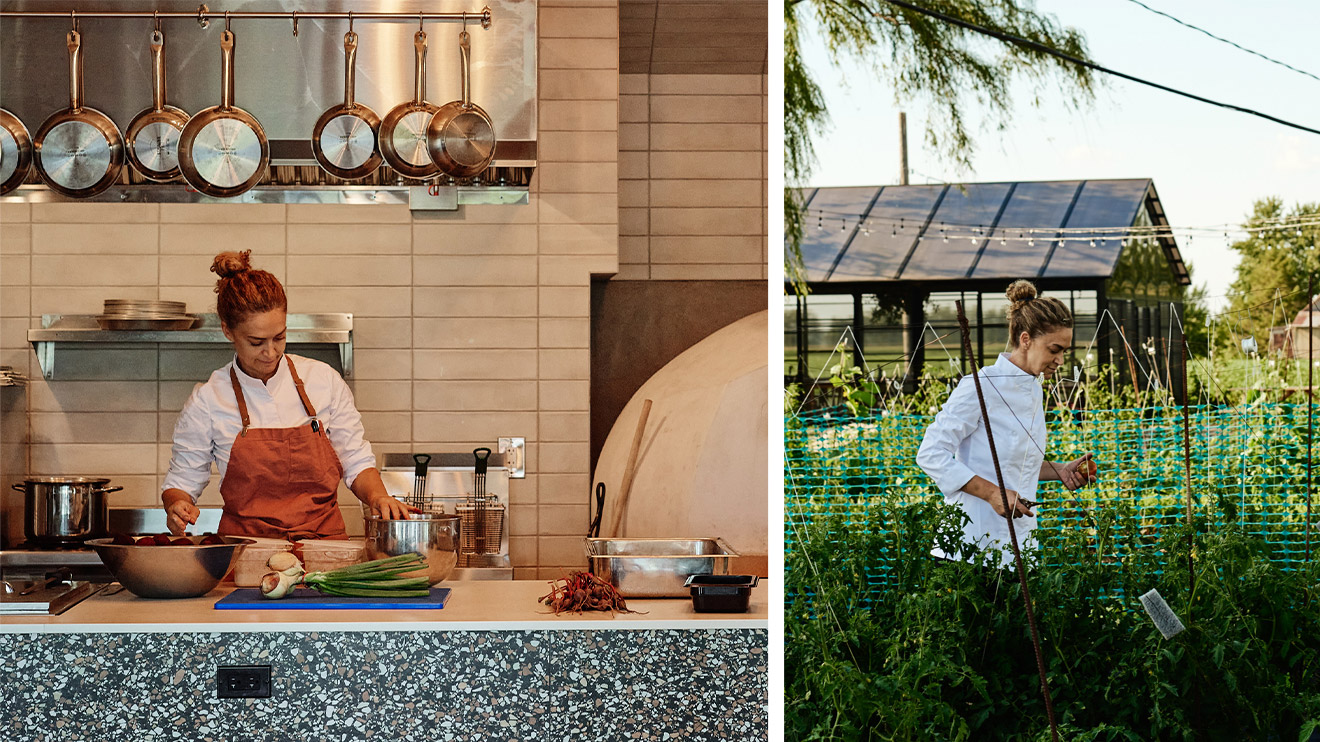 15. Local restaurateurs
The year 2020 has refocused our surroundings. Without being able to go very far, we fell back in love with our neighbourhood restaurateurs—those around us who enliven and colour our neighbourhood, our city, our province. This rejuvenated love is here to stay!
16. Food counters and grocery stores in restaurants
We were talking about restaurant innovation earlier, and it's important to note that not all restaurants have the capacity to bring their products to market. Instead, they've turned their space into food counters and grocery stores. Restaurants like Damas, Moccione, Caffe Un Po' Di Più and Montreal Plaza are all examples. Whether it's to offer their takeout menu, open their wine cellar or sell processed products as well as fresh produce from local farmers, this formula is here to stay!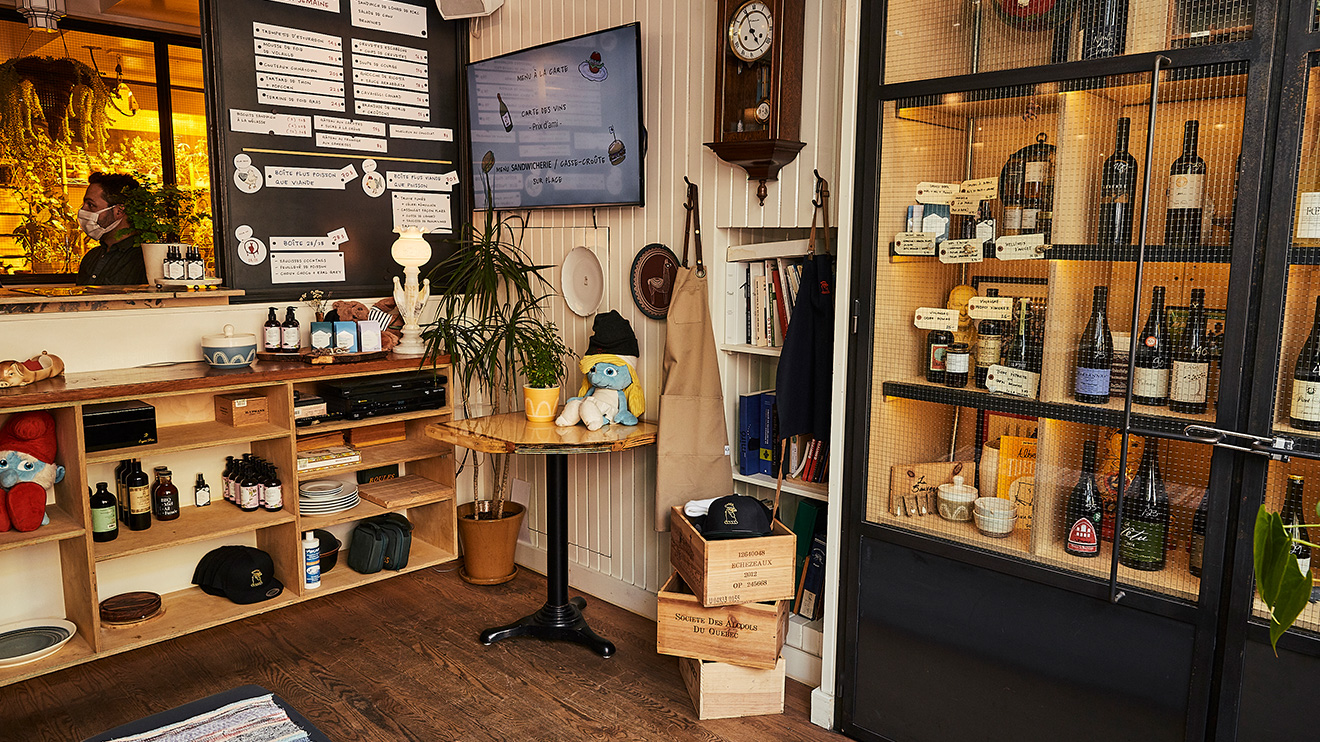 17. Democratization of natural wine and private imports
Thanks to the efforts of many players in the wine industry, natural wines are more popular than ever—so much so that they've even entered the SAQ, which is also temporarily allowing private import agencies to sell mixed cases of wine to the general public. Whether this practice will continue to be allowed in 2021 is still uncertain, but it will have converted many wine lovers to appreciate #naturalwine.
18. The new restaurant
The concept of a Ghost Kitchen has emerged as an interesting alternative for some local restaurateurs. In order to counter the closure of their dining rooms for good, some entrepreneurs are diversifying what they offer while optimizing their space for delivery. The idea is to maximize the square footage of establishments for cooking, without a point of sale, thus reducing some costs. The pop-up formula is also expected to become popular; Danny St-Pierre and his Accommodation Danny project in Saint-Lambert, for example.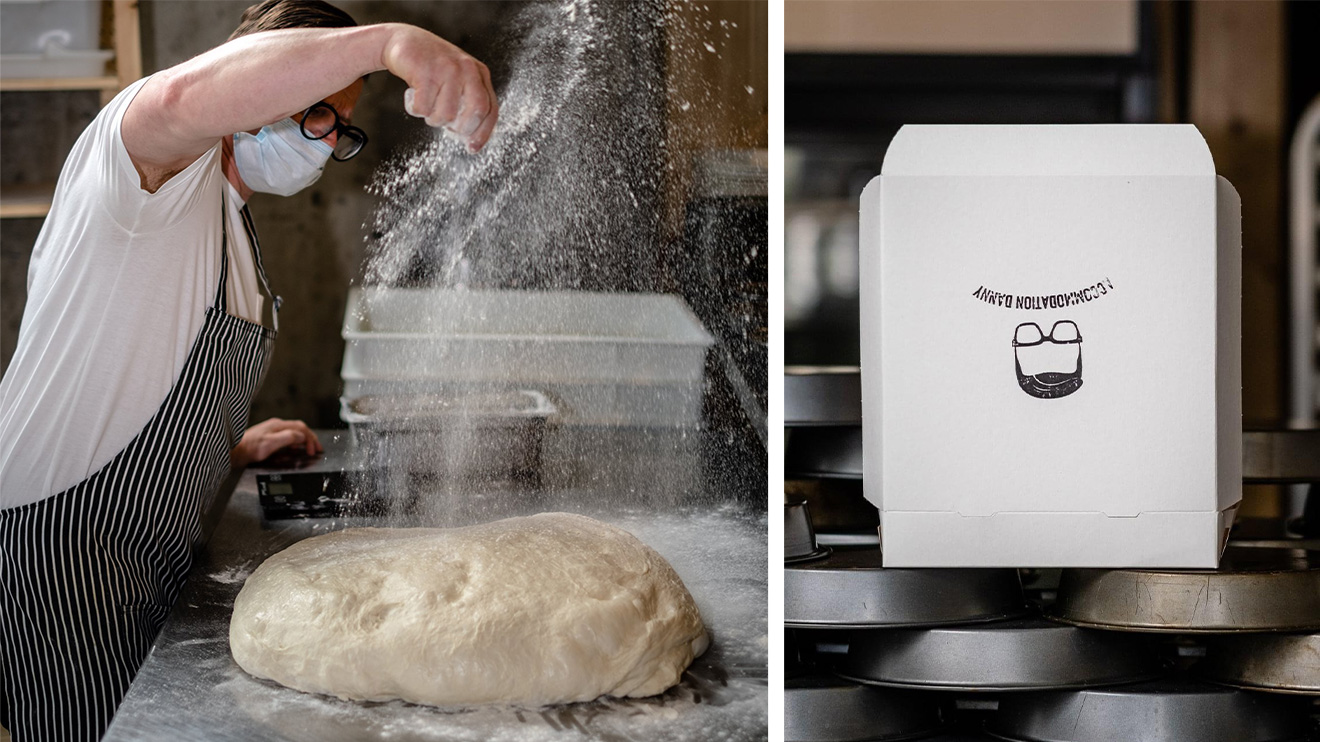 19. Drive-thru dining
The famous car order—nothing new, but several restaurateurs have chosen to reintegrate it in order to make up for the closure of their dining rooms. We have seen many canteens all over Quebec test the formula in recent months with images of cars lining up on a few street corners, like Colombe St-Pierre of Chez Saint-Pierre and its coastal canteen concept in Rimouski. We have a good feeling that the drive-thru is here to stay.
20. Cocktail delivery
If you can't get your drinks from mixologists at your favourite bars, the cocktails can come to you. Atwater Cocktail Club has been offering this service for some time. Much like lunch boxes, ready-to-mix cocktails created by mixologists from across the province are delivered to your home for your drinking pleasure.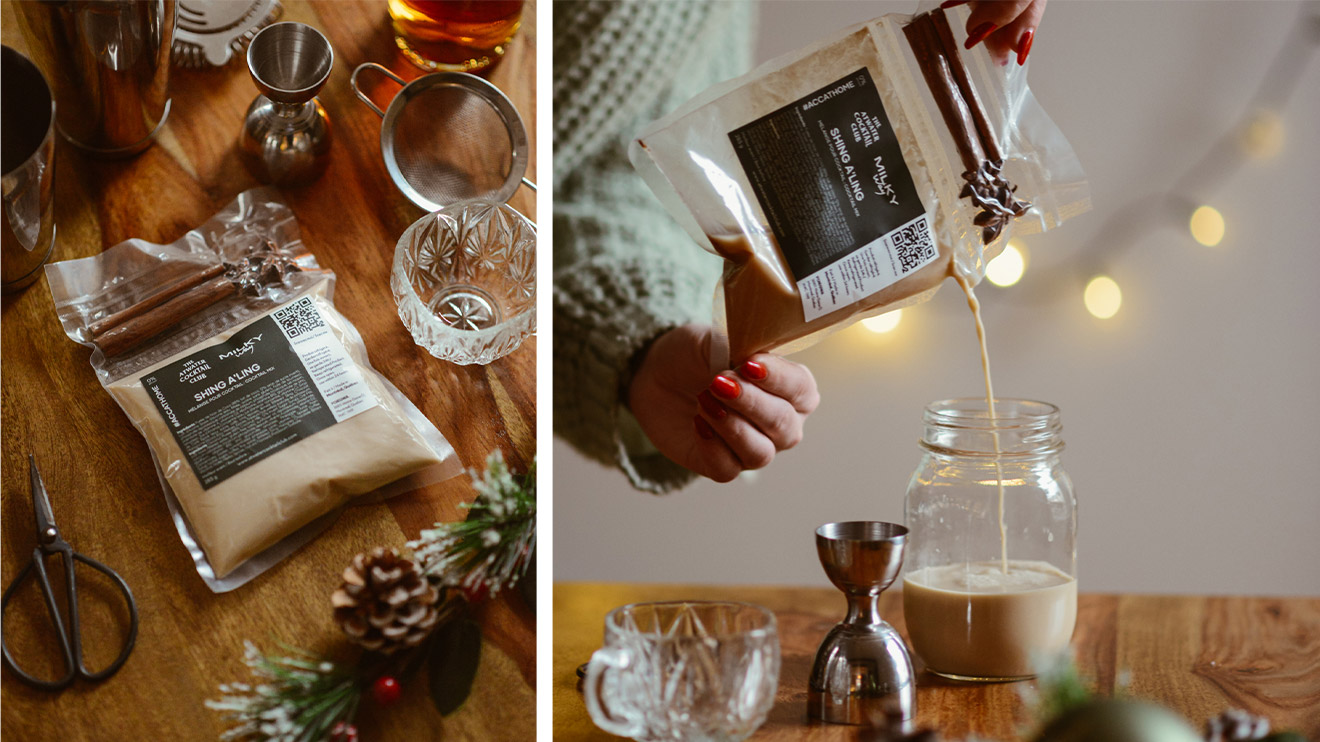 21. Pleasure for all!
2020 was a very special year. With all these months tinged with worry and anxiety, we believe that pleasure will be at the heart of trends in 2021. One thing is for sure, that is what the whole RICARDO team wishes for you for the coming months. There is no question of depriving oneself of gourmet moments in 2021. Whether at home or at our beloved restaurants (when they can reopen their dining rooms), we want everyone to make the most of it and truly appreciate the joy of good food and the special moments that come with it!
Photos credits : Loïc Ferland (Accommodation Danny - left), Olivier Landry (Accommodation Danny - right), Elizabeth Gartside @parfumdefemme (Atwater Cocktail Club).