Try this simple recipe for fried, fluffy doughnuts, filled with a luscious whipped cream.
Ingredients
Doughnuts
Whipped Cream
Preparation
Doughnuts
In a bowl, combine buttermilk, oil and egg yolks.

In a large bowl, with a wooden spoon or in a stand mixer using the dough hook, combine flour, sugar, yeast and salt. Add milk mixture and stir until dough forms into a ball, about 3 minutes. On a floured work surface, knead dough for 2 minutes or until smooth. Place in a lightly oiled bowl. Cover with a damp cloth and let rise for 1 hour in a warm and humid place.

On a floured work surface, cut dough in half. Roll out dough, one piece at a time, to a 6 to 8-mm (1/4-inch) thick sheet. Cut doughnuts with a 7.5-cm (3-inch) round cookie cutter. Place on a floured cookie sheet. Reuse scraps. Cover with a dry cloth and let rise for 30 to 45 minutes in a warm and humid place or until doubled in size.
Whipped cream
Meanwhile, in a bowl, whip cream with sugar until it forms stiff peaks. Keep refrigerated.

Heat shortening or oil in a deep fryer to 180 °C (350 °F). Line a baking sheet with paper towels.

Place 3 or 4 doughnuts at a time into hot oil and cook for 2 to 3 minutes or until golden brown, turning halfway through cooking. Beware of splattering. Drain on paper towel and let cool.

With the handle of a wooden spoon, poke a hole in the side of the doughnuts to form a cavity.

With a pastry bag fitted with a star tip, fill doughnuts with whipped cream. Dust with icing sugar, if desired. Cream-filled doughnuts are best eaten the same day.
Note
You can change the flavour by replacing whipped cream with jam (of your choice) or pastry cream.  Count approximately 250 ml (1 cup) of jam for the recipe.
To help you with this recipe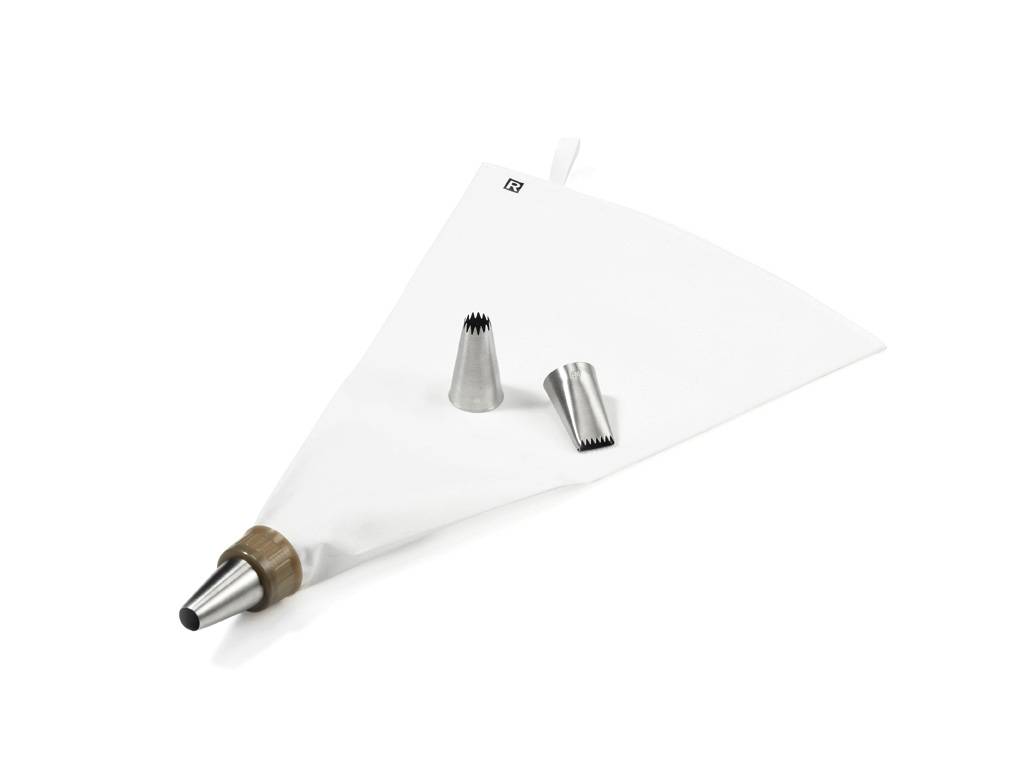 This pastry bag and set of three large tips is perfect for making cream puffs, macaroons and meringues. You can change tips while using the pastry bag, thanks to the practical adapter included in the set.
23.99 $
SHOP NOW