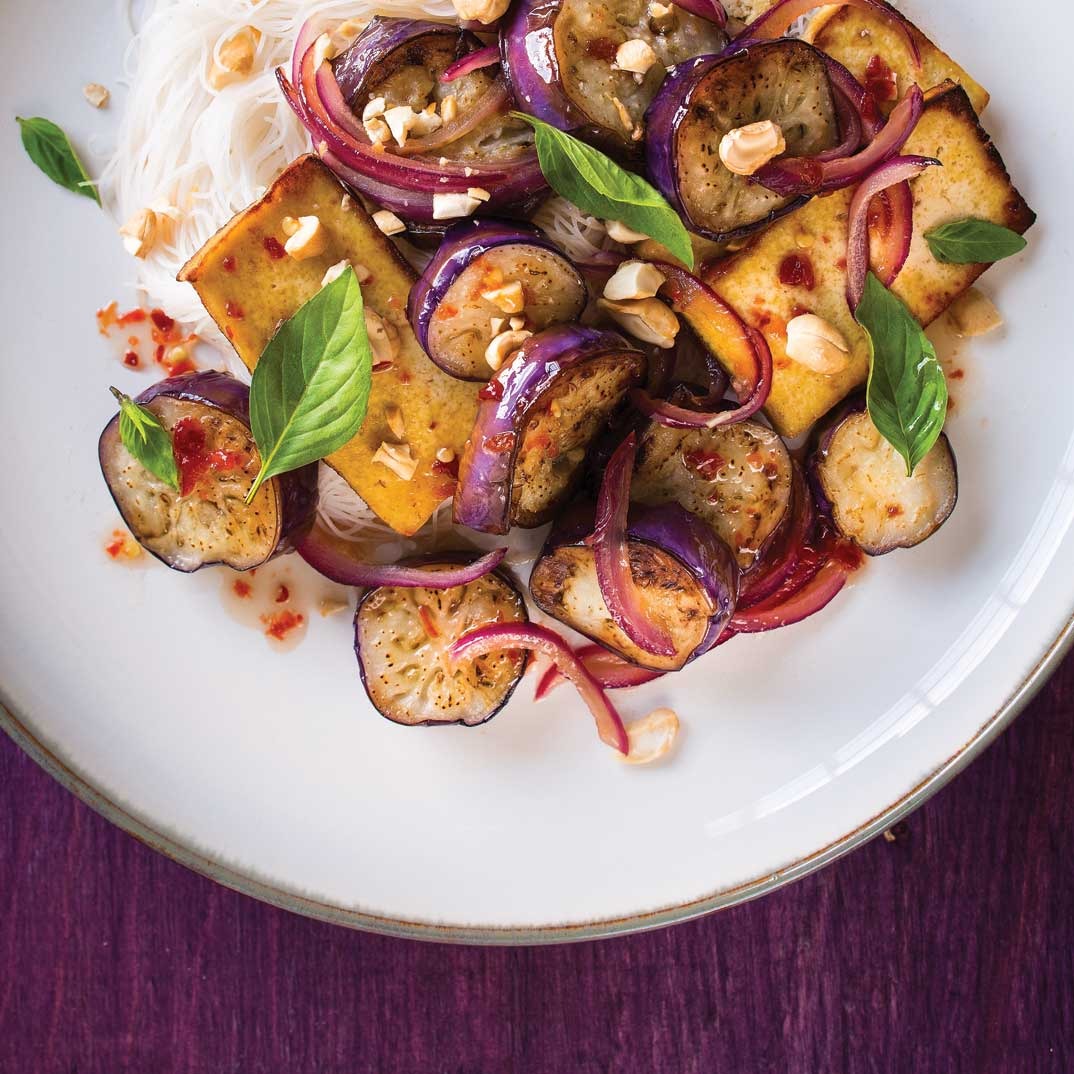 Back
Open in full-screen mode
Sweet and Sour Tofu with Eggplants
Preparation

25 MIN

Cooking

25 MIN

Marinating

30 MIN

Freezing

2 H

Servings

4
Preparation
Sweet and Sour Tofu
In a large sealable freezer bag, place the tofu in a single layer. Place in the freezer for at least 2 hours or until the tofu is completely frozen.

In a bowl, combine the mirin, fish sauce, lime juice, and sambal oelek.

Allow to thaw completely before using the tofu. Blot with paper towel. Place back in the freezer bag and add half of the marinade (Keep the remaining for the eggplants). Allow to marinate for 30 minutes.
Eggplants
In a large non-stick skillet over medium heat, brown half the eggplants in about 45 ml (3 tablespoons) of the oil. Repeat with the remaining eggplants and oil. Set aside.

In the same skillet, soften the onion. Add the reserved eggplants and the remaining marinade and cook for 1 minute.

Meanwhile, lightly blot the tofu with paper towel. In another non-stick skillet over medium heat, brown the tofu in 30 ml (2 tablespoons) of the oil.
Toppings
Divide the vermicelli among four plates. Top with the tofu, onion, and eggplants. Drizzle with the sauce. Sprinkle with the cashews and garnish with basil leaves.
Note
To cook the rice vermicelli, soak them in a pot of boiling water. Remove from the heat and let stand for about 3 minutes or until tender. Rinse under cold water and drain.
Give a try to this frozen and thawed technique that saves time on marinating. If you make the recipe with fresh tofu, you'll need to marinate it for at least 12 hours for it to fully absorb the flavour of the juices, where with this frozen/thawed tofu will only need 30 minutes to absorb it.