Make this creamy cheesecake recipe in your RICARDO electric pressure cooker or Instant Pot.
Ingredients
Crust
Filling
Preparation
Crust
Line the bottom of a 6-inch (15 cm) springform pan with removable bottom with parchment paper.

In a bowl, combine the butter and graham crumbs until just moistened. Lightly press the mixture along the bottom and one-third of the way up the sides of the prepared pan. Freeze while you prepare the filling, at least 15 minutes.
Filling
In a food processor, combine the sugar and flour. Add the cream and cream cheese. Mix well. Add the egg yolks and mix until smooth. Use a spatula to scrape down the sides of the food processor as needed. Pour over the crust.

Prepare a hot water bath in the pressure cooker: place the silicone roasting rack at the bottom of the pressure cooker and add 2 cups (500 ml) of water. Place the cake on the rack (see note).

Cover and select the Programmable function on HI (highpressurization).Set the machine to cook for 20 minutes.

Let the pressure release manually to avoid overcooking the cake. Remove the cake from the pressure cooker and let cool for 1 hour. Cover and refrigerate for 4 hours or until completely chilled.

Pass a thin blade between the side of the pan and the cake. Unmould. Serve with fresh strawberries, fruit coulis or chocolate sauce, if desired.
Note
If you do not have a silicone roasting rack, make a log of foil about 18 inches (45 cm) long and place at the bottom of the pressure cooker. The cake pan should not touch the water and should be sitting flat on the foil log.
To help you with this recipe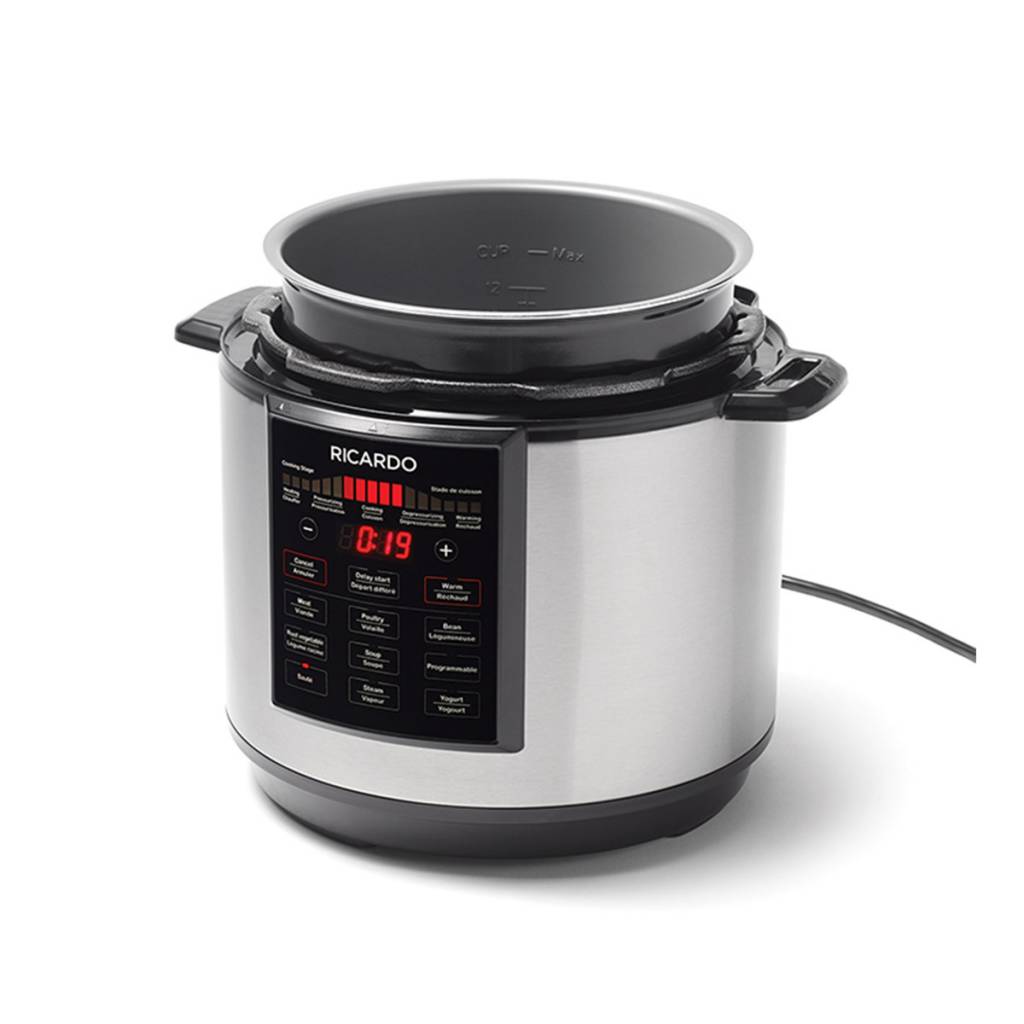 The RICARDO 6.3-quart (6 litre) pressure cooker lets you make delicious and flavourful meals bursting in record time. Both safe and efficient, it can prepare homemade broths, legumes, chicken, stews and even yogurt!
119.99 $
SHOP NOW