Ingredients
Sauce
Sausage Meatballs (see note)
Toppings (optional)
Preparation
Sauce
In a large skillet over medium-high heat, brown the pork in the oil for 3 to 5 minutes on each side. Season with salt and pepper. Place in the slow cooker. Keep the cooking fat in the skillet.

In a food processor or with a knife, finely chop the onion, celery, carrot and garlic. Set aside in a bowl. Repeat with the pancetta.

In the same skillet used to brown the meat, brown the pancetta for 2 minutes in the leftover cooking fat. Add the vegetables and soften for 5 minutes. Deglaze with the wine and let reduce by three-quarters. Season with salt and pepper. Transfer the mixture to the slow cooker. Add the plum tomatoes, strained tomatoes and broth. Add the oregano and red pepper flakes. Mix well. Cook on High for 6 hours or on Low for 8 hours.
Sausage Meatballs
Meanwhile, in a bowl, combine all of the ingredients. With oiled hands, form the mixture into 8 meatballs. Add the meatballs to the sauce in the slow cooker 1 hour before the end of the cooking time.

Remove the pork shank from the slow cooker. Remove the bones and any excess fat. Return the meat to the slow cooker. Compost or discard the bones and fat.

In a large pot of salted boiling water, cook the pasta until just al dente (the pasta will continue cooking in the slow cooker with the sauce). Drain and stir into the sauce. Adjust the seasoning. Set aside.
Toppings (optional)
In the same skillet, cook the watercress and garlic in the oil for 2 minutes or until the garlic is golden. Season with salt and pepper.

Transfer the pasta and meat to a large serving dish. Drizzle with olive oil and garnish with the watercress topping, if desired.
Note
For this recipe you can either use pork hocks with the skin and bone, or slices of pork shanks (otherwise known as osso buco), or a mixture of the two.
For a faster version of this recipe, replace the sausage meatballs with whole sausages that you can cook at the same time as the pork shanks.
To help you with this recipe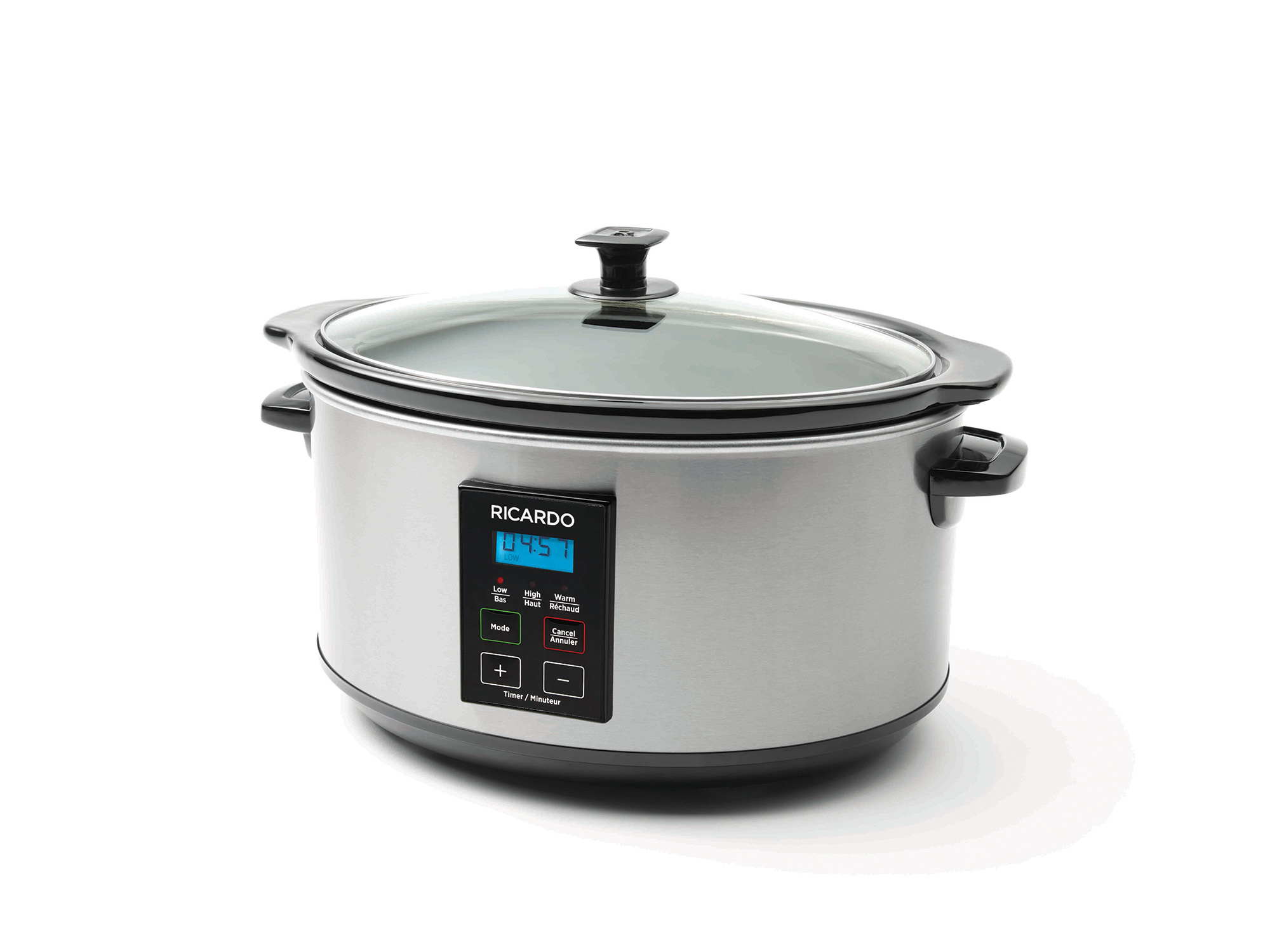 This slow cooker is the must-have kitchen appliance for every busy family. The size of this slow cooker is perfectly adapted to RICARDO recipes.
69.99 $
SHOP NOW