Ingredients
Roast Beef and Brussels Sprouts
Preparation
Roast Beef and Brussels Sprouts
With the rack in the middle position, preheat the oven to 225°F (110°C).

In a pot of salted boiling water, cook the Brussels sprouts for 5 minutes. Drain and set aside.

In a small bowl, combine the spices and salt. Place the roast on a plate and sprinkle with the spices. Season with pepper.

In a skillet over medium-high heat, brown the roast in the butter on all sides. Keep the hot butter in the skillet. Place the roast at the centre of an 11 x 8-inch (28 x 20 cm) baking dish. Using a pastry brush, cover the top and sides of the roast with the mustard.

In the same skillet over medium heat, toss the Brussels sprouts in the leftover butter for 2 minutes. Season with salt and pepper. Place the sprouts around the roast in the baking dish.

Roast for 1 hour 30 minutes or until a thermometer inserted in the centre of the meat reads 131°F (55°C) for medium-rare (see note). Let sit for 10 minutes in a warm spot.
Sauce
Meanwhile, in a bowl, combine the cornstarch, broth and water.

In a pot over medium heat, cook the onion in the butter for 5 minutes or until golden. Deglaze with the wine and let reduce by half. Add the broth mixture. Bring to a boil while stirring. Simmer for 10 minutes or until the sauce has thickened. Season with pepper.

Remove the string from the roast before slicing. Serve with the Brussels sprouts and red wine sauce. Serve with mashed potatoes, if desired.
Note
A digital thermometer allows for more precise cooking and can even be pre-programmed to reach desired doneness. Insert the stainless-steel heat-resistant probe in the centre of the meat and leave it in place as the roast cooks in the oven (or on the barbecue).
To help you with this recipe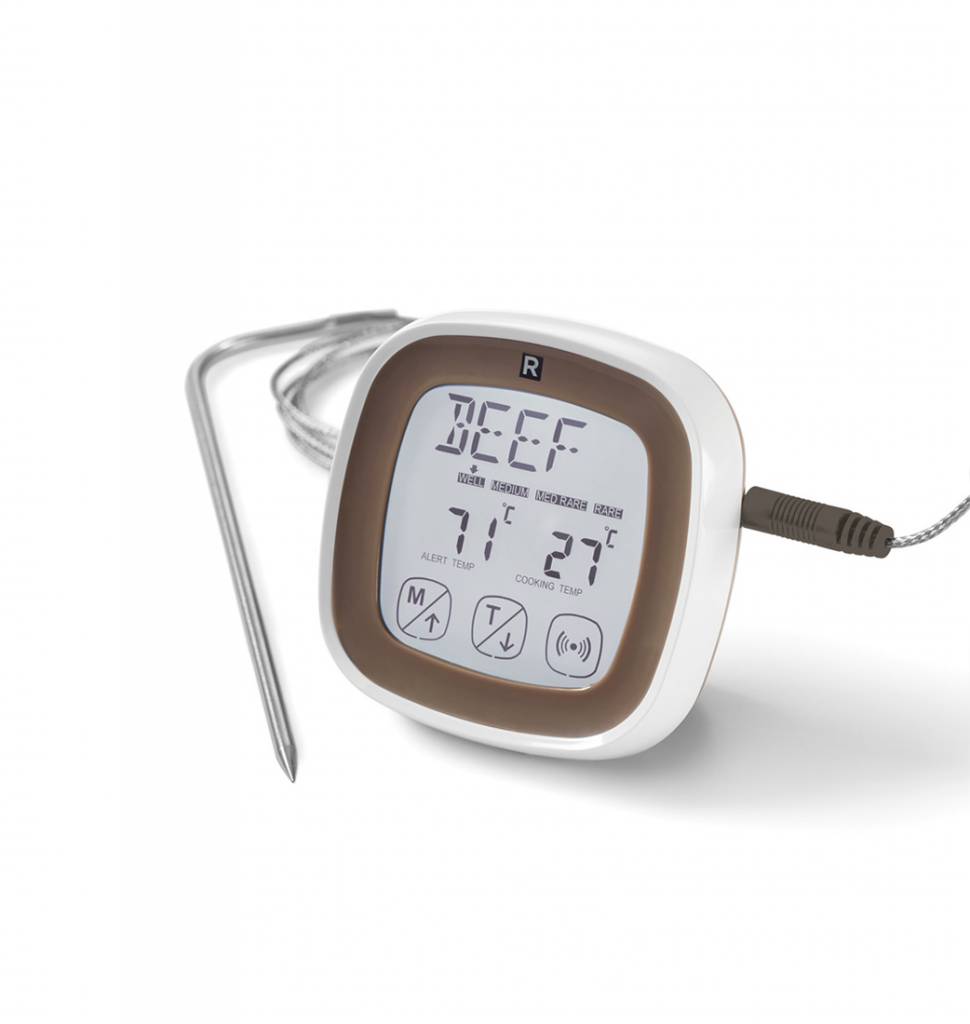 This thermometer is the secret to cooking turkey, chicken or cake to perfection. It can measure temperature directly in the oven thanks to its resistance to high temperatures.
38.99 $
SHOP NOW