Ingredients
Vegetable Broth
Paella
Preparation
Vegetable Broth
In a pot over medium-high heat, brown the cut-side of the onions in the oil until caramelized. Cover with the water. Watch out for splattering. Add the remaining ingredients. Bring to a boil. Simmer for 30 minutes. Strain through a sieve set over a clean pot. You should get 5 cups (1.25 litres) of broth. Season with salt. Cover and keep hot while you prepare the paella. Compost the aromatics.
Paella
In a paella pan, or in a very large skillet of about 15 inches (38 cm) in diameter, over medium-high heat, brown the fennel wedges on both sides in 2 tbsp (30 ml) of the oil. Season with salt and pepper. Set aside on one half of a plate.

Add 1 tbsp (15 ml) of the oil to the skillet and brown the cut-side of the artichokes. Set aside on the other half of the plate.

Add 1 tbsp (15 ml) of the oil to the skillet. Add the onion, bell pepper, snap peas and lima beans. Cook for 3 minutes while stirring. Push the vegetables towards the sides of the skillet and add the remaining oil to the centre. Sprinkle the spices over the oil and let infuse for 30 seconds. Pour in the strained tomatoes. Cook for 1 minute while stirring. Add the rice, fennel and garlic. Mix well. Pour in the hot vegetable broth. Place the rosemary sprig at the centre of the skillet. Simmer for 10 minutes. Adjust the seasoning.

Remove the rosemary from the skillet. Spread the artichokes over the rice, browned-side up. Cook for 8 minutes or until the rice is cooked but still slightly firm, the broth has been absorbed and the edges of the paella are starting to brown. Remove from the heat and let rest for 5 minutes. Serve with the lemon wedges
Note
In Spain, paella is made with bomba rice (also known as Valencia rice), a short, rounded grain. Since it can be difficult to find, you can replace it with arborio rice, which is used to make risotto. In this case, thoroughly rinse the arborio in cold water until the water runs clear, to remove as much starch as possible before using.
To help you with this recipe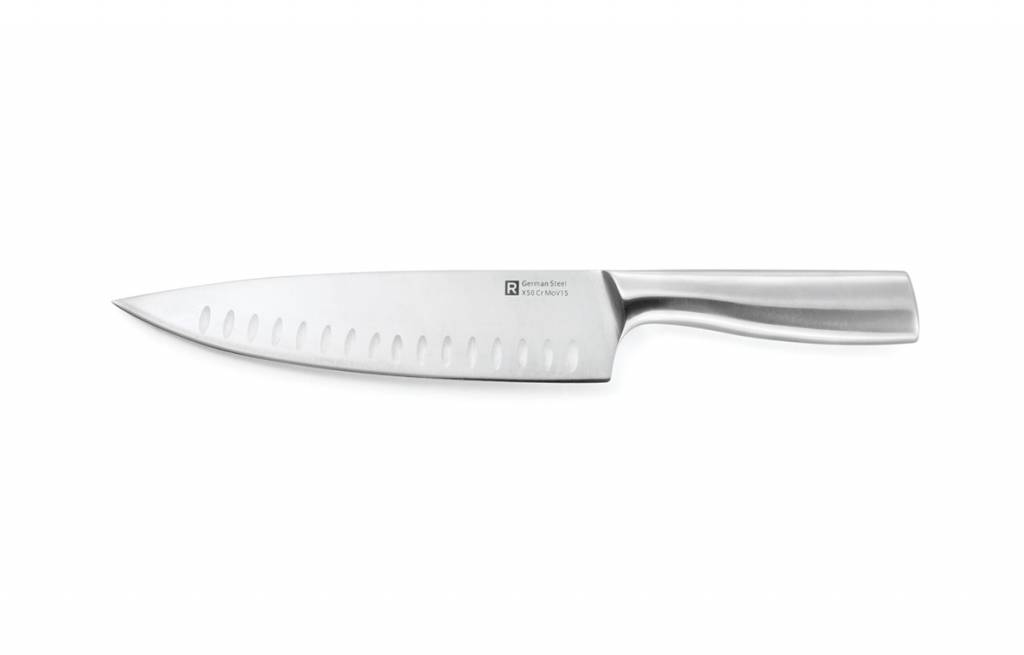 This chef's knife was designed by RICARDO's Test Kitchen staff. Its weight and ergonomic handle are perfectly balanced. The sharp blade provides perfect cuts, while its bevelled grooves ensure meat will not stick to it.
54.99 $
SHOP NOW