Ingredients
Yogurt Sauce
Filling
Eggplants
Preparation
Yogurt Sauce
In a bowl, combine all of the ingredients. Refrigerate.
Filling
In a large skillet over medium-high heat, soften the onions and garlic with the seven-spice powder in the clarified butter. Add the meat and cook, breaking it up with a wooden spoon, until starting to brown. Add the pine nuts, cilantro and pomegranate molasses. Season with salt and pepper. Set aside.
Eggplants
Using a vegetable peeler, remove most of the skin from the eggplants, leaving a few strips to hold the eggplants together as they cook. Slice the stem ends off of the eggplants. Cut the eggplants in half lengthwise. Using the tip of a knife, make a few incisions in the flesh of the eggplants. Using a small spoon, dig out the centre of each eggplant to make a space for the filling. Set aside the removed flesh for another use.

Preheat the oil in a deep fryer to 350°F (180°C). Line a baking sheet with a wire rack.

Fry 3 to 4 eggplants at a time in the oil for 3 minutes, turning them over frequently, or until slightly golden. Drain on the baking sheet.

With the rack in the middle position, preheat the oven to 400°F (200°C).

Stuff the eggplants with the filling. In a large baking dish, add half of the tomato sauce and the lamb stock. Arrange the stuffed eggplants over the sauce in the baking dish. Cover the eggplants with the remaining tomato sauce. Cover the baking dish with a lid or foil.

Roast for 30 minutes or until the eggplants are tender. Remove the lid and cook for another 10 minutes.
Assembly
Place the pita chips in a large serving dish. Cover with half of the yogurt sauce. Gently place the eggplants over the yogurt sauce. Cover with the tomato sauce and the remaining yogurt sauce. Garnish with the pistachios, pine nuts, pomegranate seeds and cilantro. Sprinkle with the Aleppo pepper.
Note
Lebanese seven-spice powder can be found in specialty grocery stores. It can be replaced in this recipe with allspice. To make your own blend, combine 1 tsp ground allspice, ½ tsp each ground cinnamon, ground nutmeg, ground cardamom and ground cloves, and ¼ tsp each ground black pepper and ground ginger.
To make your own fried pita chips, open whole pitas and brush them with clarified butter or olive oil. Bake in a 400°F (200°C) oven for 10 minutes or until golden. Let cool. Break the pitas into pieces.
Traditionally this dish is flambéed with a few drops of steaming clarified butter, which is carefully poured over the eggplant before serving. This step can easily be omitted from this recipe.
To help you with this recipe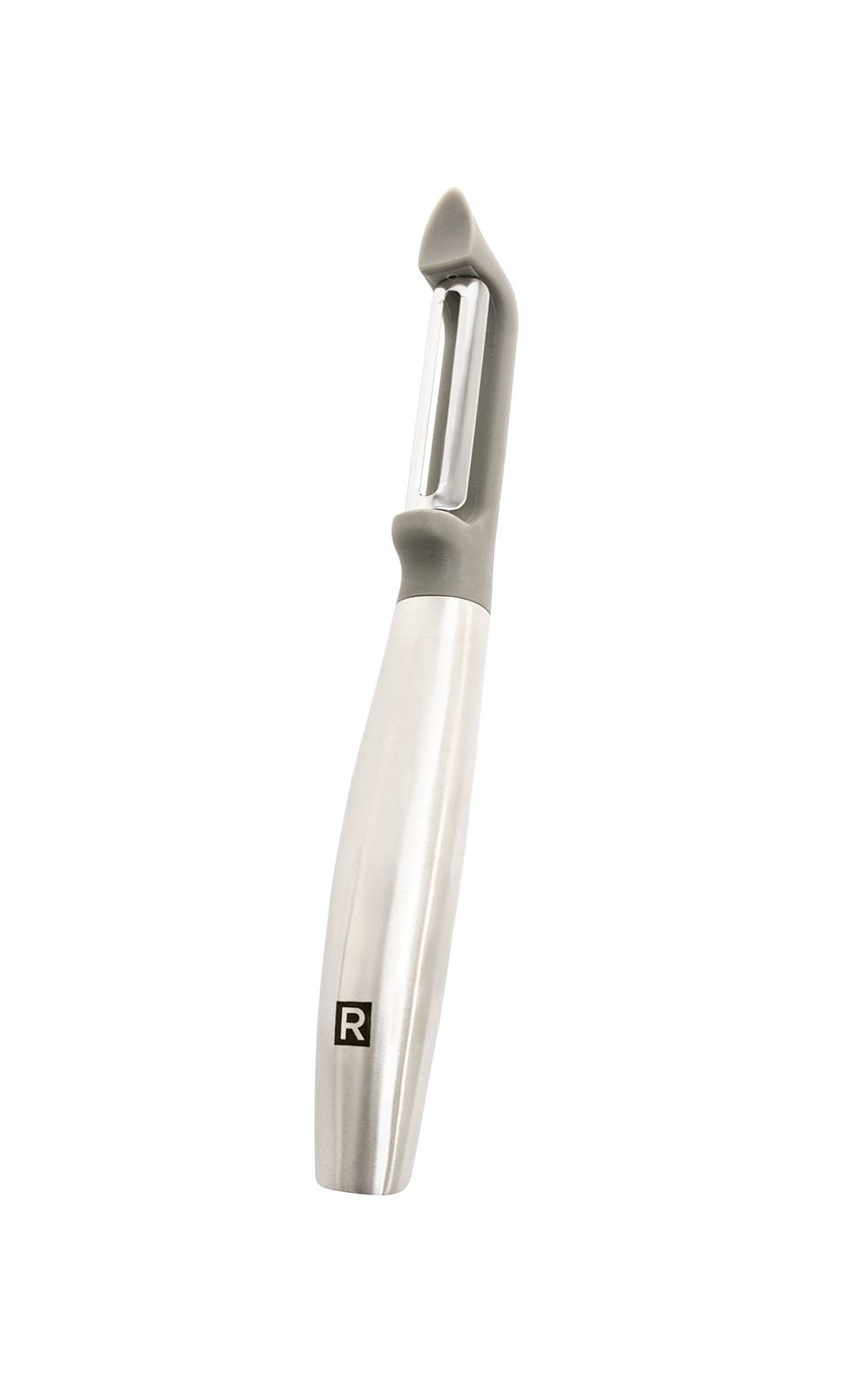 This RICARDO straight handle peeler has a long-lasting ultra-sharp blade and an ergonomic stainless steel handle, and can be used with either the right or left hand. Practical and sturdy, it comes with a blade cover for safe storage.
16.99 $
SHOP NOW