Ingredients
Barbecue Pulled Pork
Dumplings
Preparation
Barbecue Pulled Pork
In a pressure cooker, combine all of the ingredients except for the meat.

Add the meat and mix to coat well in the sauce. Season with salt and pepper. Cover and select the Meat function. Set the machine to cook for 40 minutes.

Let the pressure release naturally, about 15 minutes. Once the pressure is released, remove the lid. Remove the meat from the pressure cooker. Using a fork, shred the meat, removing any excess fat.

Meanwhile, select the Sauté function and let the sauce reduce by two-thirds, about 15 minutes for a syrupy sauce. Add the meat and mix well to coat in the sauce. Adjust the seasoning.
Dumplings
Line a baking sheet with a silicone mat or parchment paper.

On a work surface, lay out a few dumpling wrappers at a time. Place 1 tbsp of the pulled pork at the centre of each wrapper, leaving a ¼-inch (5 mm) border all the way around. Moisten the border with water and fold the dumpling into a half-moon shape, making a few pleats in the dough. Press the dough around the filling to seal the dumplings and place on the prepared sheet. Repeat with the remaining meat and dumpling wrappers.

In a large non-stick skillet over medium-high, heat 1 tbsp (15 ml) of the oil. Place half of the dumplings at a time in the skillet, keeping a small space between each one. Fill the skillet with enough water to come ½ inch (1 cm) up the side of the skillet. Cover the skillet and bring to a boil. Cook for 8 minutes. Remove the lid and cook another 3 minutes, until the water has completely evaporated and the bottoms of the dumplings are starting to brown. Keep warm on a serving dish. Continue cooking the remaining dumplings in the remaining oil.

When ready to serve, sprinkle the pomegranate seeds, apple and green onion over the dumplings. Serve with the chili oil.
Note
Dumpling wrappers can be found in some grocery stores in the frozen food section, or in Asian grocery stores.
To help you with this recipe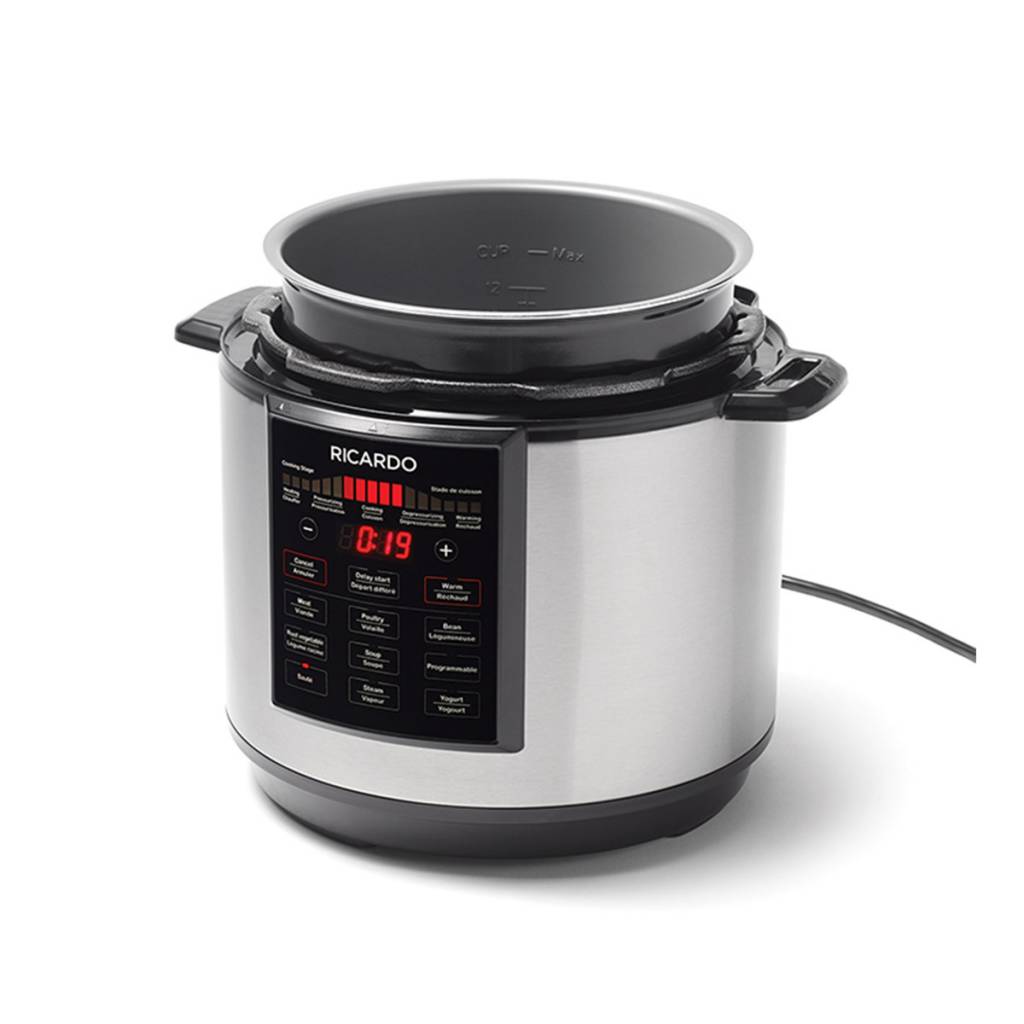 The RICARDO 6.3-quart (6 litre) pressure cooker lets you make delicious and flavourful meals bursting in record time. Both safe and efficient, it can prepare homemade broths, legumes, chicken, stews and even yogurt!
119.99 $
SHOP NOW