Ingredients
Hot Chocolate Cubes
Marshmallows (see note)
To Serve
Preparation
Hot Chocolate Cubes
Butter a 9 x 5-inch (23 x 13 cm), 6-cup (1.5 litre) loaf pan and line with a strip of parchment paper, letting it hang over two sides.

In a bowl set over a pot of simmering water, melt the chocolate with the condensed milk and cream. Whisk until smooth. Spread the mixture out in the prepared pan. Tap the pan on the counter to even out the mixture and fold the parchment paper over to completely cover. Let set in the refrigerator for 2 hours or until firm.

Line a baking sheet with parchment paper. On a work surface, unmould the chocolate mixture and cut into 18 cubes. Place the cubes on the baking sheet. Set aside.
Marshmallows
In a small pot, combine the water and vanilla. Sprinkle the gelatin over the water and let bloom for 5 minutes. Add the sugar and heat gently while stirring until the sugar and gelatin have dissolved.

Pour into a bowl and add the corn syrup. Whisk with an electric mixer until soft peaks form. Transfer into a pastry bag fitted with a plain tip and immediately garnish the chocolate cubes with a dollop of marshmallow. Let set for 10 minutes.

Place the chocolate cubes on a plate or non-stick baking sheet. Using a small kitchen torch, lightly brown the surface of the marshmallows, if desired. Insert a small skewer through each marshmallow and chocolate cube.

Place the cocoa powder on a small plate. Holding the skewers, dip the base and halfway up the sides of the chocolate cubes in the cocoa powder. Gently shake off any excess cocoa powder.
To Serve
For each portion, heat the milk and pour into a mug. Add one chocolate and marshmallow skewer to the mug and stir until melted. Serve immediately.
Note
The homemade marshmallows can be replaced by 18 store-bought marshmallows.
The hot chocolate with marshmallows on a stick will keep for 1 week in an airtight container in the refrigerator. Remove the skewers, as needed. Let the cubes of hot chocolate reach room temperature before adding them to hot milk. For an original gift idea, wrap the hot chocolate with marshmallows on a stick in a decorative box.
To help you with this recipe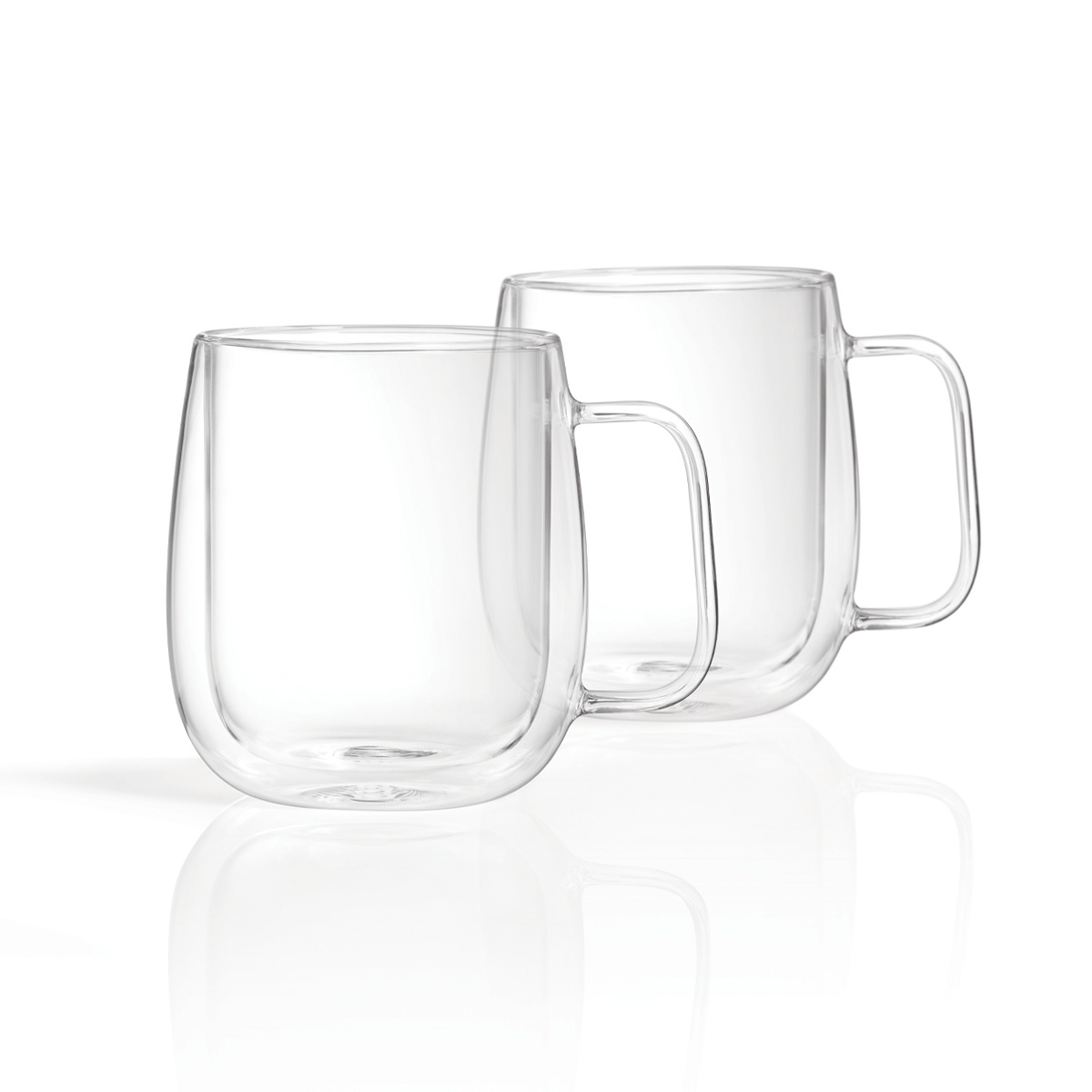 These double-walled mugs with handle allow you to enjoy a cold drink that stays cold and hot drinks that'll keep hot longer. With a capacity of 500 ml (17 oz) each, they're made of borosilicate glass, a material that gives them their transparency and offers a high resistance to heat.
26.99 $
SHOP NOW