*Video in French only.
1. White Bean Soup
"I wanted to make use of some fresh herbs that were just about to go bad in the fridge. Among other things, I've used cilantro and also paprika to provide a little bitterness to the sauce, which is fairly sweet. And a mushroom broth gives this soup a nice thick consistency!" – Lisa Birri, Test Kitchen chef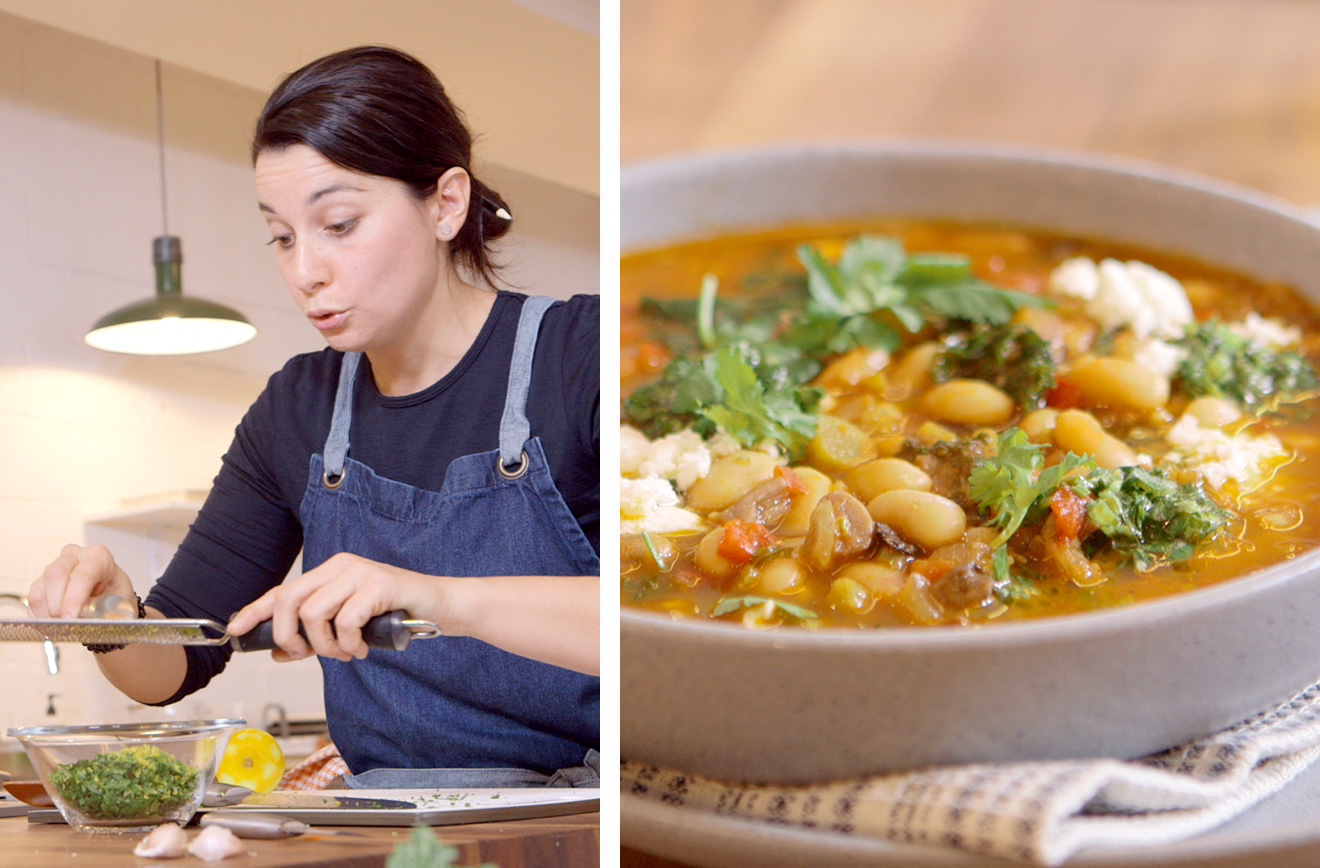 Recipe
White bean soup: In a pot over medium-high heat, brown 2 thinly sliced garlic cloves with 2 tbsp finely chopped cilantro stems in 2 tbsp olive oil. Add 1 tsp paprika, 1 can (19 oz) drained and rinsed white beans, 2 cups RICARDO Cacciatore cooking sauce and 4 cups mushroom or chicken broth. Bring to a boil and simmer, partially covered, for 5 minutes. Add 4 cups kale and simmer for 5 minutes or until the kale is tender. Add more broth as necessary.
Cilantro topping: In a bowl, combine ¼ cup finely chopped cilantro, the zest and juice of ½ lemon and 1 tbsp olive oil. Season with salt. Serve the soup in bowls. Top with ¼ cup crumbled feta cheese and the cilantro garnish.
2. Involtini of Beef with Sausage
"This calls for sandwich steak (similar to veal cutlets) and Italian sausages, which are braised in the Cacciatore sauce. Use a generous amount of pepper and add black Kalamata olives. The finishing touch is a quick polenta (broth, instant semolina and Parmesan)!" – Étienne Marquis, Test Kitchen chef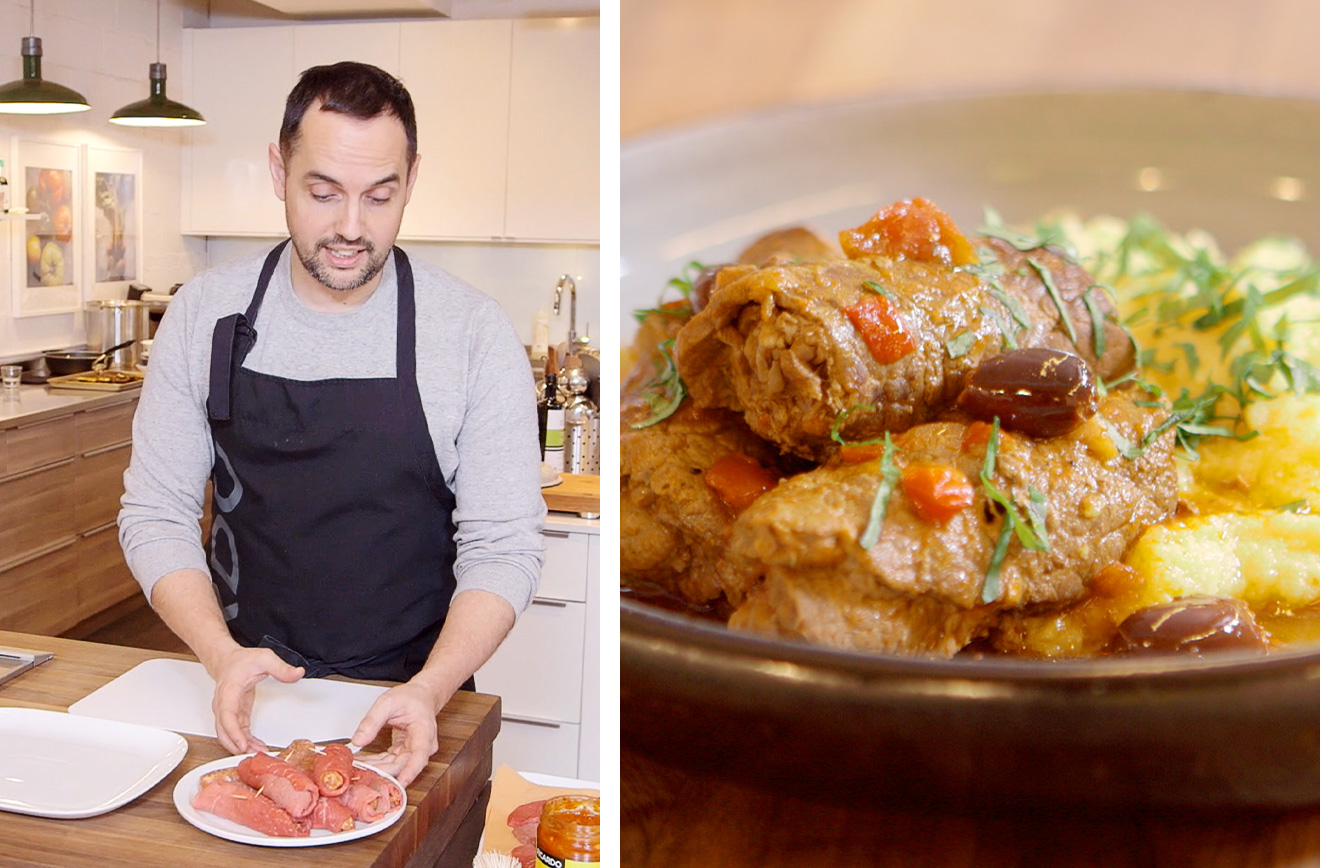 Recipe
Involtini: On a work surface, lay out 12 thin beef slices (sandwich steaks) and flatten slightly with a mallet. Season with salt and pepper. Place the meat from 4 Italian sausages, formed into small cylinders, at the bottom of each beef slice and tightly roll up. Thread a toothpick through the middle of each involtini. In a large ovenproof skillet or Dutch oven over medium-high heat, brown half the involtini at a time in 2 tbsp oil. Season with salt and pepper. Add a jar of RICARDO Cacciatore cooking sauce and ¾ cup pitted kalamata olives. Mix well to coat the meat in the sauce. Cover and cook in a 350°F oven for 2 hours or until the meat is fork-tender (or 30 minutes in the pressure cooker).
Quick polenta: In a pot, bring 3 cups chicken broth to a boil. Add 1 cup quick-cooking polenta, whisking constantly. Simmer over low heat for 2 or 3 minutes, stirring regularly with a wooden spoon. Add more broth as needed. Off the heat, add ½ to 1 cup freshly grated Parmesan cheese. Season with salt and pepper. Serve the beef involtini with the polenta. Garnish with finely chopped flat-leaf parsley.
3. Chicken and Merguez Couscous
"In a saucepan, I cook chicken thighs with merguez sausages. I add chicken broth to stop the browning, and then the cooking sauce, which provides the tomato base and adds flavour. Then I switch up the taste with a ras el hanout spice mix, which adds another dimension to the sauce. Sausages, chicken, zucchini, chickpeas, cilantro… this dish takes me back to my childhood!" – Nicolas Cadrin, Test Kitchen chef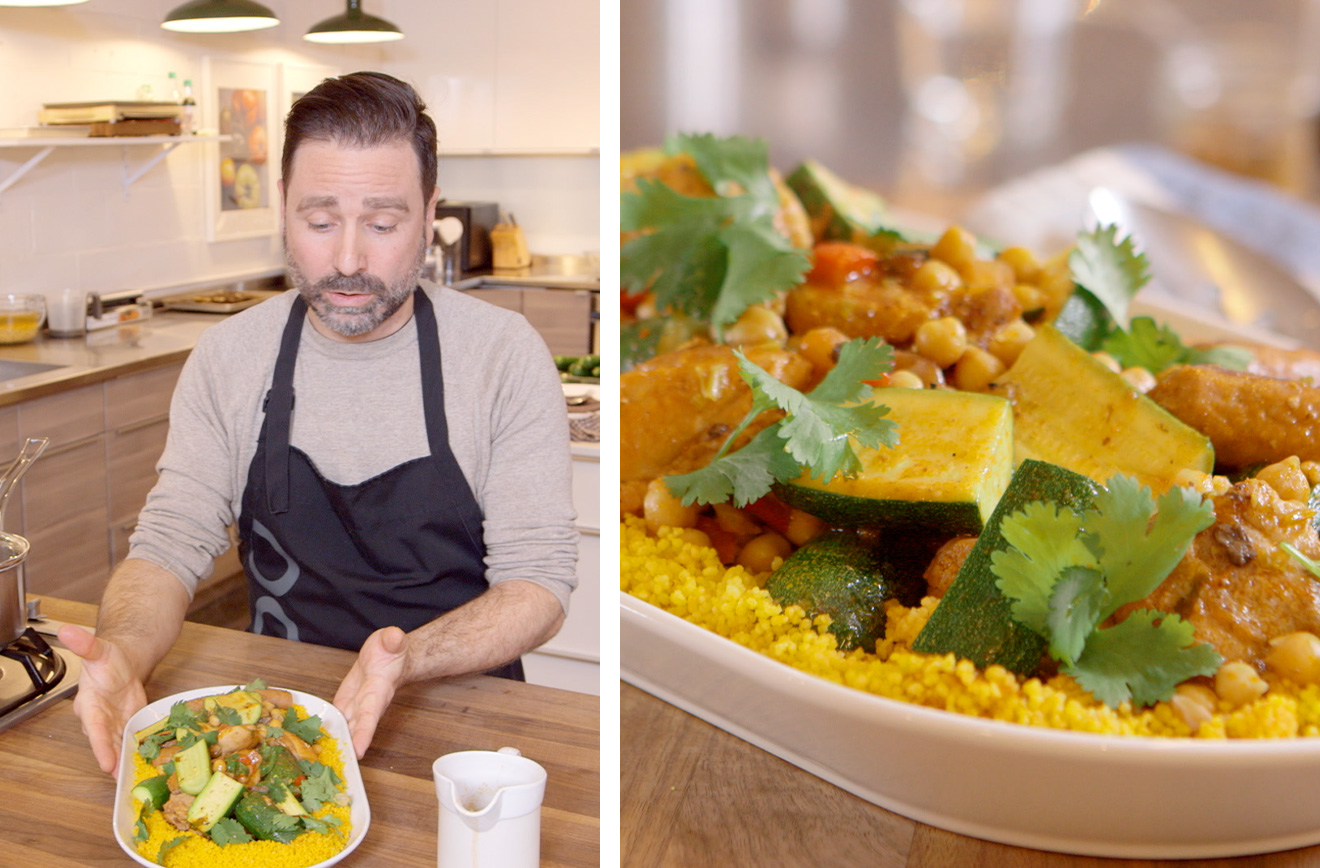 Recipe
In a large pot over high heat, brown 1 ½ lb boneless, skinless chicken thighs cut in half in 2 tbsp oil. Add 1 lb blanched and sliced merguez sausage. Deglaze with ¾ cup chicken broth, 1 cup RICARDO Cacciatore cooking sauce and 1 tsp ground ras el hanout. Bring to a boil and simmer for 10 minutes. Add 2 chopped zucchini and 1 can (19 oz) rinsed and drained chickpeas. Mix well and cook until the zucchini are crisp-tender.
Couscous: In a small pot, bring ½ cup carrot juice and ½ cup chicken broth to a boil. Remove from the heat. Add 1 cup couscous. Season with salt. Cover and let sit for 5 minutes. Fluff the couscous with a fork. In a serving dish, spread out the couscous and top with the chicken and merguez mixture. Garnish with cilantro and drizzle with the cooking juices.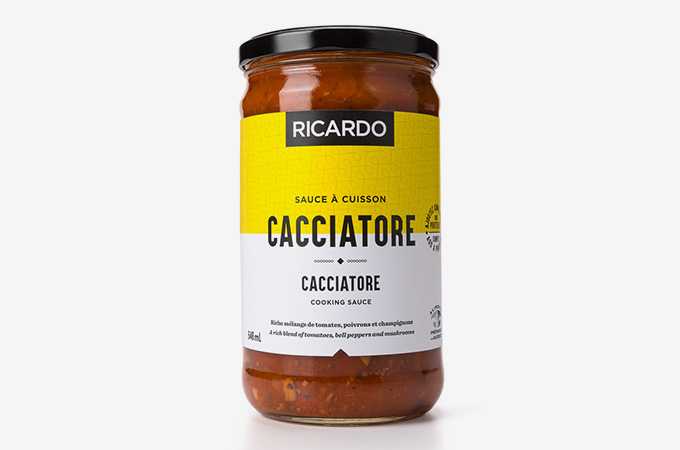 Discover more ideas for easy-to-make meals using RICARDO cooking sauces with the 1 jar, 3 ways video series.
This all goes to show that when you're feeling creative, one jar can be used to make a variety of tasty dishes at home. RICARDO cooking sauces are available exclusively at IGA, at the RICARDO Boutiques in Quebec City, Laval and Saint-Lambert, and online. And be sure to try out the Test Kitchen chefs' handy recipes!