Our chicken is marinated the day before and cooked in the rotisserie at the store. Not only is it generous and delicious, it is rich in spicy aromas and smoky notes. What's more, it is also:
made without artificial flavours
air chilled
perfectly seasoned 
It's served already hot, so it can be enjoyed immediately when you get home, without the need for reheating.
To reheat
If you'd rather eat the chicken a bit later, all you need to do is reheat it in the oven, after removing it from its container and placing it in an oven-safe dish. Cover with aluminum foil and heat on the middle rack at 325°F (165°C) for 25 minutes. You may also reheat it in the microwave at maximum power for 2 minutes, covered in plastic wrap. 
As a side: Portuguese sauce
Sauce: It can make all the difference. We agree, as it can enhance anything! That's why we created a Portuguese sauce that pairs perfectly with our chicken. Made from a chili pepper, vinegar and garlic base, it'll certainly wake up your taste buds. The perfect blend of spicy and tart; simply pour it onto warm chicken before eating. It's a must! The sauce sells for $4.99, and is located by the containers of roasted Portuguese chicken.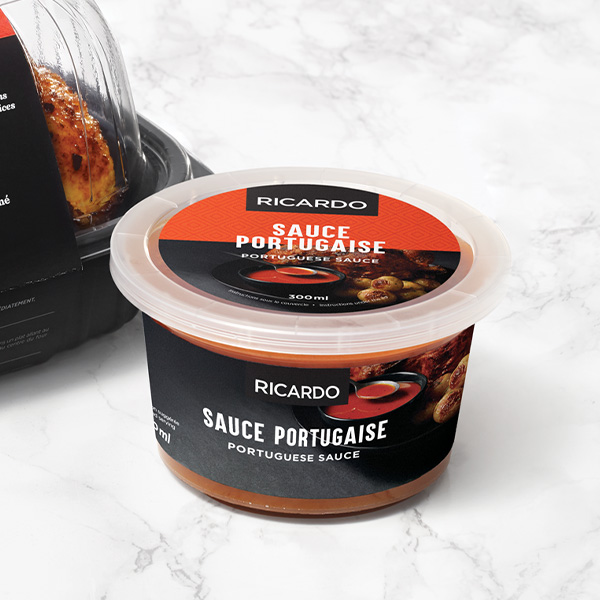 If you'd rather cook
If you'd rather prepare Portuguese chicken yourself, try our best-ever recipe or our quick and easy version. Whichever option you choose, this classic of Portuguese cuisine will make the family happy and will whisk you away, as if you were in the heart of Lisbon!