The steps
Our recipes stand out due to the fact that there's no kneading required; that's what makes them so easy. The other distinction is that they're both prepared and cooked in a single pot. Opt for a large, high-rimmed pot with a metal lid (the oven is too hot for a glass lid). However, a large enameled cast iron pot is the best option.
1. The mixture
As with any good bread, the first step is combining the ingredients: flour, baking powder, water and salt.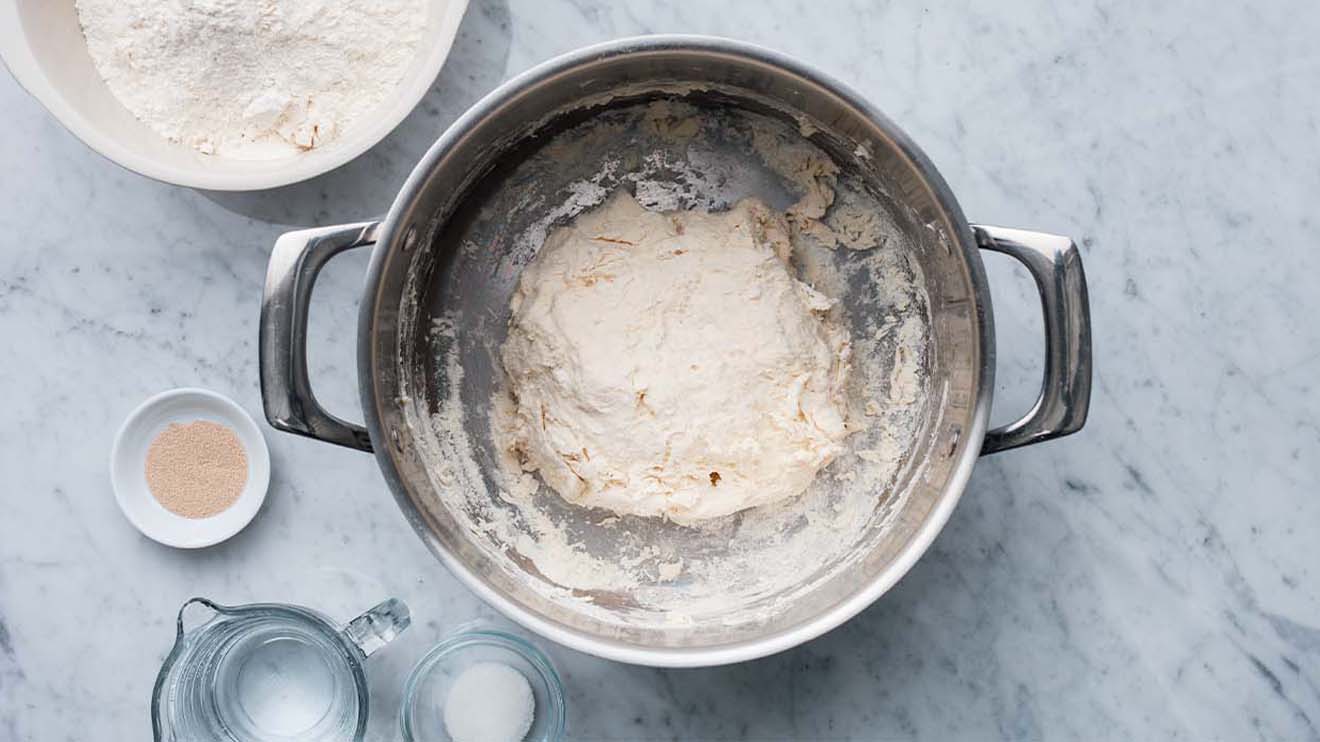 2. The first rise
Cover and let it sit overnight on the counter. This resting time replaces the need for kneading. It allows the gluten to form naturally and create the elasticity that allows the bread to swell.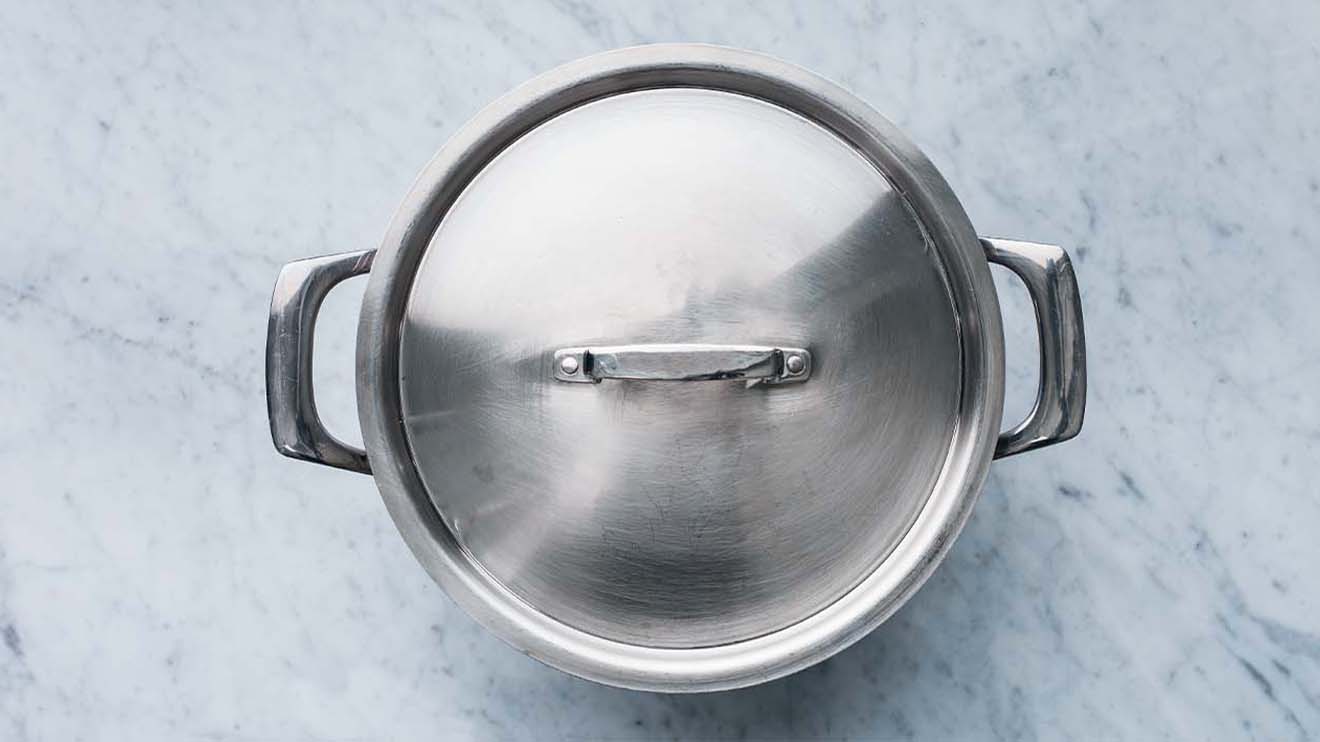 3. Folding
After the rest period, the dough will have swelled in the pot. It'll give off that tell-tale aroma of fermentation. Deflate it and then fold the dough over itself by taking each side and folding it on top of the dough.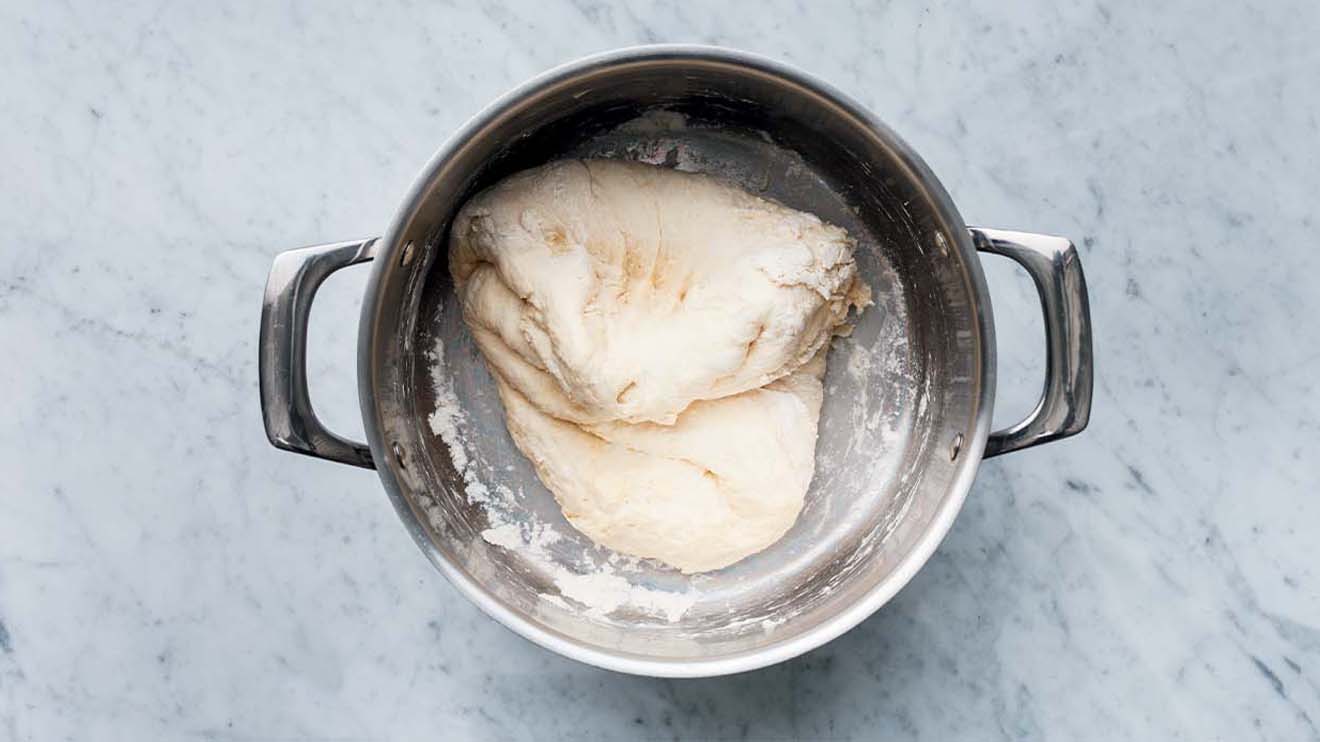 4. The second rise
Place the ball of dough in a bowl to cover it with the coating (wheat flour or any other). Return the coated dough to a clean pot lined with parchment paper. Let the bread rest for 45 minutes before popping it into the oven.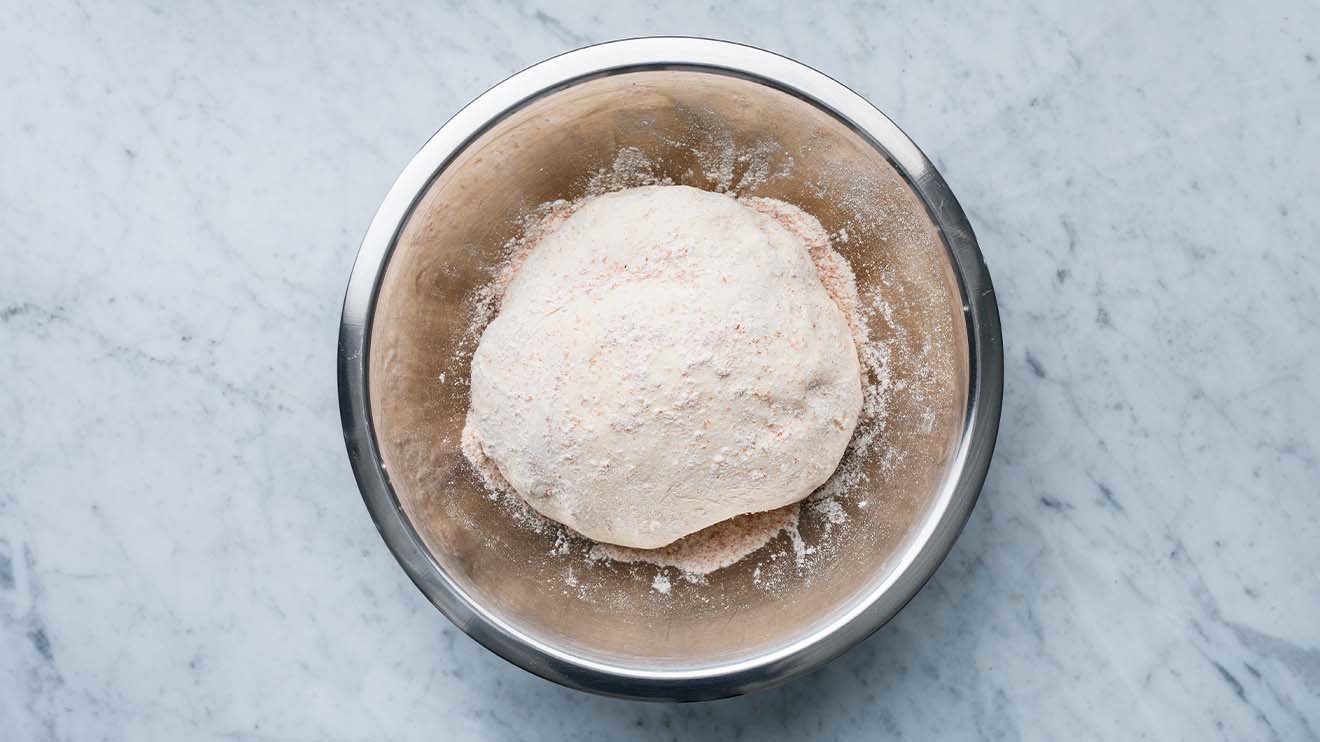 5. Baking
During the first 30 minutes of baking, the closed pot acts as a small oven. It locks in moisture and allows the bread to expand as much as possible. After half an hour, it will have doubled in size. The rest of the baking takes place uncovered.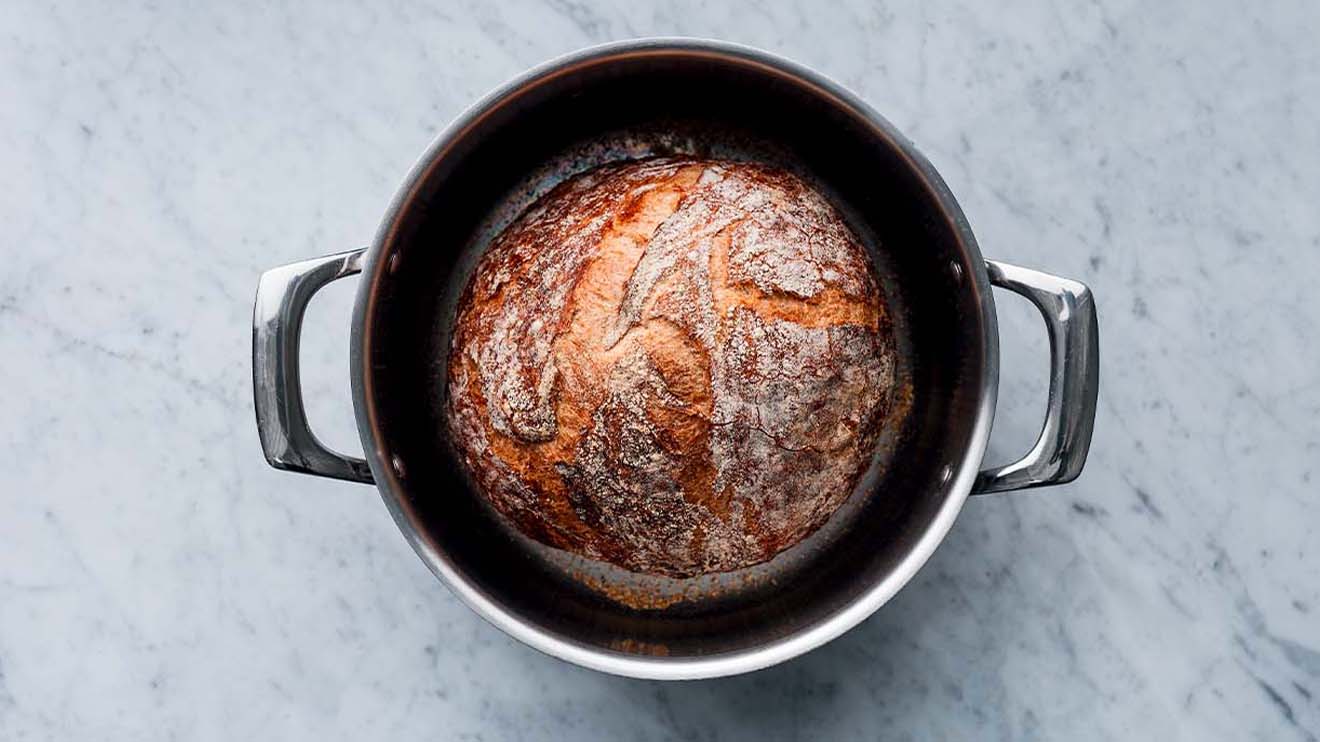 6. Storing
The loaf can be stored for 2 to 3 days at room temperature, ideally in a paper bag, a clean dishtowel or a bread box. Be sure to slice it less than ten minutes before serving, to ensure it stays as fresh as possible.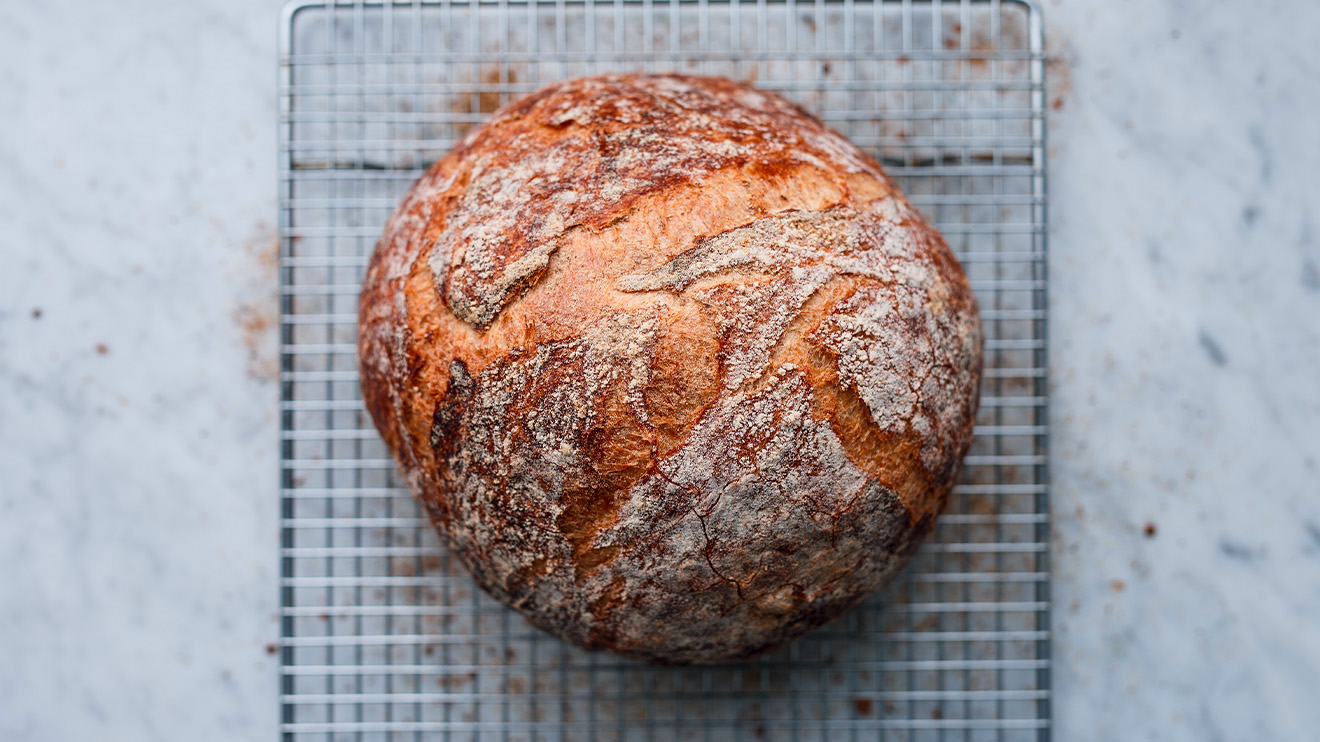 The recipes
To get started making homemade bread, here are three proven recipes. 
1. White bread
The one and only, the famous recipe that was a huge hit during 2020's stay-at-home orders. In addition to being extremely easy, this recipe is also budget-friendly. At $1.20 per loaf to make, this bread is a real bargain.
2. Multi-grain bread
Just as simple as the above recipe, this loaf allows you to add multigrain (or six-grain) flour to the mixture. A variation that will send a tantalizing smell wafting through your home!
3. Whole-wheat bread
Here, take advantage of whole wheat and spelt flours' complexities to make a flavourful bread. You can also add a coating of spelt flakes, pumpkin seeds and sunflower seeds to add a touch of texture to the crust.
When you think about it, baking homemade bread really is less complicated than it seems. Looking to perfect your baking skills? Check out our article on yeast: