Preparation
Pork Hocks
In a large saucepan over medium heat, brown the cut side of the onions in the oil for 5 minutes. Add the garlic, pork hocks and spices. Season with salt and pepper. Cover with water.

Bring to a boil. Skim and simmer over medium heat for 3 hours or until the meat is fork tender. Add water as needed so that the hocks are covered in liquid throughout cooking.

Using a slotted spoon, remove the hocks from the broth onto a large plate and let cool. Degrease the broth, reserving 2 tbsp (30 ml) of the pork fat and discarding the rest of the fat. Strain the broth through a sieve. Reserve at least 4 cups (1 litre) of broth for the sauce (see note).

Debone the meat, removing the fat and keeping the pieces of meat as intact as possible. Set aside.
Meatballs
Meanwhile, with the rack in the middle position, preheat the oven to 400°F (200°C). Line two baking sheets with silicone mats or parchment paper.

In a small food processor, finely chop the shallot and garlic. Add the egg and pulse a few times. Transfer to a large bowl. Add the ground pork, breadcrumbs and mustard. Season with salt and pepper. Mix well with your hands.

Using a 1-tbsp (15 ml) ice cream scoop, divide the mixture into balls. Working with lightly oiled hands, shape each meatball. Spread the meatballs out on the baking sheets (you should have about 85 meatballs).

Bake one sheet at a time for 15 minutes or until the meatballs are cooked, stirring halfway through the cooking time. Set aside.
Sauce
In a saucepan over medium heat, soften the carrot, celery and garlic in the reserved 2 tbsp (15 ml) of pork fat. Add the reserved pork hock cooking liquid and the beef broth. Bring to a boil and simmer for 5 minutes. Sift in the toasted flour while whisking constantly. Simmer for 5 minutes.

Strain the sauce through a sieve. Return to the saucepan. Add the reserved meatballs and pork hock meat. Cook for 10 minutes. Adjust the seasoning. Serve with steamed potatoes.
Note
Toasted flour can found in grocery stores, but it can also be made at home.
Set aside some extra pork hocks cooking liquid to dilute the sauce as needed.
sure you have a very large saucepan.
To help you with this recipe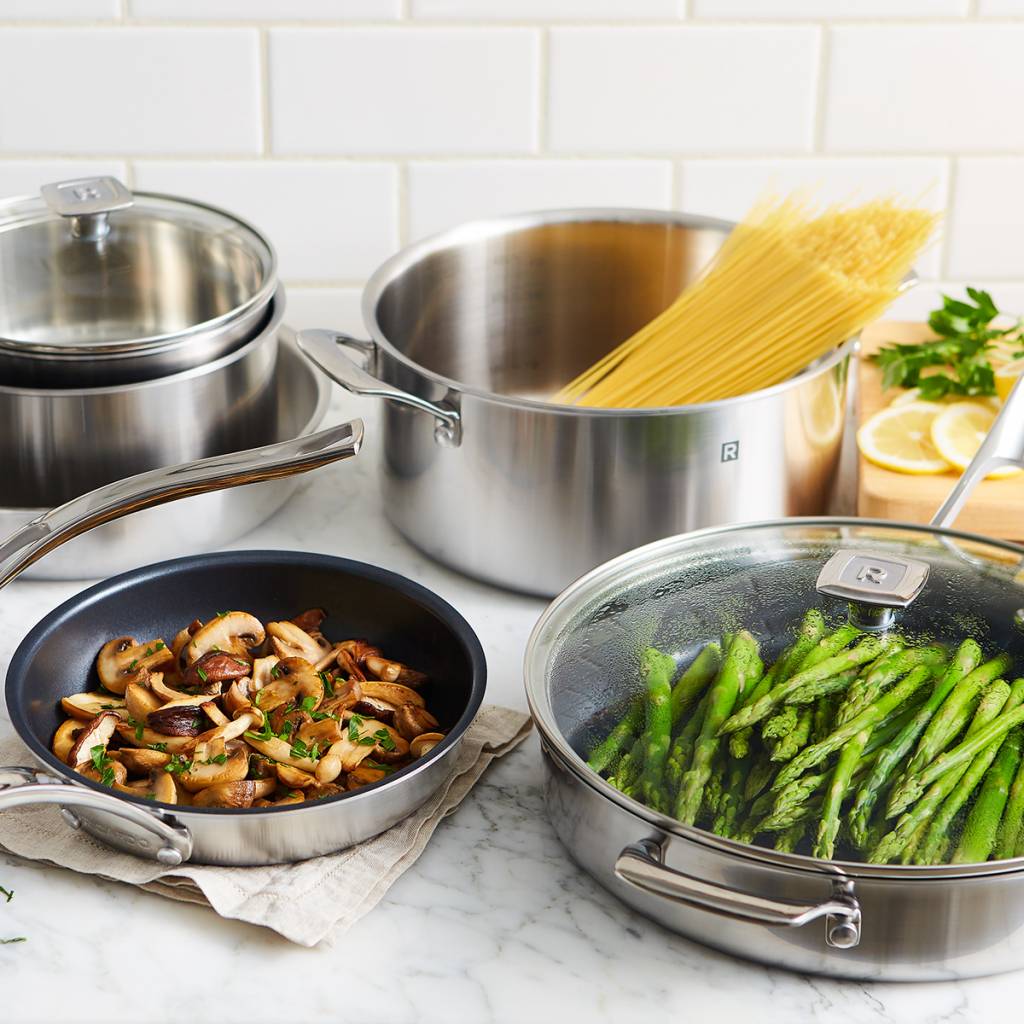 This RICARDO stainless steel cookware set would make any professional chef proud and will last a lifetime.
319.99 $
SHOP NOW