Preparation
In a skillet over medium-high heat, soften the zucchini and garlic in half of the butter for 5 minutes. Season with salt. In a sieve set over a bowl, let the zucchini mixture drain and cool for 10 minutes, pressing down to extract as much water as possible. Transfer the zucchini mixture to a bowl.

Add the ricotta, Parmesan and half of the lemon zest to the bowl of zucchini. Mix well with a spatula. Adjust the seasoning. Transfer the mixture into a pastry bag fitted with a ½-inch (1 cm) plain tip. Refrigerate the filling while preparing the pasta.

On a floured work surface, divide the fresh pasta dough into 4 pieces and form each one into a rectangle. Using a pasta machine, roll one rectangle of dough at a time. Do not add too much flour so that the dough remains slightly sticky. Gradually flatten the dough to the 7, 8 or 9 setting, depending on your machine. Place the rolled dough on a very lightly floured surface. Cover with a clean dishcloth or plastic wrap to prevent from drying out.

Using a 4-inch (10 cm) round cookie cutter, cut one piece of rolled dough at a time into circles (see note). Pipe about 2 tsp of the filling at the centre of each dough circle. Using a pastry brush, moisten the edges of the dough with a small amount of water and fold over into a half-moon around the filling. Tightly seal the edges. Place on a baking sheet lined with parchment paper.

In the same skillet used to cook the zucchini or in a small pot, bring the broth to a boil for 2 minutes. Whisk in the remaining butter. Keep warm while you cook the pasta.

In a pot of salted boiling water, cook half of the mezzelune at a time for about 2 minutes or until al dente. Remove with a slotted spoon and set aside on an oiled baking sheet.

Serve the mezzelune in shallow bowls. Cover with the hot broth and garnish with the remaining lemon zest, more Parmesan and a few basil leaves.
Note
You can re-roll the pasta dough scraps or use to make maltalgliati (irregularly shaped pasta).
To help you with this recipe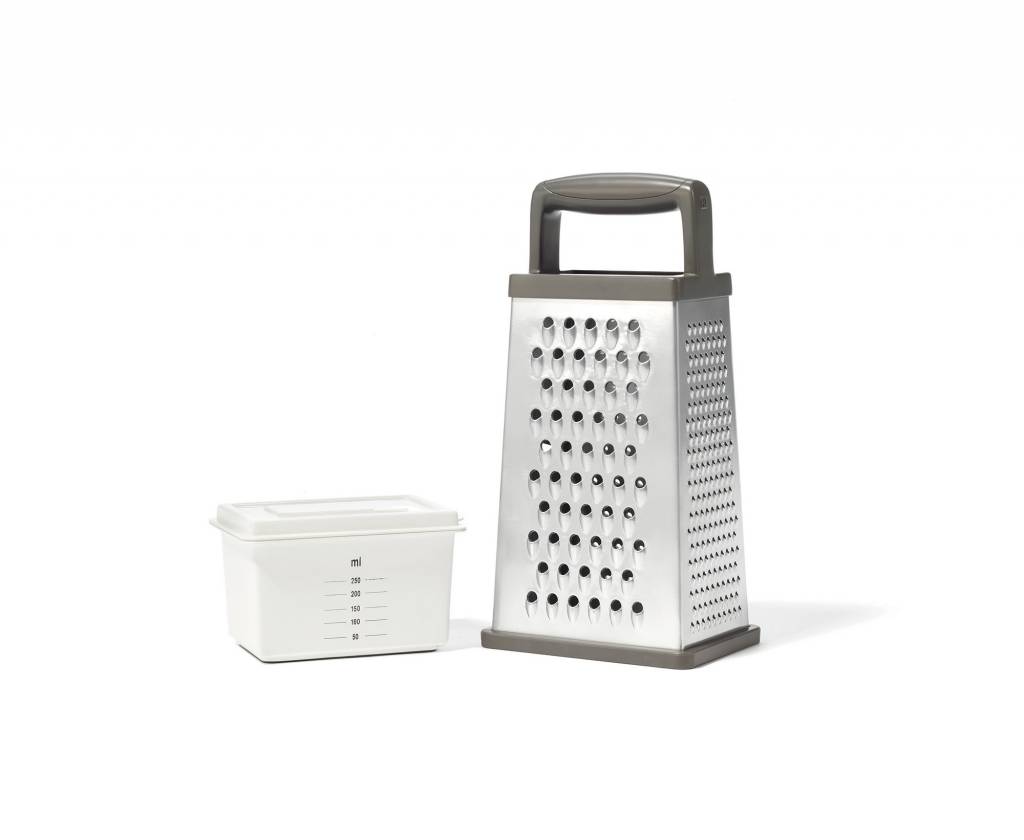 This 4-sided grater can do everything from zest lemons to grate potatoes. Its non-slip base provides comfort and stability. With the graduated container, freshly grated ingredients can be stored in the refrigerator.
29.99 $
SHOP NOW