Fresh Family-Style Meals
Discover new flavours as a family with these four meals. Simply heat in a 350°F (180°C) oven for 30 minutes and they're ready! The kids will be happy and parents less overwhelmed come dinnertime.
1. Tomato and Sausage Cavatelli with fennel and pieces of bocconcini cheese.
2. Meatballs and Basil Gemelli in a rich sauce made with cream and Parmesan cheese.
3. General Tao Meatballs in a sticky sweet and sour sauce, accompanied by vegetable rice.
4. Meatloaf in Tomato Sauce, served with buttery potato purée.
1 / 4

Tomato and Sausage Cavatelli / 1,2 kg

2 / 4

Meatballs and Basil Gemelli / 1,2 kg

3 / 4

General Tao Meatballs / 1,2 kg

4 / 4

Meatloaf in Tomato Sauce / 1,2 kg
Individual Frozen Meals
Our eight individual frozen meals are all you need for a quick lunch. They contain a generous serving of protein and vegetables, making for a delicious meal. Simply heat in the microwave for 5 minutes, and you'll have a world of flavours before you.
1. Macaroni and Cheese with Brocoli, in a creamy cheddar sauce from Laiterie Charlevoix.
2. Chicken Dumplings, served with vegetable rice and a sweet lime sauce.
3. Cannelloni in Rosé Sauce includes pasta stuffed with ricotta and spinach.
4. Mexican Casserole with pork meatballs served on rice and vegetables.
5. General Tao Meatballs served with rice and vegetables.
6. Chicken Pad Thai with vegetables and noodles.
7. Pesto Shrimp Pasta with green peas and broccoli.
8. Butter Chicken accompanied by basmati rice and vegetables.
1 / 8

Macaroni and Cheese with Brocoli / 395 g

2 / 8

Chicken Dumplings with Vegetable Rice / 390 g

3 / 8

Cannelloni in Rosé Sauce / 385 g

4 / 8

Mexican Casserole / 395 g

5 / 8

General Tao Meaballs / 380 g

7 / 8

Pesto Shrimp Pasta / 375 g
Limited Edition - Meatball Stew
For a good meal with the flavours of yesteryear, there is nothing like a stew like our grandmothers used to make. We've captured this taste—and the memories—with our RICARDO ready-to-eat meatball stew. It's made with seasoned meatballs accompanied by pulled pork as well as small Parisienne potatoes. The whole dish is topped with a rich and creamy sauce with the flavours of yesteryear.
Available in a ready-to-eat version, simply bake it for about 30 minutes in the oven or 10 minutes in the microwave. This fresh family dish contains 3 to 4 servings.
$23.99. Sold in the ready-to-eat section at IGA grocery stores, in the run-up to the holidays, for a limited time.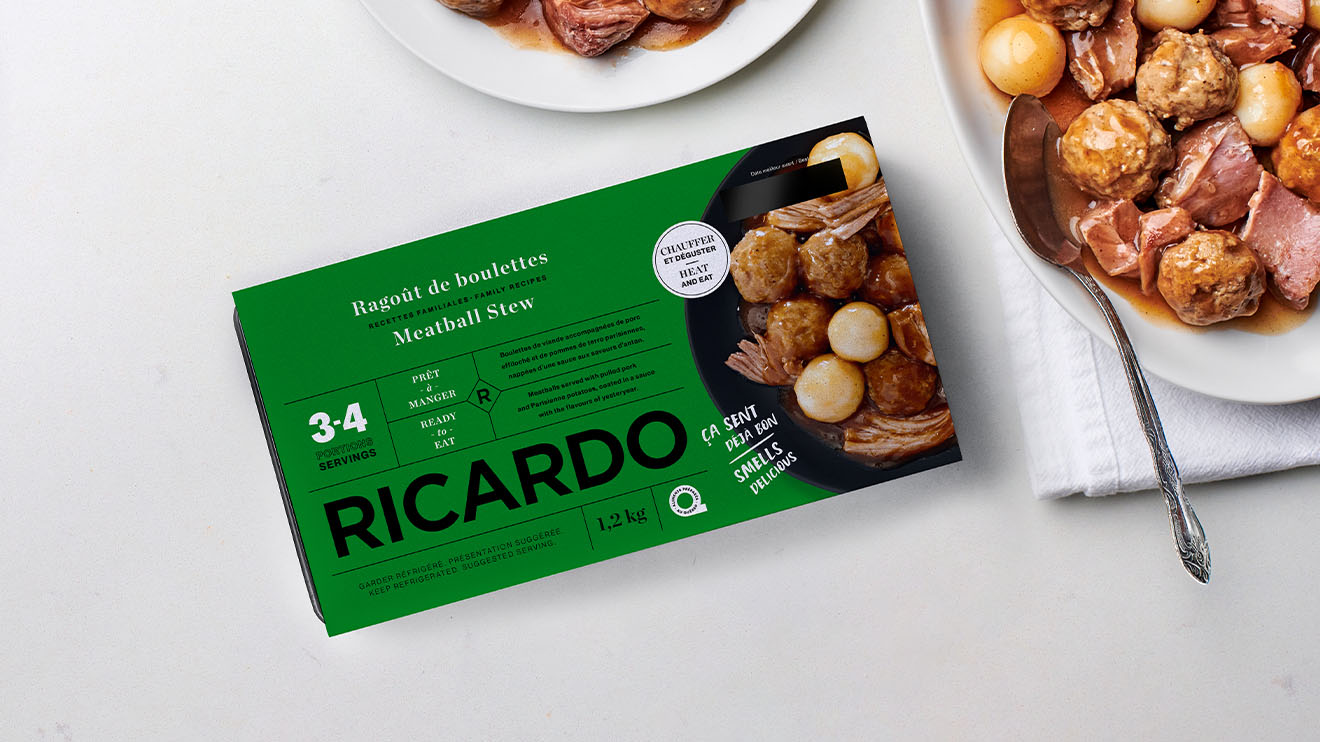 All meals are available at IGA stores across Quebec, are made with local, natural ingredients, and don't compromise on freshness. The family-style meals are $22.99 and sold in the prepared food section, while the individual meals are $8.49 and can be found in the frozen food aisle. Savour the simplicity, starting today!