1. Totally decadent
Chocolate cake is pretty ordinary, you say? Not when RICARDO is in charge. Our creation boasts a divine milk chocolate whipped cream, a dark chocolate ganache and a fleur de sel cocoa crumble. We've set the bar very high!
2. Outstanding ingredients
Our made-in-Quebec cake contains top-quality chocolate and real cream.
3. Ready at a moment's notice
Have your friends invited themselves to dinner on the weekend? No worries! You don't have to spend all Saturday making dessert. Take the cake out of the freezer 24 hours in advance, let it thaw in the fridge, serve… and enjoy your weekend.
4. We love leftovers
This cake has 8-10 servings, perfect for leftovers that will keep the fun going!
5. Keeps a long time
Never get caught off guard when the craving for a good chocolate cake strikes. Now, you can always have one on hand! Our chocolate cake will keep for six months in the freezer and up to five days in the refrigerator.
6. Easy to find
They're available in participating IGA, IGA Extra, Marché Tradition and Bonichoix stores across Quebec, so you won't have to go far to find our cakes.
7. Never enough chocolate
Do we really need to convince you to eat more chocolate?
If you have some spare time to bake, check out our chocolate cake recipe below.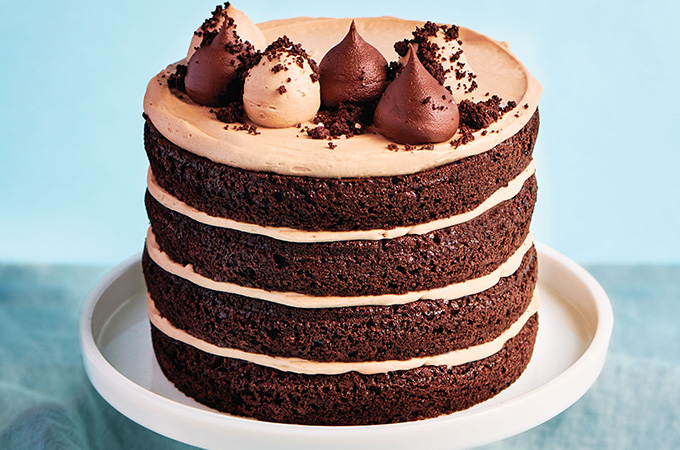 It's back!
By popular demand, our lemon cake will be back in stores at the end of February. You'll be able to enjoy its fresh, light taste, silky texture and slightly tangy whipped cream all over again. And don't forget our recipe for making it at home—here it is: