Step 1: Finding the perfect balance
The best bowls offer a mixture of flavours, textures and colours. It's an opportunity to use your imagination by combining food items that are bright, salty, bitter, sweet, raw and cooked. In general, vegetables should make up two-thirds of the ingredients of your bowl, including toppings. You can also integrate fruit (see examples below). The remaining space is for grains (or noodles), and a protein of your choice.
Step 2: Combine the ingredients
To compose a complete meal, bring together grains or noodles, vegetables or fruits, protein, sauce and toppings in a single bowl. The possible combinations of ingredients are endless. Here are some ideas of foods to mix and match according to your taste:
Bulgur, spelt, faro, naked oats, kamut, millet, noodles (hokkien, an Asian-style noodle made with wheat, soba, udon), barley, orzo, polenta, rice, buckwheat, semolina, rice vermicelli.
Asparagus, avocado, beetroot, bok choy, broccoli, carrots, cabbage (red, Napa, Chinese), cucumber, squash, spinach, corn kernels, lettuce (lamb's lettuce, arugula), greens, green onion, sweet potato, peppers, potato, tomato, pineapple, pomegranate seeds, grapefruit.
Shrimp, cheese, legumes (edamame, beans, lentils, chickpeas), eggs, fish, seitan, tempeh, marinated tofu, meat (ground beef, pork, chicken).
Guacamole, hummus, mayonnaise (with garlic, mango, orange, lime, arugula, etc.), pesto, salsa (with grilled vegetables or tomatillos), sauce (with herbs, cilantro, sriracha, tartare, tahini, etc.), vinaigrette.
Seaweed, dried cranberries, capers, herbs (basil, cilantro, mint, etc.), peanuts or nuts (almonds, cashews, pine nuts, pistachios), seeds (hemp, pumpkin, sesame, sunflower), olives, pita chips, raisins, tempura.
Step 3: Assemble the elements
With the ingredients now chosen, it's time to bring everything together by creating the perfect balance. Here's how.
A) Start with a small amount of grains or noodles in the bottom of the bowl to cover about a quarter of the surface. These ingredients can be cooked in advance to save time once it comes to the assembly stage.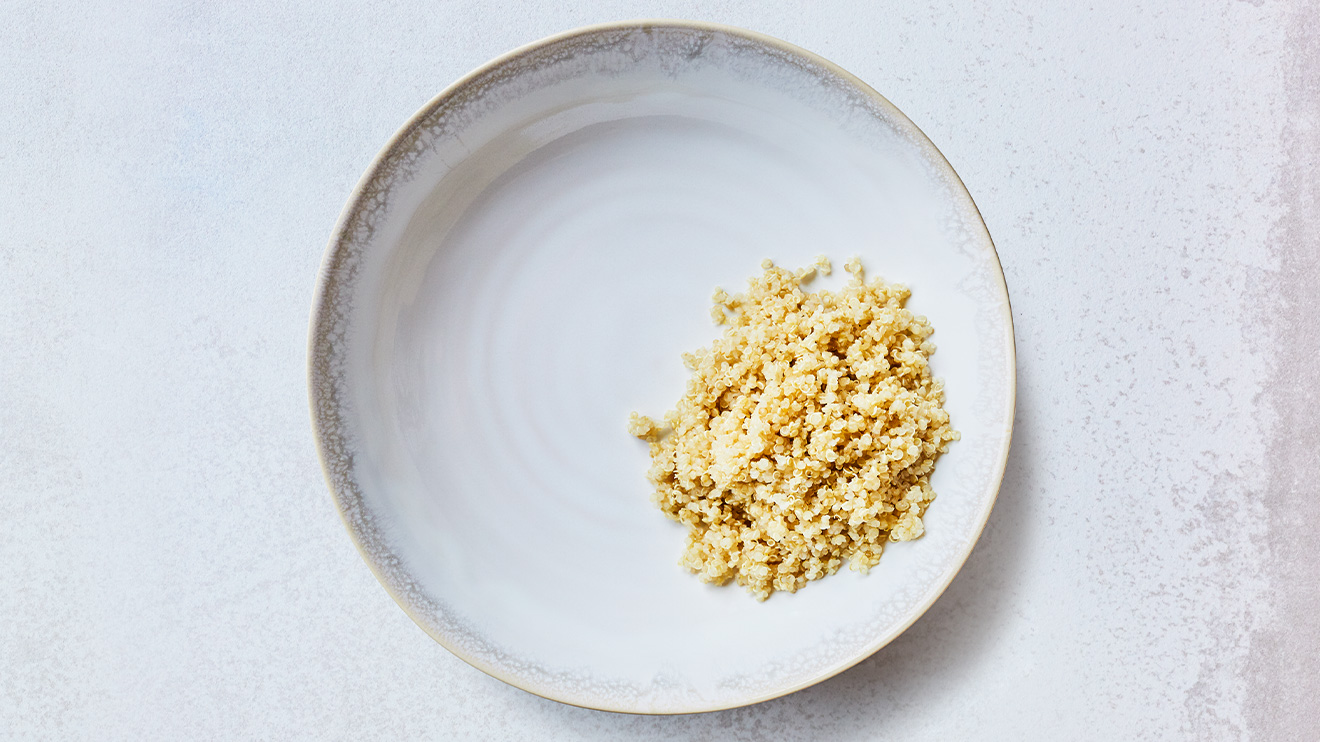 B) Add a good amount of vegetables (raw, steamed or grilled) and fruit, if desired, to occupy about two-thirds of the bowl.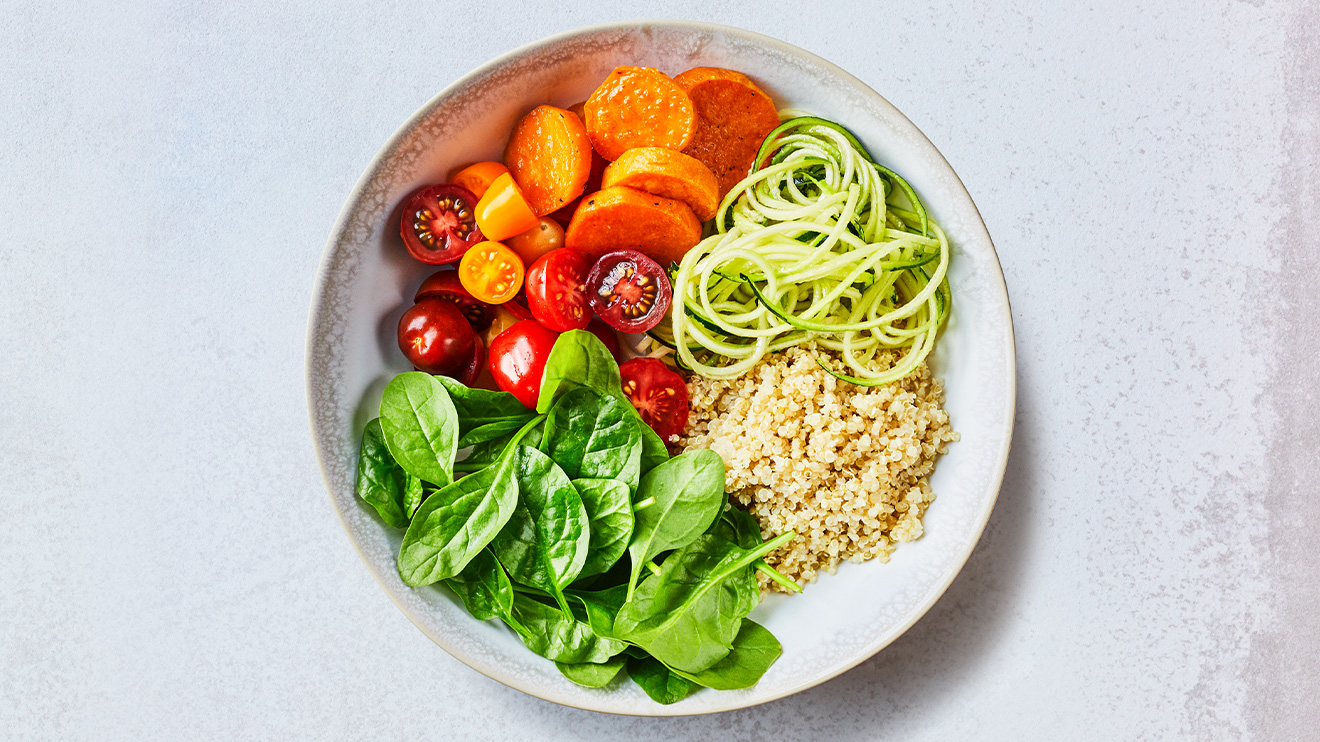 C) To combine all the different ingredients, pour a condiment, sauce or vinaigrette in a thin stream, making a pretty geometric or zigzag pattern.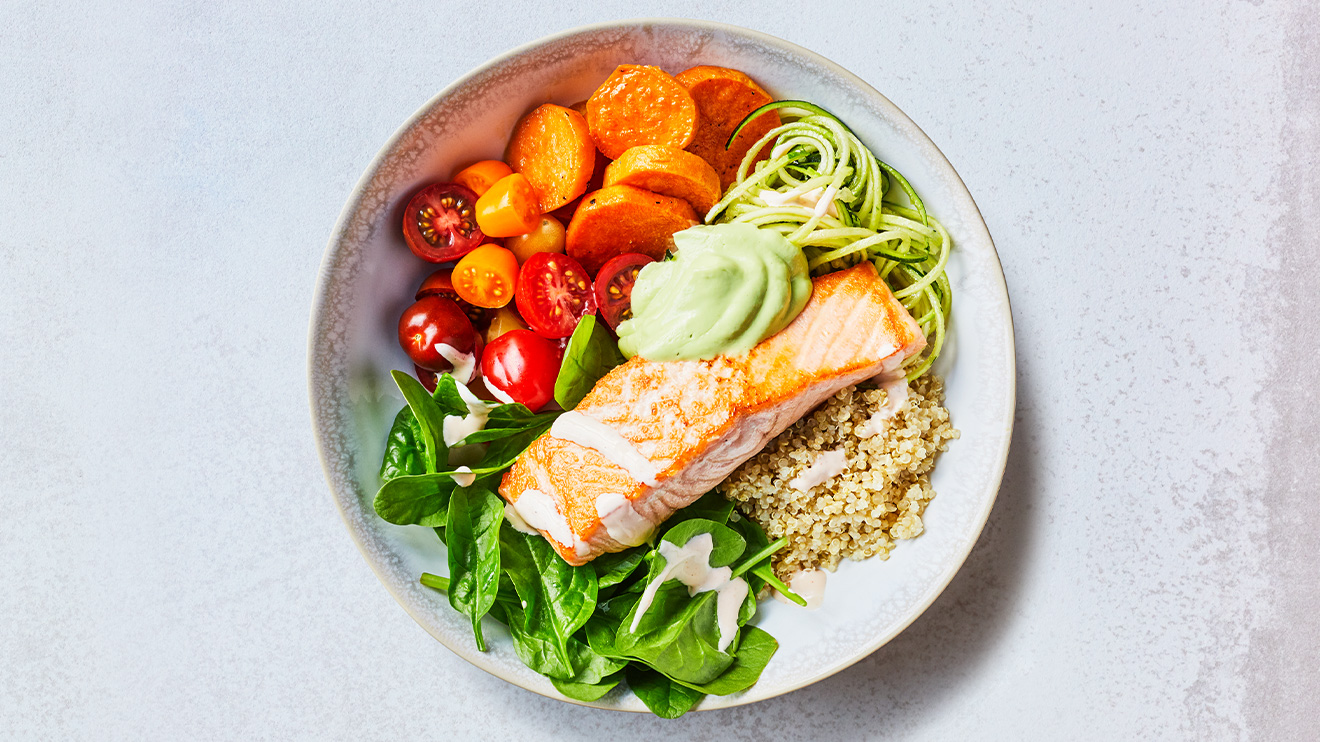 D) Don't forget the garnishes! Fresh herbs, seeds, grilled or raw nuts, micro-herbs–these will add taste, freshness and texture to your bowl.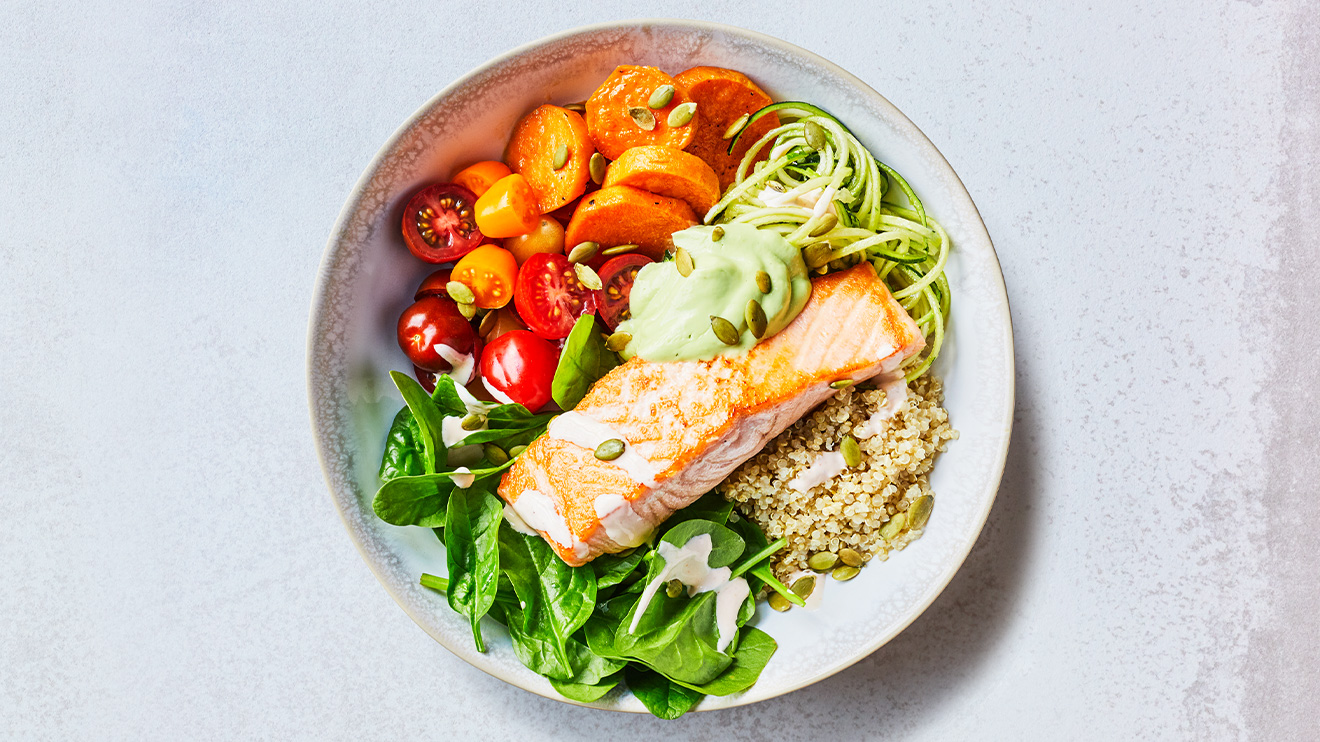 Want to make beautiful meal bowls? Check out these refreshing recipes: