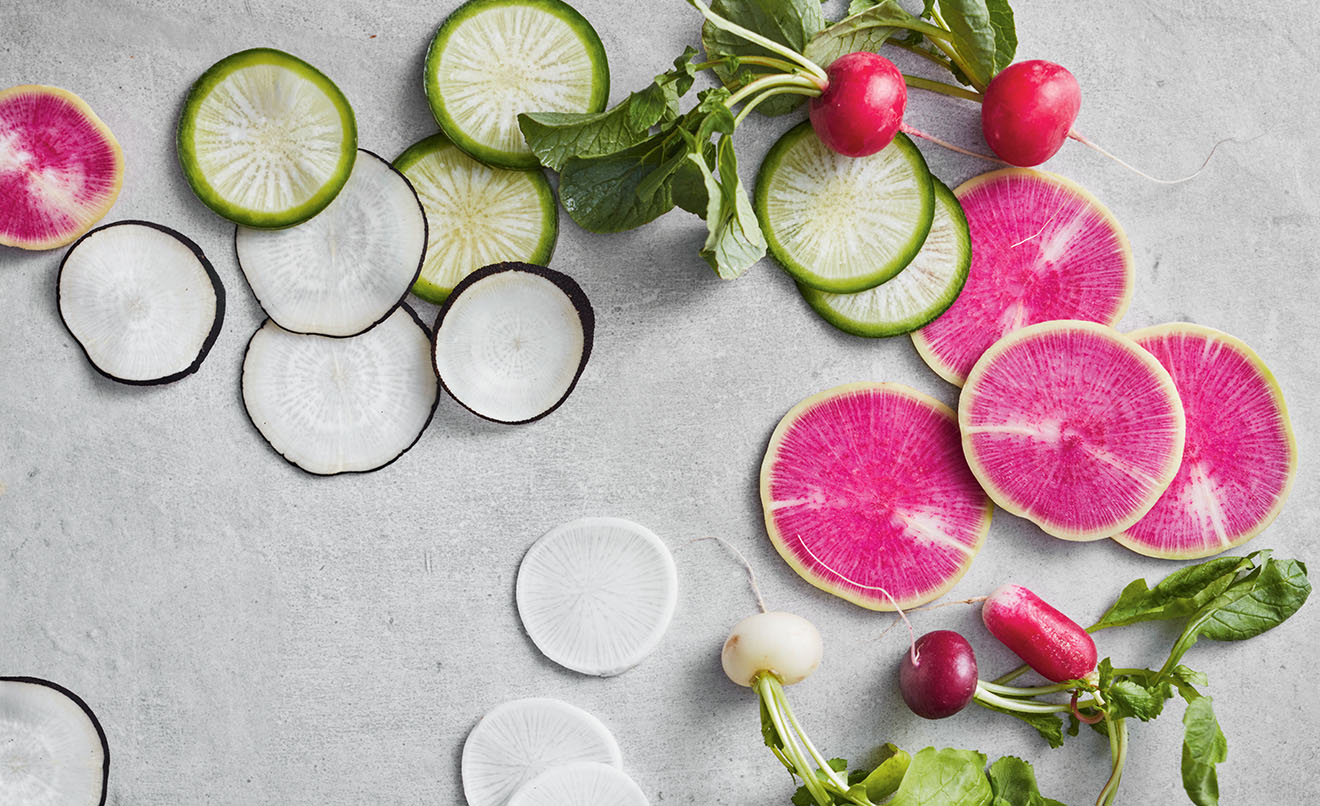 1. Radish Salad
When summer rolls around, the desire to eat salads reaches its peak. With the radish, the pairing just comes naturally. For this recipe, we opted for the watermelon variety, given that it's sweeter than the common radish. Its Mandarin name, shinrimei, translates into "radish that's beautiful at heart." We got playful with the colours thanks to the watermelon, sugar snap peas and herbs. It's a refreshing, sweet and gourmet salad.
2. Open-Faced Sandwiches with Radish Butter and Ham
Here, we pay homage to the French classic: radishes and butter on toast. As its name suggests, it consists of butter spread on bread, topped with radish slices and a sprinkling of fleur de sel. We were inspired to make a version with a hint of horseradish, spread on a baguette and then garnished with a slice of ham. The radish adds a bit of spiciness and saltiness to your lunch.
3. Roasted Radishes with Whipped Ricotta
To serve alongside chicken or as a unique starter, try this surprising recipe featuring cooked radishes. Doing so brings out the flavours and sugar present in this root vegetable. It then becomes soft, with a very mild taste similar to that of turnip, which pairs well with garam masala and ricotta.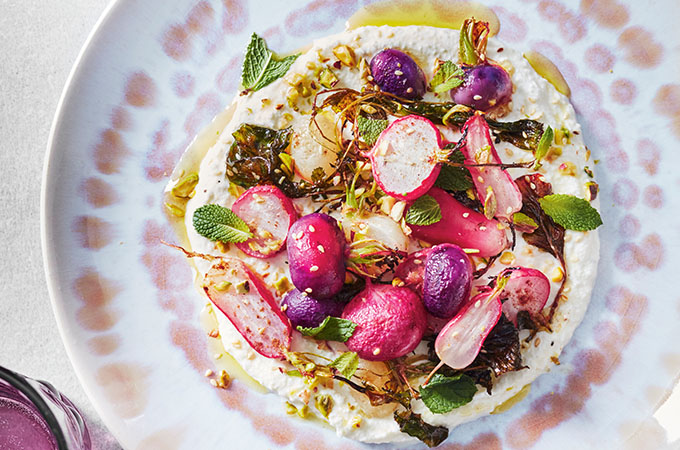 4. Quick Pickled Radishes
Here's a quick and easy condiment that is sure to bring some charm to any dish. In just 15 minutes, you've got a simplified version of pickled radishes stemming from the crunchy garden veggie. Once the radishes have marinated, simply drain and add them to fish, pork or tacos for added colour.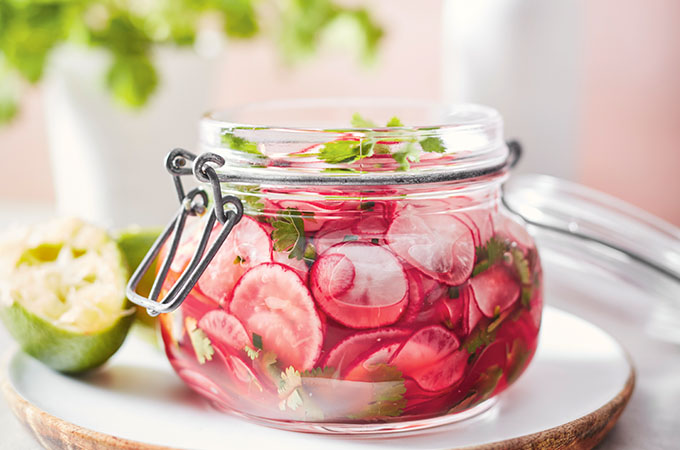 5. Radish Carpaccio with Apple and Smoked Salmon
The daikon variety of the radish has an elongated shape and white skin. In this recipe, the vegetable, which is often grated or julienned in Far Eastern cuisine, is thinly sliced. Along with apple and crème fraîche, the daikon becomes a delicate and elegant starter.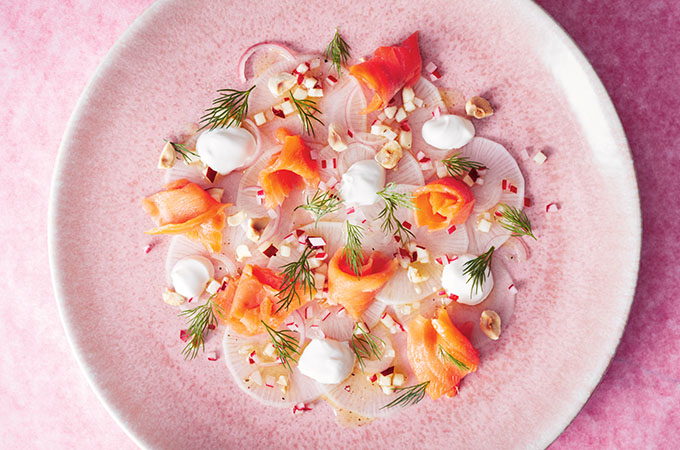 6. Radish Leaf Pesto
It's not just the radish itself that can be cooked, but the leaves as well! Thanks to their peppery taste, similar to that of arugula, they are perfect for a pesto. We have a preference for small, firm and slightly damaged tops. Their slight bitterness is balanced with the addition of the almonds. This zero-waste recipe tastes great in a sandwich, with pasta, or on a pizza.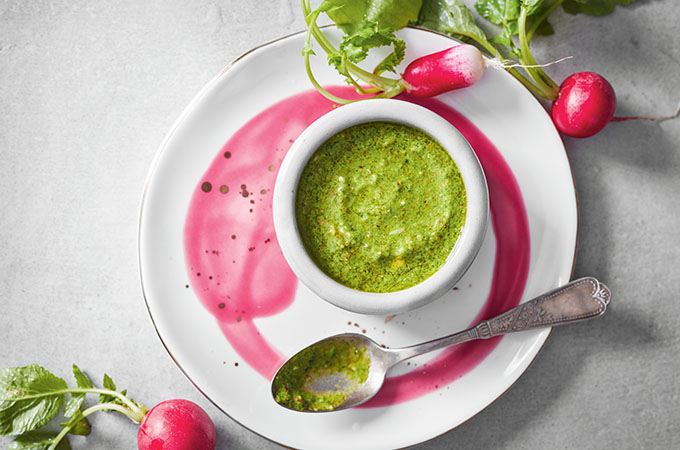 Did you know?
• You can set the colour of the radishes you cook by adding a touch of acid (like lemon) to the recipe.

 

• If they are placed in the refrigerator's vegetable drawer, the radishes will keep for one week. Be sure to remove the tops, however, which tend to dry the radishes out.

 

• If you soak softened radishes for 1 hour in a tub of ice water, they'll get their crunch back.
Radishes are part of the cruciferous family, much like kale, kohlrabi and Swiss chard. And the good news is that they are very easy to grow, both in the city and in the countryside. Find out which vegetables you can plant in your urban vegetable garden, like the one at RICARDO HQ.