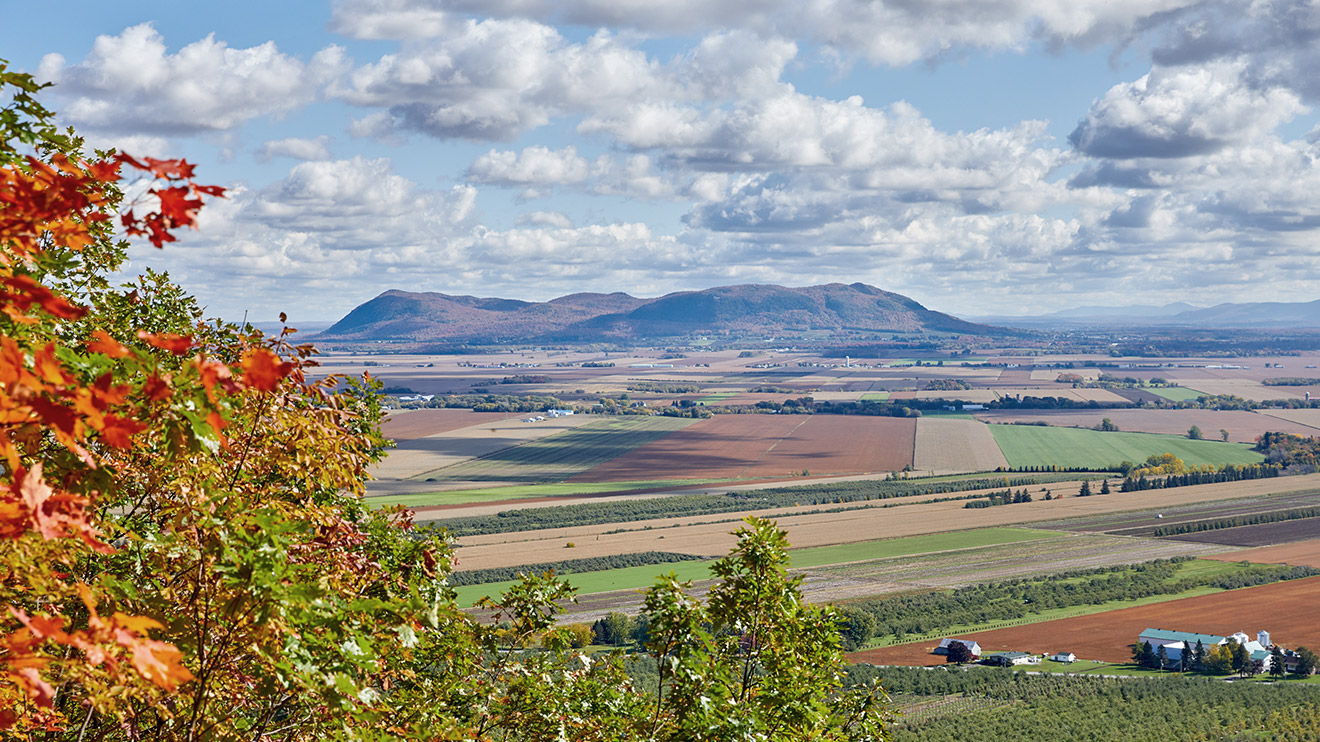 WINES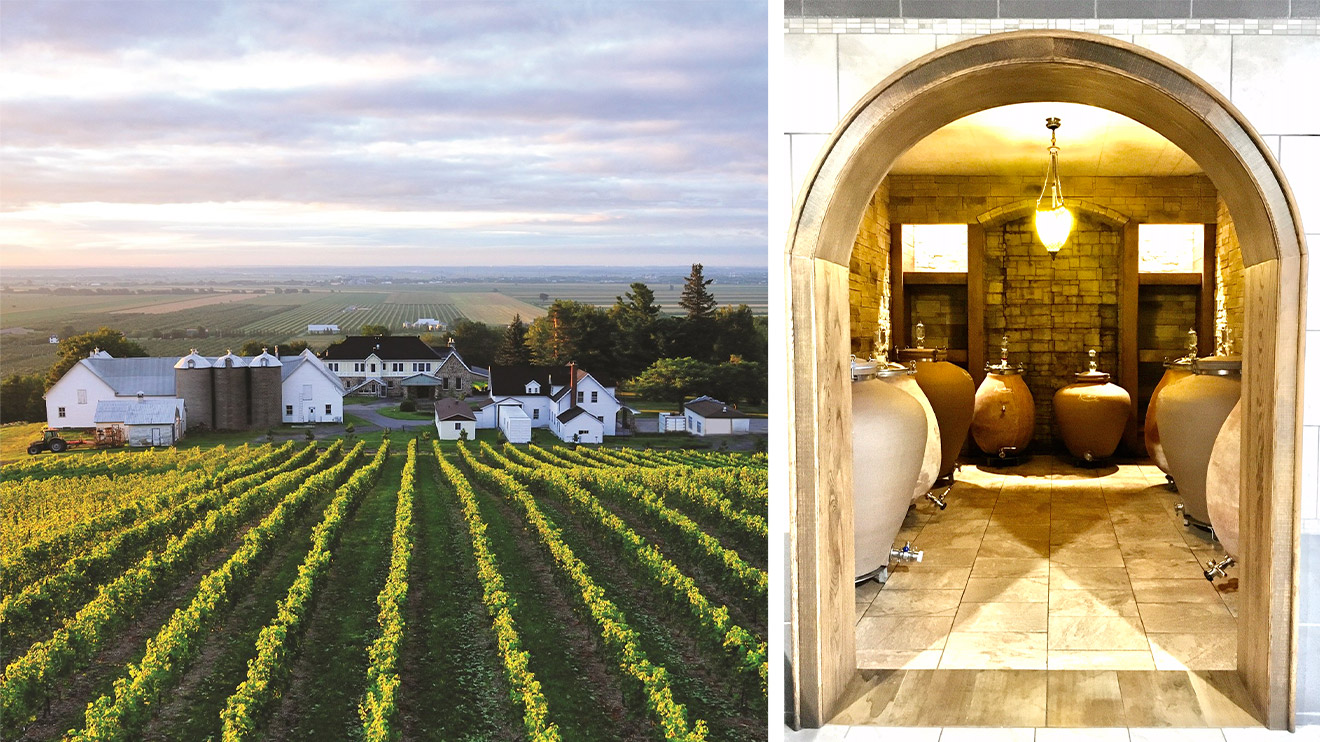 Photos credits: Vignoble et cidrerie Coteau Rougemont
1. Vignoble Coteau des Artisans in Béthanie
Situated along the border of the Noire River, this vineyard is the first in Quebec to produce wines aged in sandstone and terracotta jars. The result? Unique wines that you must try! A sip of their products makes you feel like you're sitting on the terrasse at their charming site.
2. Le Mas des Patriotes in Saint-Jean-sur-Richelieu
Along the Chemin des Patriotes, you'll spot this charming location bordered by vines, both chic and rustic-looking. Hybrid grape varieties are cultivated here, including Frontenac, St. Pepin and Baco noir, as well as plenty of passion! We have a soft spot for their organic and vegan wines. Order online or at the SAQ.
3. Le Chat Botté in Hemmingford
Owners Isabelle and Normand have been offering wines of exceptional quality to their clientele since 2004. This vineyard specializes in the production of straw wine, a method which consists of drying grapes to concentrate their juice. Given their uniqueness, these wines have received distinctions from around the world! Many of their products are available at the SAQ.
4. Domaine Vinēterra in Mont-Saint-Hilaire
At once a vineyard and a producer of fruits, vegetables and legumes, this field has only just recently opened its doors to the public. Newly part of the Montérégie's Wine Route, this location offers seven wine products that are legends in the city of Mont-Saint-Hilaire. Wine lovers, keep an eye out at specialty stores: They're sure to quickly hit the shelves!
5. Les Vignes des Bacchantes in Hemmingford
Acquired by the Daoust family in 2012, this vineyard was established in a gorgeous field crowned by an ancestral home. Eight years later, they've got 40,000 vines, 9 grape varieties and 40 kilometres of vines. Sipping their wines is a great way to take a break and imagine oneself in a dreamy location! Available in specialty stores and the SAQ.
CIDRE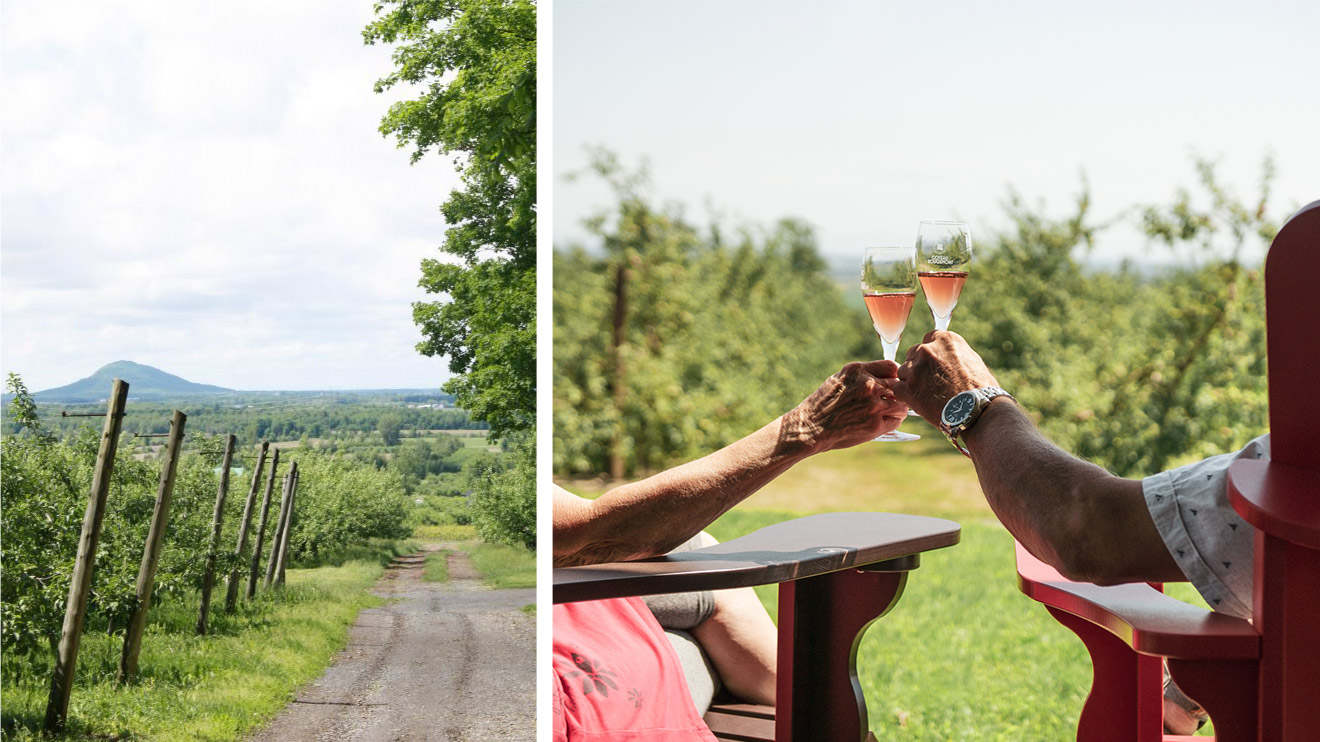 6. Cidrerie Michel Jodoin in Rougemont
This family business has been processing apples since 1901. Brandy, mistelle and bubbly all feature the popular red fruit. They also have a newly renovated boutique. The RICARDO staff recently stopped by for an orchard picnic and we were all instantly charmed by the location. Be sure to pick up many of their great alcoholic and non-alcoholic products on your next visit to the grocery store.
7. Cidrerie Entre Pierre & Terre in Franklin
This micro-ciderwork and distiller specializes in artisanal terroir drinks (gin, brandy, vermouth, perry, cider and fruit wine), processed as naturally as possible. Each vat takes a minimum of one year before being bottled. Their products are limited editions, so be sure to take advantage when they arrive at your local SAQ!
8. Domaine Cartier-Potelle in Rougemont
This field located in the heart of Quebec's apple capital boasts over 15,000 apple trees. From their gorgeous terrasse, you'll get an incomparable view of Mont-Saint-Grégoire and the Montérégie valley. Cider, as well as white, red and rosé wines are produced here, and you'll be happy to know you can find them all at the SAQ.
9. Cidrerie et Distillerie C.E. Petch in Hemmingford
For four generations, the Petch family has been perfecting the art of cultivating apples. This year, they're celebrating their 100th anniversary. Mastery and know-how can be found in the different varieties of cider and in their distinct ILLICIT Moonshine—tarte aux pommes, which tastes like apple pie, all warm and spicy. Discover their offerings today!
Cidrerie et Distillerie C.E. Petch
10. Cidrerie du Minot
It's impossible to talk about cider without mentioning the winner of the Public's Prize at the Mondial des Cidres 2020. Fervent cider makers, Robert and Joëlle Demoy left Brittany, France in 1987 to make products here, inspired by their home region. You'll find these authentic products at the SAQ.
The Montérégie is one of the regions that are the largest suppliers when it comes to wine and cider production. Enjoy local know-how not only for the pleasure of what we have in our glass, but also for the pride of drinking local products. Enjoy the wine and cider trail...at home!
This article is a collaboration between RICARDO and Tourisme Montérégie.