1. Try fat biking in the snow
Is it your first time? Since it's physically demanding, give yourself a chance by opting for a short, flat and clear path. Snowier terrain can wait for another time! With a bit of experience, you can try biking the undergrowth of Charlevoix's Ice Valley at Parc national des Hautes‑Gorges-de-la-Rivière‑Malbaie, the magnificent tree-lined paths at Parc national de la Jacques-Cartier in Quebec City, or even the trails of L'Abbaye d'Oka in the Laurentians, followed by a stop to pick up some cheese.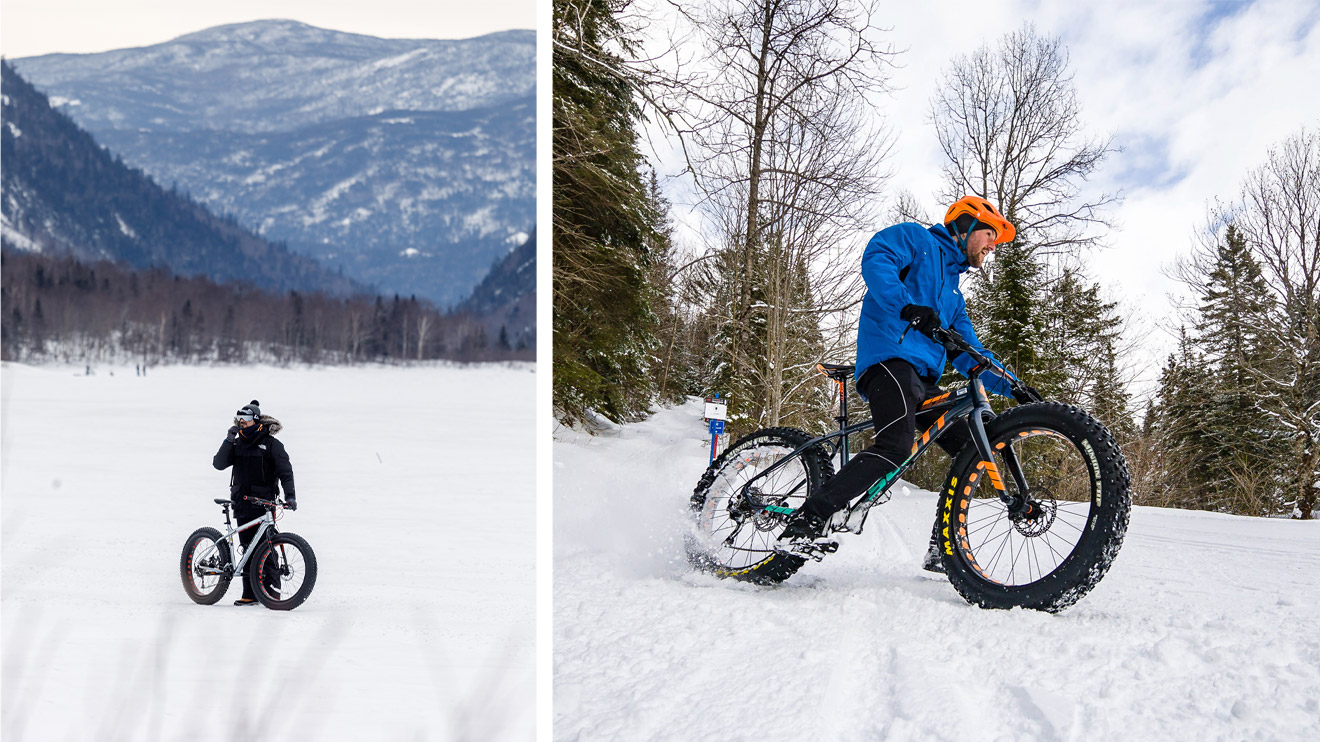 2. Put some cider in your cheese fondue
 Cider, a veritable terroir symbol of Quebec, is very popular. So much so, it can easily be procured in grocery stores, specialty boutiques, or even directly from a producer close to home. As cheese and apples pair wonderfully together, it only makes sense that cider truly has a place in cheese fondue. It's the perfect dish after a walk in the great outdoors! A few of our favourites: Cidrerie Le Somnambule in the Chaudière-Appalaches region, Cidrerie Milton in the Eastern Townships, as well as Cidrerie Michel Jodoin in Montérégie.
3. Make a breakfast raclette
A breakfast raclette is a fun and original idea for the weekend, bringing together your family bubble. Local products are the stars here, like Raclette de Compton cheese from La Station in the Eastern Townships, or lactose-free Appalaches Raclette from Fromagerie Rang 9 in Plessisville. And what's a raclette without sausage and ham? This time, we look to Charcuterie Charlevoisienne and Ils en Fument du Bon in Montreal. You can even make pancakes and French toast on the griddle for a hearty and complete breakfast!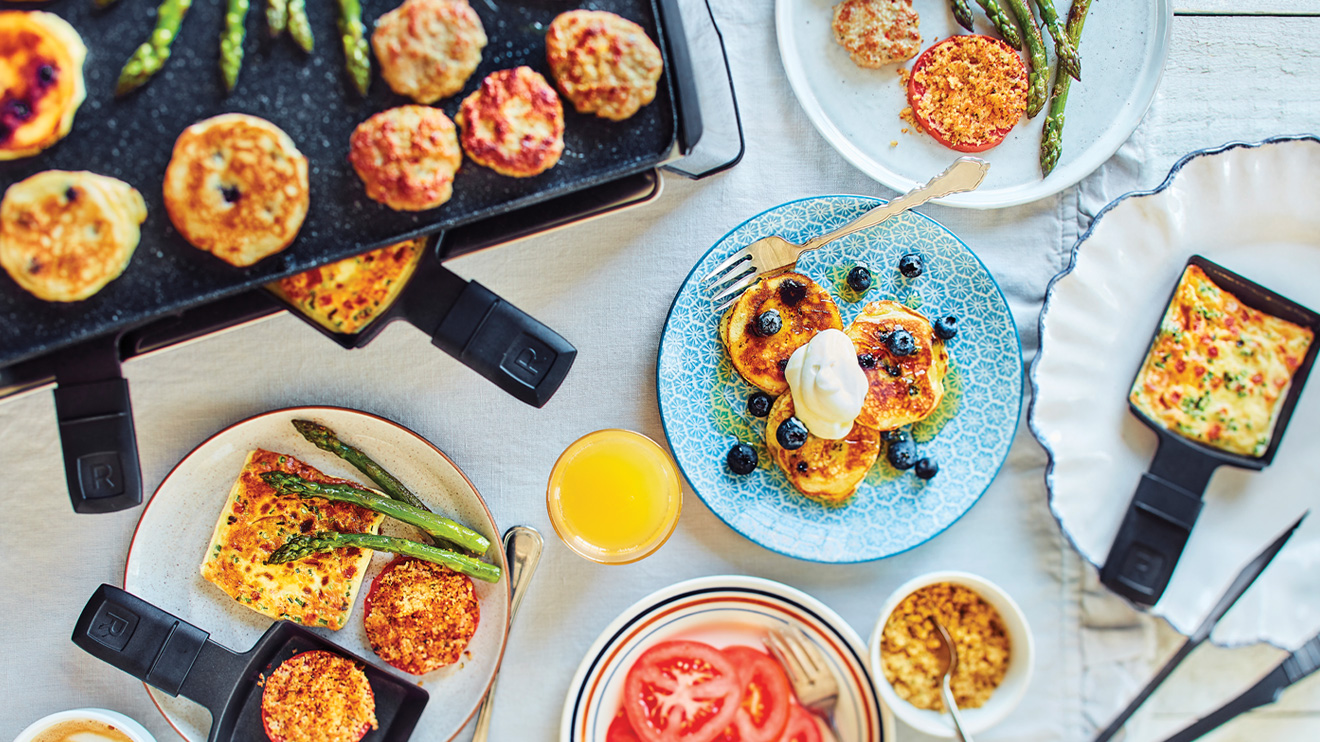 4. Have a drink on your winter patio
If space allows it, why not dress warmly and step outside for happy hour? To keep warm, add blankets to your outdoor chairs and whip up some cider or spiced mulled wine in the slow cooker. You'll find some lovely Quebec wines, such as Fraîcheur du fleuve from Seigneurie de Liret in the Capitale-Nationale region, Beau-jus Rouge from Vignoble de La Bauge in the Eastern Townships, or even Le Sieur Rivard from the Le Mas des Patriotes vineyard in Montérégie. Ignore the dropping mercury as you enjoy a glass and a whiff of fresh air!
5. Visit a producer at Below Zero
Just because it's winter doesn't mean that our local producers shut their doors. On the contrary, some stay open year-round and it's possible to purchase their wares at their boutiques, sometimes by appointment. Now's the time to shop local more than ever! Among the essentials: Vergers Lafrance in Saint-Joseph-du-Lac for their apple products, Fromagerie Au Gré des Champs in Saint-Jean-sur-Richelieu for their organic raw milk cheeses, as well as duck-derived products from La Canardière in Carignan. If travelling is impossible, many farms offer delivery. All this is with the goal of discovering the riches of the Quebec terroir, as well as the people who make them shine.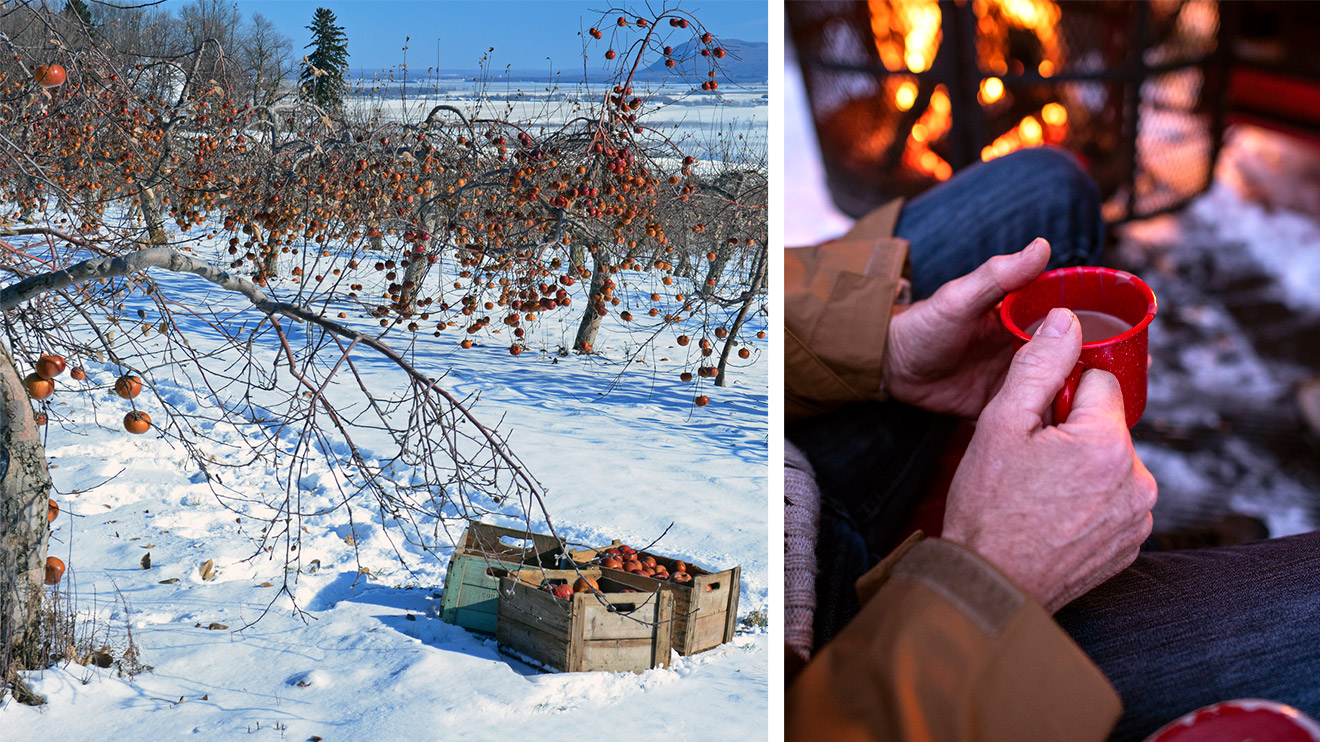 6. Make taffy in the snow after a storm
Whenever there's a snowstorm, the aftermath is magical and we truly can't resist. Find a little corner outside and, on an ice-filled tray or a clean layer of snow, pour the hot syrup you've prepared earlier. Opt for a high-quality syrup like Virgin Mady, aged in a whisky barrel. We love it so much, we even sell it at our three Boutique RICARDO stores! While the majority of maple syrup producers are located in Chaudière-Appalaches, Bas-Saint-Laurent and Gaspésie, it's always possible to find some closer to home. Because if you can't make the trek all the way there, you can find the majority of their products in grocery stores. The perfect post-storm sweetness!
7. Go on a snowshoe hike by torchlight
What we love most about Quebec is that we can try diverse activities in a variety of regions. Snowshoe hiking by torchlight is one of them. You can't put a price on walking through a snow-covered forest, surrounded by a gorgeous landscape underneath the moonlight. Among the places where you can take part in these hikes is Parc national du Mont-Mégantic, which organizes  expeditions. Other locations with lovely terrain for snowshoeing include Parc régional de la Rivière-Nord in Saint-Jérôme, as well as Parc du Domaine Vert in Mirabel. Be sure to bring along a thermos of hot chocolate!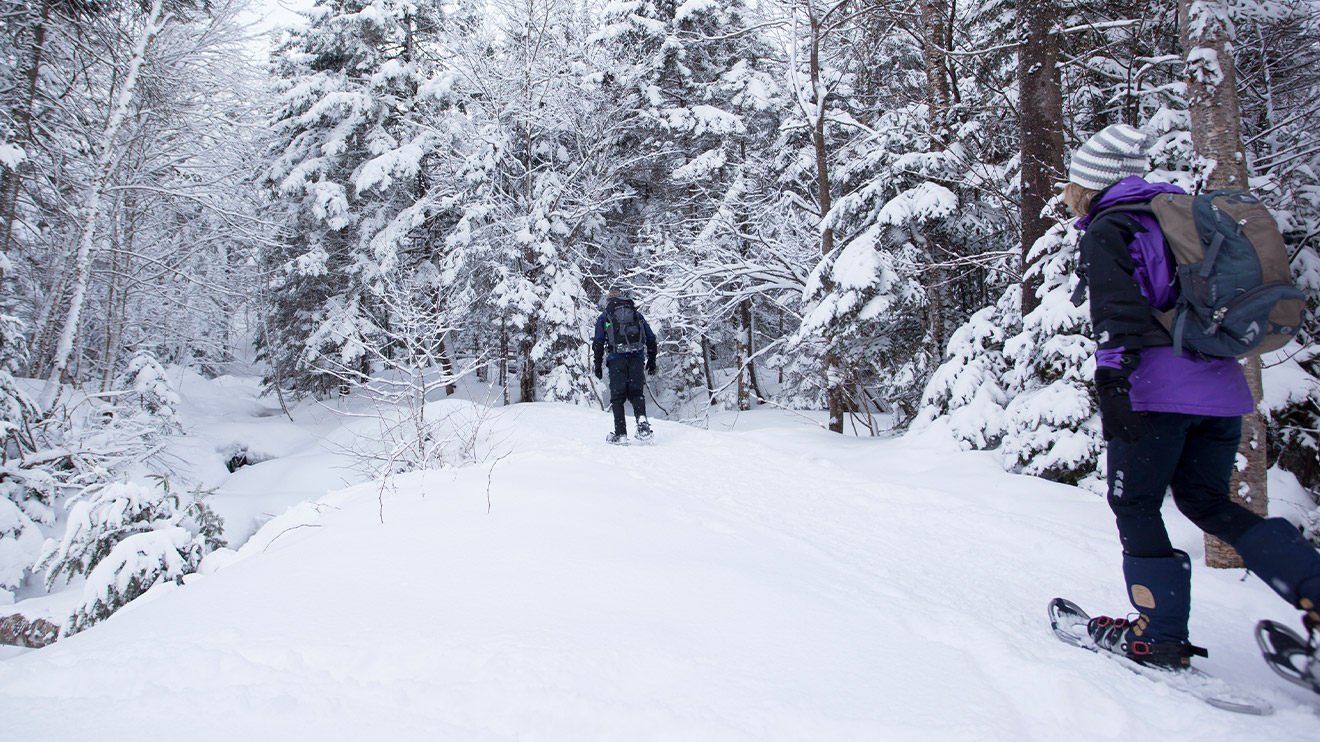 8. Enjoy a cocktail in a yurt
For an extraordinary experience, try a yurt, those traditional tents used by certain nomadic groups. You can find some within the Sépaq network, in all four corners of the province! We can't help but think of those at Domaine Les Côteaux Missisquoi in Saint-Étienne-de-Bolton in the Eastern Townships, as well as at Parc national du Bic in Bas-Saint-Laurent. After a stroll exploring the surroundings, you can retreat to your yurt and prepare a tasty cocktail, then cozy up to a wood stove! Guaranteed comfort, with gorgeous landscapes and a change of scenery.
9. Cross-country skiing on the streets after a storm
Do like our colleagues last year who, after a major storm, took to the streets of Saint-Lambert with their cross-country skis! While many cities offer easily accessible trails, you can also try heading out into nature, for example, Parc national du Cap-Saint-Jacques with its gorgeous paths, Maisonneuve Park in east Montreal, or even Parc national du Mont-Saint-Bruno, which has tens of kilometres of well-maintained trails criss-crossing through it. Head on over right after a big snowfall in order to get the most out of it. Be sure to pack a snack to enjoy on the path, while listening to the chirping of the birds.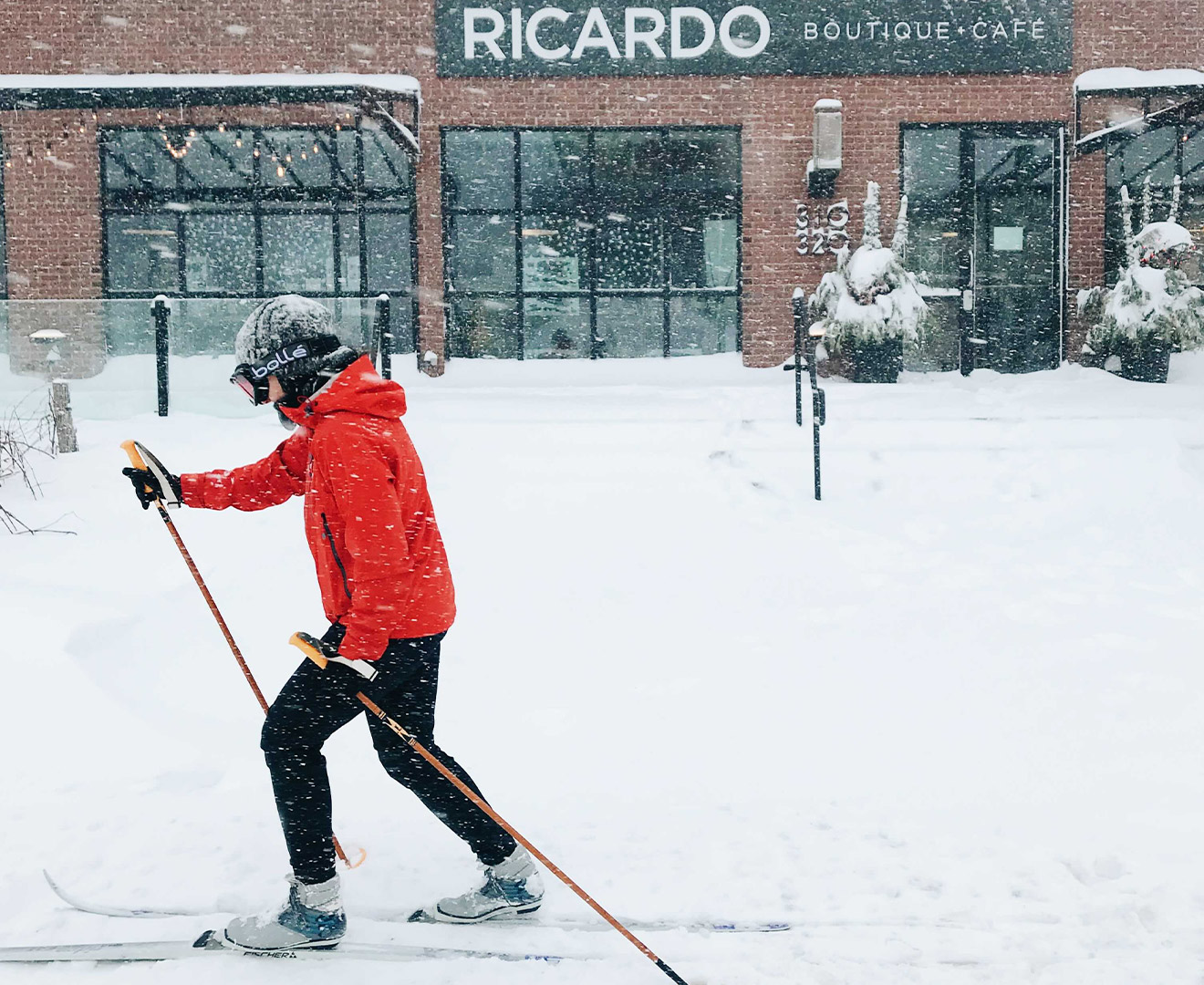 10. Gaze at the stars, covered by three layers of blankets in the snow
Winter is the best time to look up at the stars. In the city, it may be slightly difficult to spot them. In rural areas, however, away from all the light pollution, you'll have better luck. Find a nearby enchanting site where you can observe them, nestled in your sleeping bag! It is said that Orion will even be the star of this winter, as it is one of the brightest constellations! This is an event that will surely amaze. This winter, with travel between regions not advised, we can easily find outdoor activities to try closer to home. Quebec is rich in unique attractions and, when bundled up, we're always ready to go play outside!
This article is a collaboration between RICARDO and Québec Tourist Regions.
Photos credits : Loic Lagarde, Jean-François Hamelin, Charles Mercier, Jean-François Bergeron, Gaëlle Leroyer