Monday: Beet and Tofu Deli Sandwich
How about a tasty deli sandwich…minus the meat? Yes, we've swapped the usual cold cuts for sweet, earthy beets and tofu, which take on the red colour of the root vegetable. With crunchy cucumbers, fresh herbs and a creamy dressing, it's the perfect recipe for when you're craving a sandwich for dinner but want something a little different!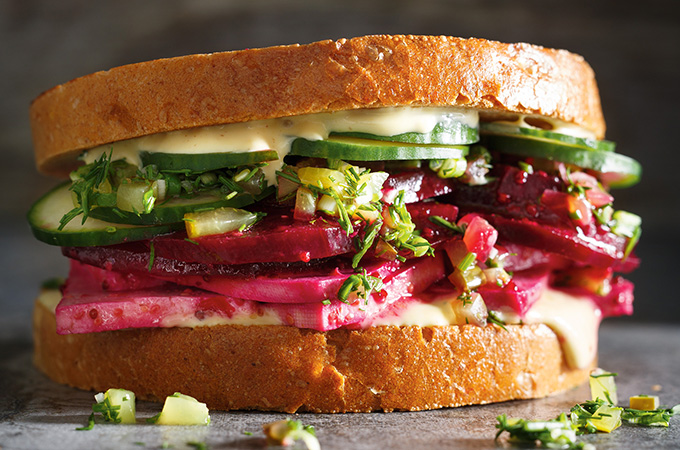 Tuesday: Baked Almond-Crusted Chicken with Carrot Purée
Looking for a weeknight chicken recipe that the whole family will enjoy? Crispy sheet-pan chicken is a must, especially when paired with a colourful carrot purée. (Yes, the kids are sure to eat it!) Served with an apricot dipping sauce, it'll quickly become a favourite in your household.
Wednesday: Braised Cabbage with Sausage and Sweet Potato
Cabbage with sausage is a classic combination, and the addition of sweet potato brings some sweetness and starchiness to it. Quick and easy to make, and all in one pot, it's the perfect cozy dish for those cold fall evenings.
Thursday: Baked Salmon with Lemony Kohlrabi Slaw
Kohlrabi is a root vegetable best enjoyed raw, like in this bright slaw. Served with baked salmon and topped with a tangy sauce, you'll love this weeknight dish so much, you're sure to add it to your regular weeknight rotation.
Friday: Beef Tenderloin with Fall Vegetables and Migneron Cheese
Make Friday night dinner a fancy affair with this filet mignon dish. Top the cut of beef with gooey cheese and serve alongside a medley of carrots and rutabaga, and you've got a meal worthy of your favourite steakhouse!