1. Fresh sauces
For dishes that taste like summer, look no further than seasonal herbs. We love chimichurri, an all-round South American condiment made up of fresh herbs and oil, with a bit of spice. It can be used as a dressing, or as a marinade for meat and vegetables.
Chimichurri Salad with Grilled Vegetables
Even salads are in barbecue mode during the summer. Vegetables like cobs of corn and Nantes carrots are grilled for a smoky taste, and then for an extra layer of texture, add romaine lettuce and some edible flowers. Finally, for a contrast to the crunch, pieces of creamy avocado.
2. Share the moment...and the food!
The barbecue calls for conviviality! It's perfect to make the most of gathering outside with family and friends (according to local guidelines!) without having the cooking be complicated. We like displaying a selection of grilled meats on a board, which can be modified according to everyone's tastes. You can even accompany this dish with the chimichurri sauce noted above.
Argentinean Grilled Meat Platter (Parilla)
In Argentina, they have a massive grilled meat-filled meal served on a board that includes lamb chops, chorizo sausages, beef fillet, blood sausage and pork chops, called parilla. Each meat requires minimum prep and is cooked very quickly. Serve with a salsa criolla, which is a cold sauce with oil, vinegar and vegetables (tomato, pepper, onion).
3. The perfect steak
You can't be a barbecue pro if your steaks aren't cooked perfectly. It is imperative to use a meat thermometer to achieve this. Here are the temperatures you need to know:
RARE: 52°C to 55°C/125°F to 130°F
MEDIUM RARE: 55°C to 60°C/130°F to 140°F
MEDIUM: 65°C to 70°C/150°F to 160°F
WELL DONE: 77°C to 170°C/170°F to 350°F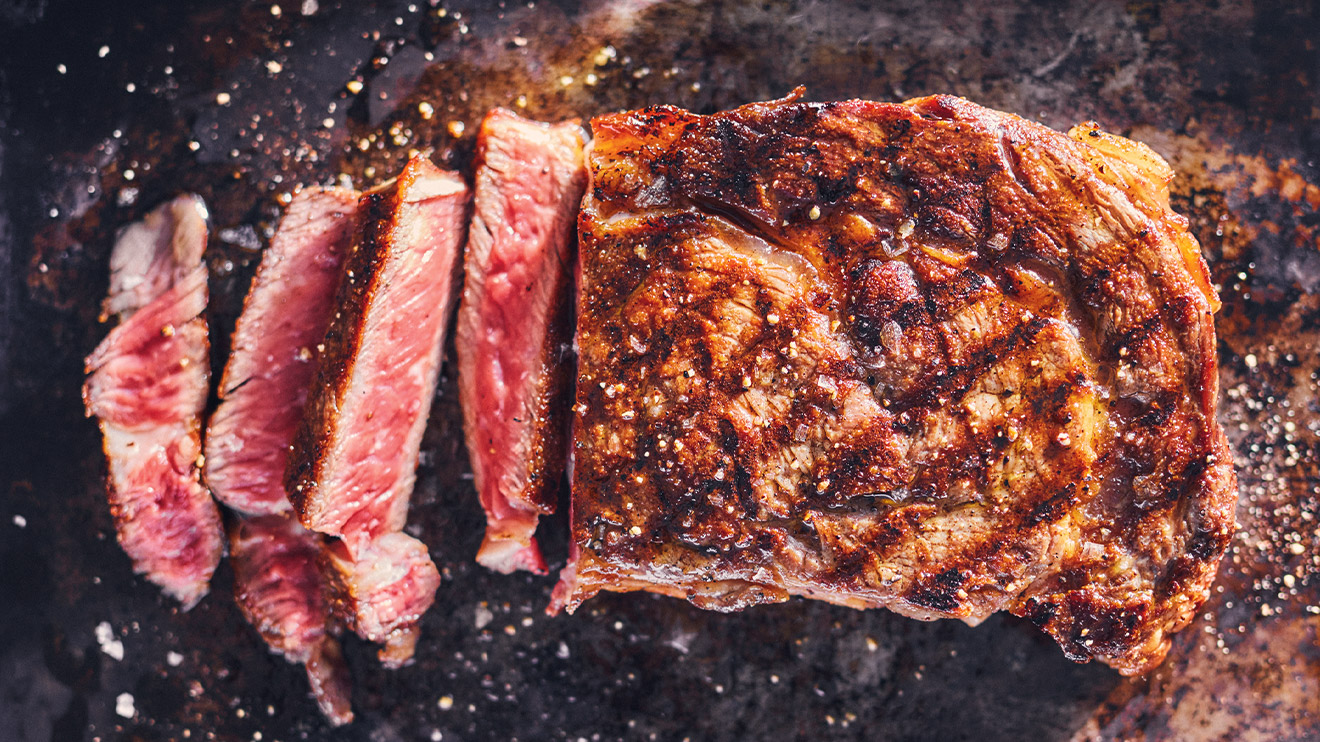 4. Green papillote
To wrap any food item "en papillote" we usually use aluminum foil or parchment paper, but there are also reusable pouches for papillote cooking on the market. We like the Cookina ones, which wash easily after each use.
Curried Cauliflower on the Grill with Coconut-Pomegranate Topping
Cauliflower is great on the barbecue. Cook it in foil (en papillote) so it benefits from the heat and not the flames, then, to finish, place it directly on the grill until it's blackened, to caramelize and add a slight crunch to the surface. Topped with a yogurt and coconut condiment, this recipe is a medley of spectacular textures.
5. Wok to the rescue
Cooking small items on the grill is often a challenge if you don't want to lose anything to the flames. To grill without having to juggle small shrimp, mini peppers or baby potatoes, use a barbecue wok. This hole-filled metal cooking utensil lets the heat go through, all the while keeping your food items safe!
Orzo and Grilled Seafood Salad grillés
For this recipe, we chose a mixture of commercially frozen seafood, which is more economical than using a fresh version. For the sauce, we were inspired by a Sicilian one with olives, capers and lemon (called salmoriglio). Super practical, this orzo salad can be eaten either hot at dinner or cold at lunchtime.
6. Vegetables first
Tasty vegetables are the star of this grilled plate. Think of hearty vegetables like eggplant that can be grilled dry, without having to add oil, then stuffed with a spicy legume mixture, making a complete meal.
Grilled Eggplant Stuffed with Chickpeas
The whole eggplant is put to use in this deliciously spicy recipe. The skin serves as an edible container while the flesh is used in the manner of a Maghreb zaalouk, i.e. an eggplant caviar. To make it a complete meal, mix it with tomatoes, garlic and chickpeas, then garnish with tahini and serve with grilled pita.
7. A well-oiled technique
Oil applied directly to the hot grill is more for maintenance than to prevent food from sticking. That's why it's recommended that you lightly oil your pieces of meat before cooking. But go easy; you don't want a surplus of oil that drips and ignites the flames, as that will burn your skewers.
Beef Keftas with Tabbouleh and Sumac Sauce
Since we can't fly to Turkey, how about preparing one of their specialties? We love to accompany these spicy ground beef skewers with tabbouleh. Some of this salad's ingredients are used in the meat preparation—namely parsley and bulgur—which replaces breadcrumbs and adds moisture.
8. Pizza in the Stone Age
A pizza stone is an essential tool to successfully cook pizzas on the grill. The heat is evenly distributed and makes the pizza dough crispy. As the stone can withstand very high temperatures, there's no danger that it will crack, provided it's placed on the grill before lighting the barbecue.
Smoked Meat Pizza on the Grill
This recipe is a classic favourite of Ricardo's. It is fun to arrange all the smoked meat sandwich ingredients on a pizza, just like at the deli. Add a mixture of crème fraîche and yellow mustard, generously place pieces of smoked meat, and garnish with pickle slices. 
9. Get your game on
Dare to try different meats on the grill! For our burger recipe, we used bison, a lean meat with a slightly less pronounced taste than beef. By mixing it with bacon, we add some fat needed to make the patty juicy, and it's just as delicious with moose, deer or chopped veal. In any case, you can always ask your butcher for advice.
Bison Bacon Burgers with Celery Remoulade
When our Test Kitchen colleague Nicolas goes on a fishing trip his first meal (before he catches his first fish) is a burger made with game meat and bacon! For a rich patty, the celeriac salad is the ideal refreshing garnish.
10. A little spice
This summer sauce is one of Ricardo's favourites, which he discovered after inviting barbecue expert chef Steven Raichlen onto his TV show. Not too spicy and with a beautiful glossy texture, this recipe is perfect for transforming grilled chicken, shrimp, pork or beef into spicy, colourful dishes.
Piri Piri Sauce
This all-round condiment is prepared by mixing hot sauce and a good amount of butter and olive oil with spices, green onions and parsley in a food processor. Don't hesitate to double up as this sauce freezes well, so you can make extra to use on multiple grilling occasions.