Raclette for your raclette!
Raclette is a gourmet dish that originated in the Swiss mountains during the Middle Ages, and it is also a type of cheese that is usually the star of its namesake dish. It's a semi-soft cheese that melts very well and has a strong taste. The cheese also comes from Switzerland, specifically the cantons of Valais, but raclette cheese is also produced more locally, in Quebec.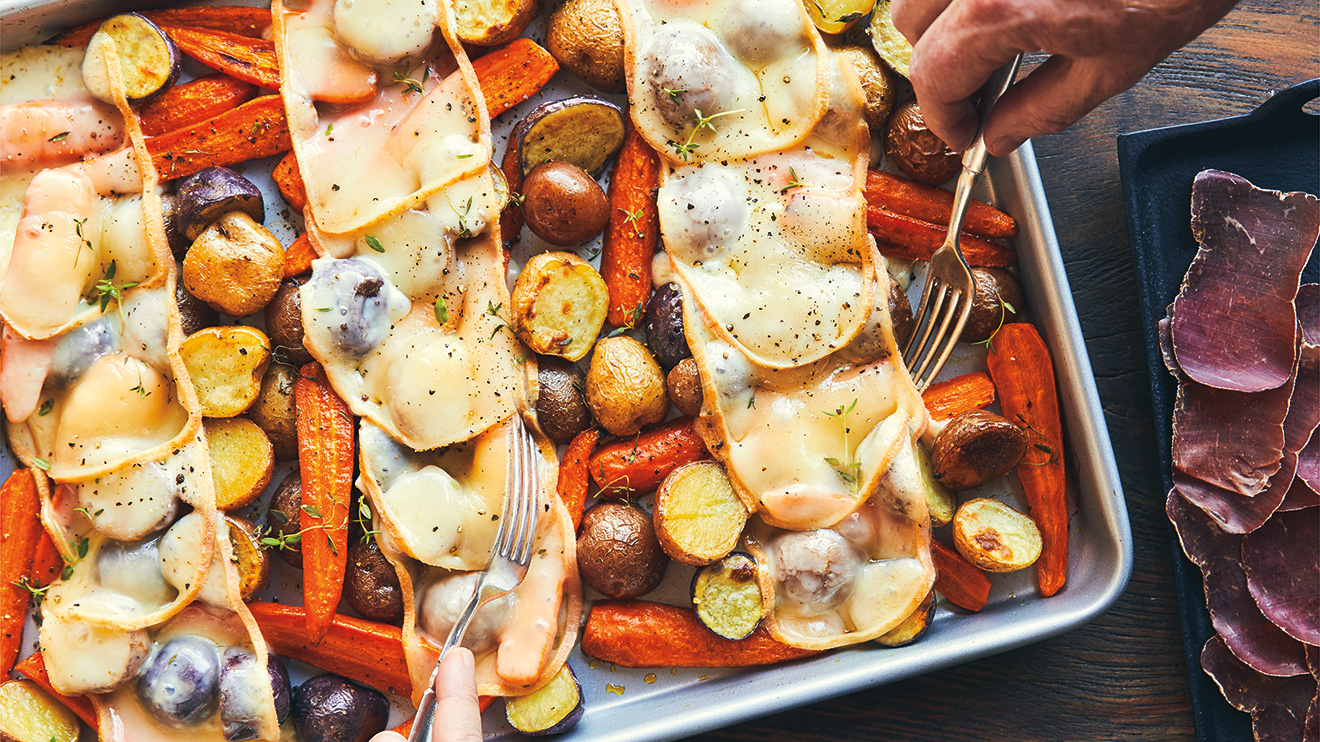 That being said, aged or flavoured cheeses of all kinds can go very well in a raclette. From aged cheddar to smoked Gouda and Camembert, be in control of your preferences when it comes time for a tasty homemade raclette.
RICARDO Electric Raclette Set
The RICARDO electric raclette features a high-performance "The Rock" reversible grill. The ribbed side lets eight people at a time grill their favourite meats, seafood or vegetables, and the flat side is ideal for cooking crepes or eggs. Like the grill, the eight cooking pans included feature a non-stick coating that makes them easy to clean and perfect for melting cheese. A quick and simple way to enjoy a delicious casual meal with family and friends!
The sides
Traditionally, this meal consists of boiled potatoes, cold cuts and various meats, as well as pickled vegetables including cornichons. But remember: Experimentation is welcome! Add game meats or fish and seafood for a land-and-sea theme, or marinated tofu and tempeh for a vegetarian version.
Here at RICARDO, we love to pair everything with vegetables! Blanch the firmer ones and dice the softer ones to allow all the food to cook evenly, both in the pan and on the griddle. Finally, don't forget the sauces for your meats and proteins, bread, as well as nuts, marinades and raw veggies. A green salad is also welcome.
Ideas and quantities
In order to explore the many possibilities, here are a few combinations to try during your next feast. Improvise with what you have on hand.
Classic: raclette cheese, small potatoes, ham, sausages, Bündnerfleisch air-dried meat, pickles, pickled pearl onions and a baguette.
Quebec-style: Gré des Champs cheese, small potatoes, apples, bread.
Italian: mozzarella cheese, prosciutto, salami, cherry tomatoes, sun-dried tomatoes.
Mushroom: semi-soft washed-rind cheese, various sliced mushrooms (white, brown, shiitake, oyster), onions.
Vegetarian: marinated or smoked firm tofu, tempeh or imitation meat, blanched vegetables (asparagus, broccoli, etc.).
Sea: shrimp or scallops, red onions, asparagus, béchamel.
Finally, to surprise your guests, don't hesitate to be original by integrating elements that you normally wouldn't think of for a raclette. Like this raclette with ravioli and cream. Along with the fresh stuffed pasta, cooked al dente, combine raclette cheese, sausage, mushrooms and fresh cream. Delightful!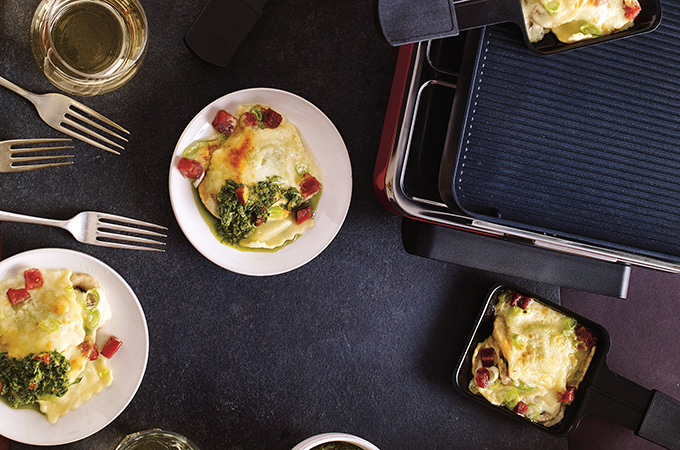 When it comes to quantities, we recommend about 200 g of cheese per person. Don't forget to slice it ahead of time, or simply purchase sliced cheeses! Depending on everyone's appetite, average between 90 g and 150 g of protein per person and about 250 g of vegetables per person, not to mention a few slices of bread (baguette or other).
Zero leftovers, zero waste
Despite all your preparation beforehand, it is quite possible that you'll end up with leftovers at the end of your raclette feast. Use them up in a classic grilled cheese sandwich. Sandwich your excess cheese between two slices of bread, and grill it in a skillet or sandwich press for minimal cleanup.
Following the same principle, simple skewers featuring the previous night's ingredients, cooked in the oven, make it possible not to waste a single piece of food and to avoid washing extra dishes.
Breakfast raclette
If raclette is ideal for dinners spent in good company, it is just as perfect for weekend brunch with friends! You won't believe how easily it lends itself to breakfast with these tasty recipes: small blueberry pancakes, cheddar and chorizo omelette, Provençal-style tomatoes, and maple breakfast sausage patties. There is something for everyone!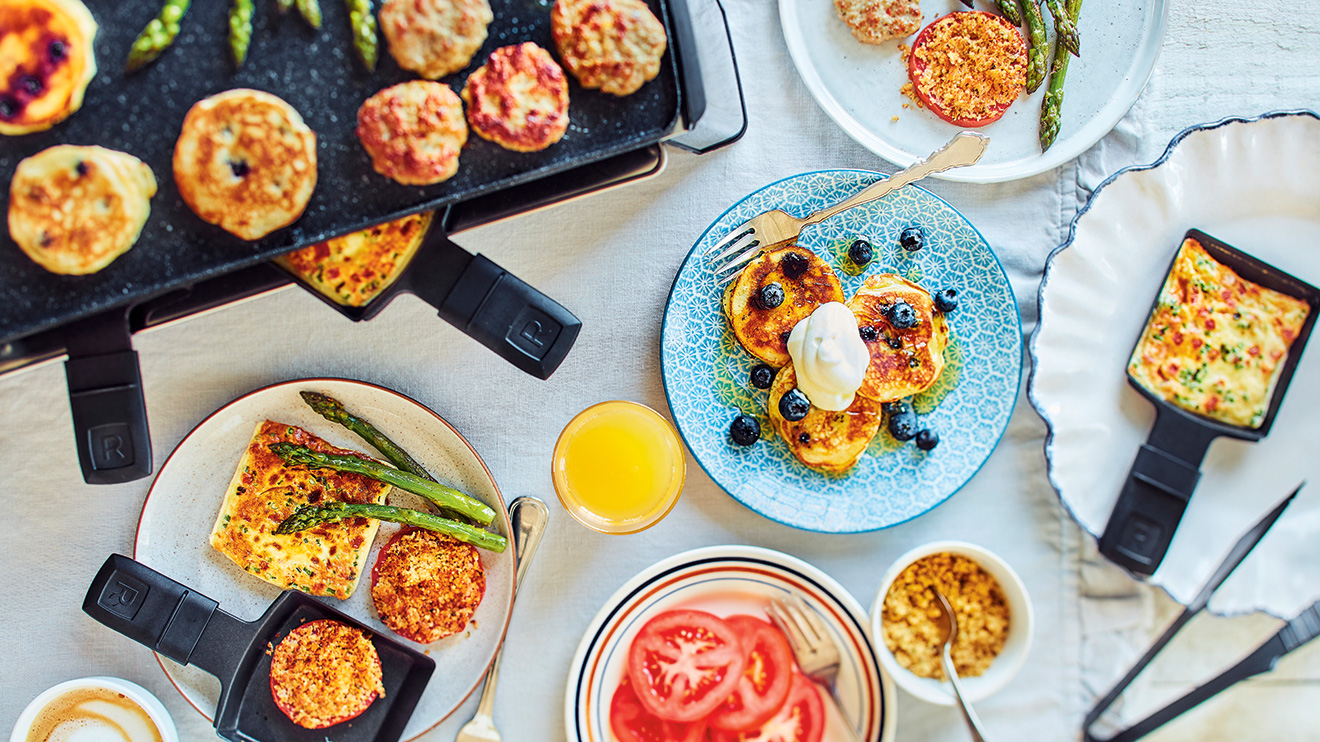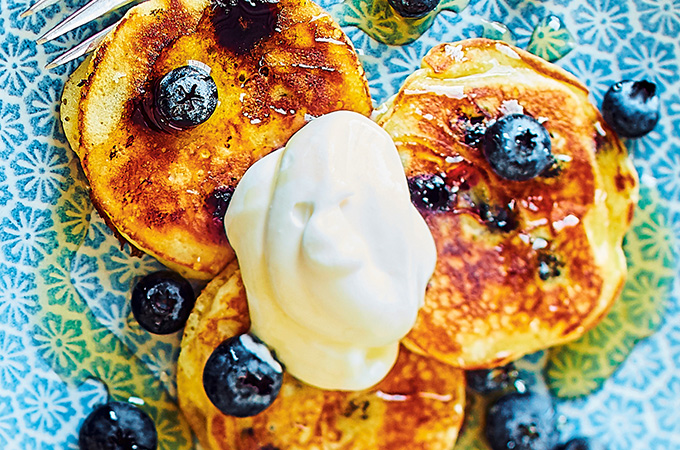 PANCAKES, WAFFLES & CREPES