1. Mediterranean
Purple eggplant is irreplaceable in Greek moussaka, ratatouille, au gratin or in Italien caponata. It even shows up in Middle Eastern dips, such as baba ghanouj.
2. Bitter
There's no need to salt and drain the sweeter varieties that are grown today. When in doubt, you can remove the skin from a large eggplant—that's where the bitterness sometimes lurks.
3. Body Diversity
It is the small white eggplant, round like an egg, that gave this fruit the name "eggplant."
4. Spongy
Eggplant flesh easily absorbs oil in a skillet. To avoid having a dish that is too greasy, put slices brushed with olive oil in the oven at 350°F (175°C) or on the barbecue until tender. You can also degorge an eggplant beforehand to slightly reduce its sponginess. Sprinkle slices with salt and wait 30 minutes before rinsing them with water and drying with a clean tea towel.
5. Asian
Totally different, the Asian eggplant sold in some fruit stores or international groceries varies from pale purple to white-striped green. Pea eggplant, in small clusters, adds a bit of a sour/bitter flavour to rich coconut-milk curry.
6. Marinated
Sweet or spicy, pickled eggplant strips can be served on grilled bread or an antipasti plate. They're the ideal condiment for livening up a sandwich or salad. You can find them in jars at the supermarket and sometimes in bulk in Italian groceries.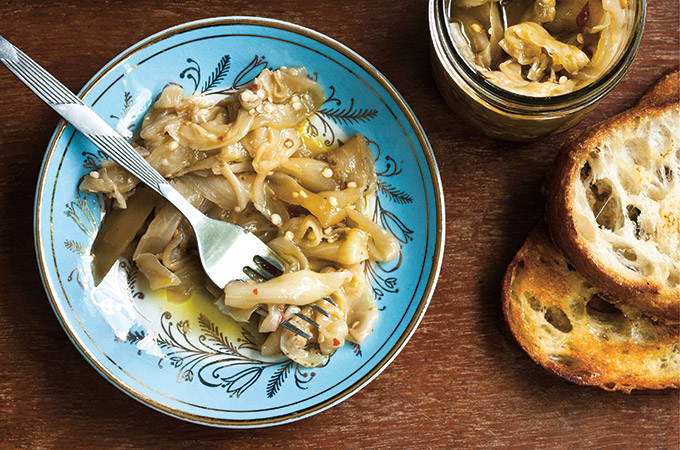 7. Surprising
Cooked as a vegetable, the eggplant is actually a fruit that contains the seeds of the plant. In the Naples region, Italians make a surprising dessert: chocolate eggplant! These melanzane al cioccolato are thin slices of fried eggplant dredged in sugar and cacao, then garnished with chocolate ganache, sometimes mixed with ricotta or mascarpone. Mamma mia!
8. Malleable
To save time and also thumb your nose at fat, cut and peel an eggplant into slices or large cubes and add a dash of oil, salt, garlic and your preferred herbs. Cook for 5 to 10 minutes, depending on your microwave's power, before adding cheese and broiling or transforming into eggplant caviar.
9. Variable
Eggplant has ar mild taste and can become rubbery if not properly cooked, turn brown if exposed to the cold, or have bitter skin and seeds if it is picked too young or too ripe… but what a delicacy when stuffed, fried, sautéed, grilled or rolled. If you've had a bad experience with eggplant, give it a second chance with this roasted vegetable lasagna recipe.
10. Intimidating
If your kids find the dark skin unappetizing, peel the eggplant, cut it into small pieces and sauté lightly in olive oil. Add a good tomato sauce and serve on a short pasta with Parmesan and bocconcini. The recipe for Sicilian-style gemelli has won over my family.