On the savoury side
Popular comfort classics tend to lean towards savoury, and these two brand new items are guaranteed to please—and relieve some of the holiday kitchen stress along the way!
Stuffed Turkey Roast with Pears and Cranberries
Christmas just wouldn't be the same without the traditional turkey. We take a deep dive into the season with this certified Aliments du Québec roast turkey breast, seasoned, stuffed and ready to go from freezer to oven. After a little more than two hours of cooking time, unveil a juicy, tender piece of meat, which you can serve with green vegetables, potatoes and gravy. It's a festive, feel-good meal.
"For 15 years, a stuffed turkey roast has been a classic in our home, and I hope it will be one in your home, too." — Ricardo
Meatball Stew
We had fun reinventing this mainstay by refining it just a bit. This meatball stew is a happy mix between traditional and modern, and above all, is warm and comforting. The meatballs are made with pulled pork, combined with baby potatoes and coated in a delicious sauce. This festive dish is part of our fresh family-style meal offerings, available exclusively for the holiday season. The whole family will be asking for more!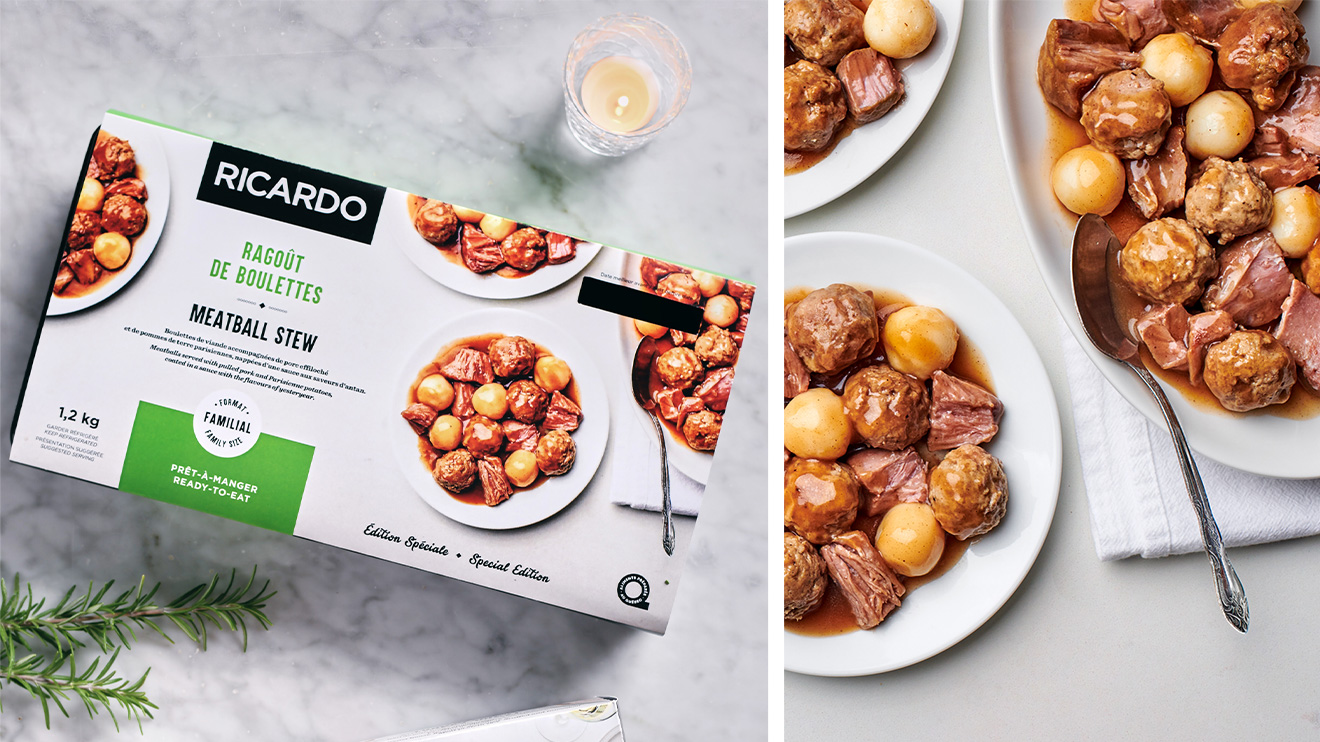 On the sweet side
These two sweet treats, which each yield 8 to 10 servings, are sure to bring a little magic to the table!
Raspberry Yule Log
This yule log is perfect for a deliciously sweet evening. Made with a rolled cookie dough, vanilla cream and raspberry puree, it's sure to steal the show. Light, celebratory (and preservative-free!), it's the ideal no-stress dessert. We bet it becomes your new holiday classic!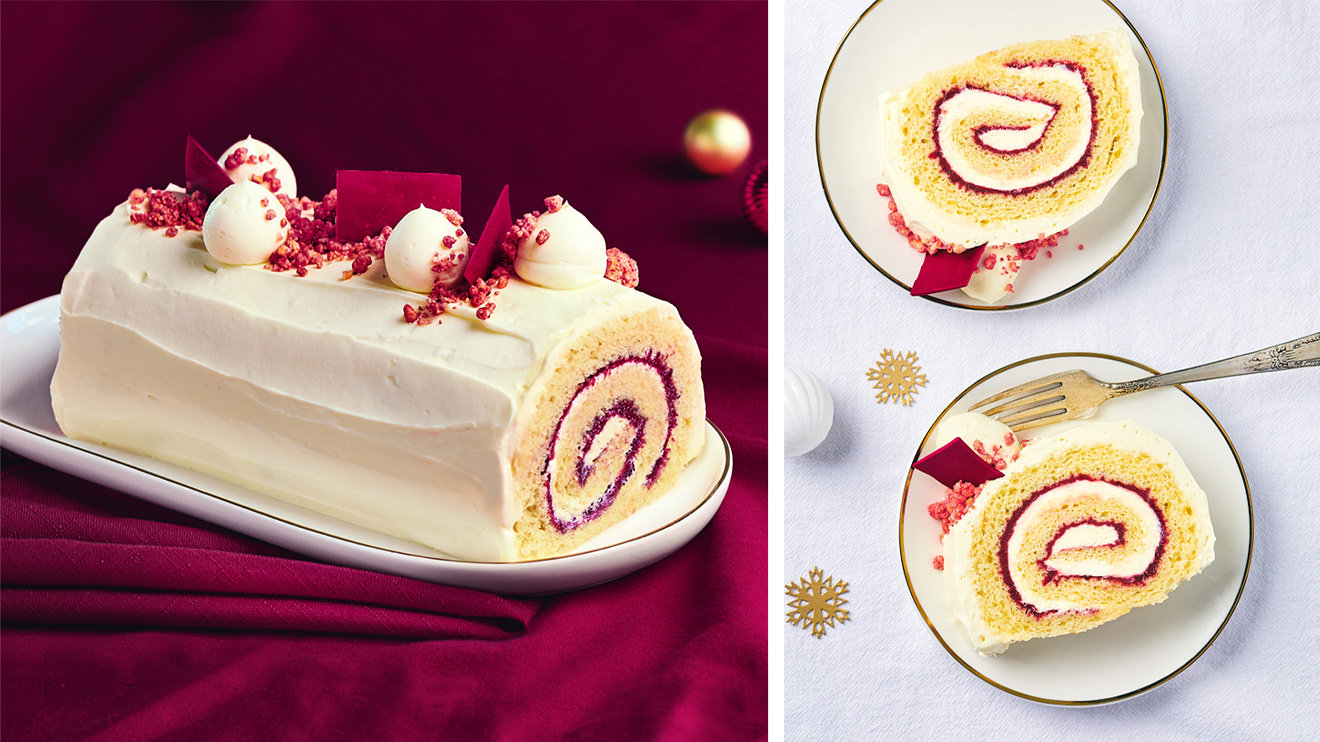 "For this yule log, we're proud to use honeycomb, our own boreal vanilla, which pairs with the sweetness of white chocolate and the acidity of the raspberry filling." — Isabelle Deschamps Plante, chef and pastry chef at Café RICARDO
Triple Chocolate Yule Log
This is our ultimate triple chocolate log, back in grocery stores this year! This dessert, with its soft chocolate and delicate cream, is enough to bring you to your knees. If you don't have the time to make it yourself at home, just pick up this ready-made version and prepare to wow the (small) crowd with a three-chocolate wonder!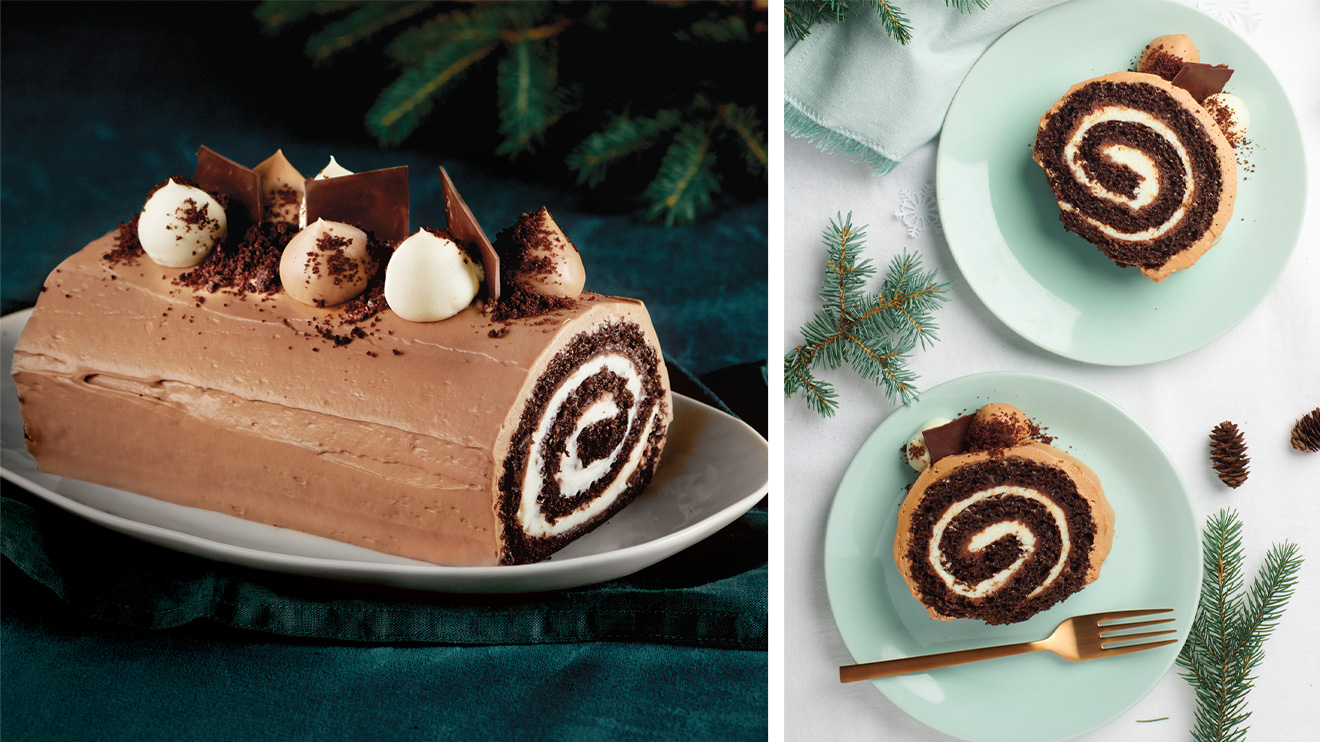 Sheet Cakes
After the success of our RICARDO brand grocery store round cakes, our fans and readers asked that our popular Red Velvet and Carrot Cake come in a more convenient format. Well, you asked and we delivered—with sheet cakes! Always available at Café RICARDO, these cakes are now in grocery stores. It's hard not to dive right in—even Ricardo confesses, "You'll want to dip your spoon in it and eat the cake straight from the tray."
These are just a few great ways to reimagine your holiday meal with classic dishes, from main course to dessert. These valuable products, exclusively in IGA grocery stores across Quebec, will allow you to continue your festive traditions, while simplifying life in the kitchen.