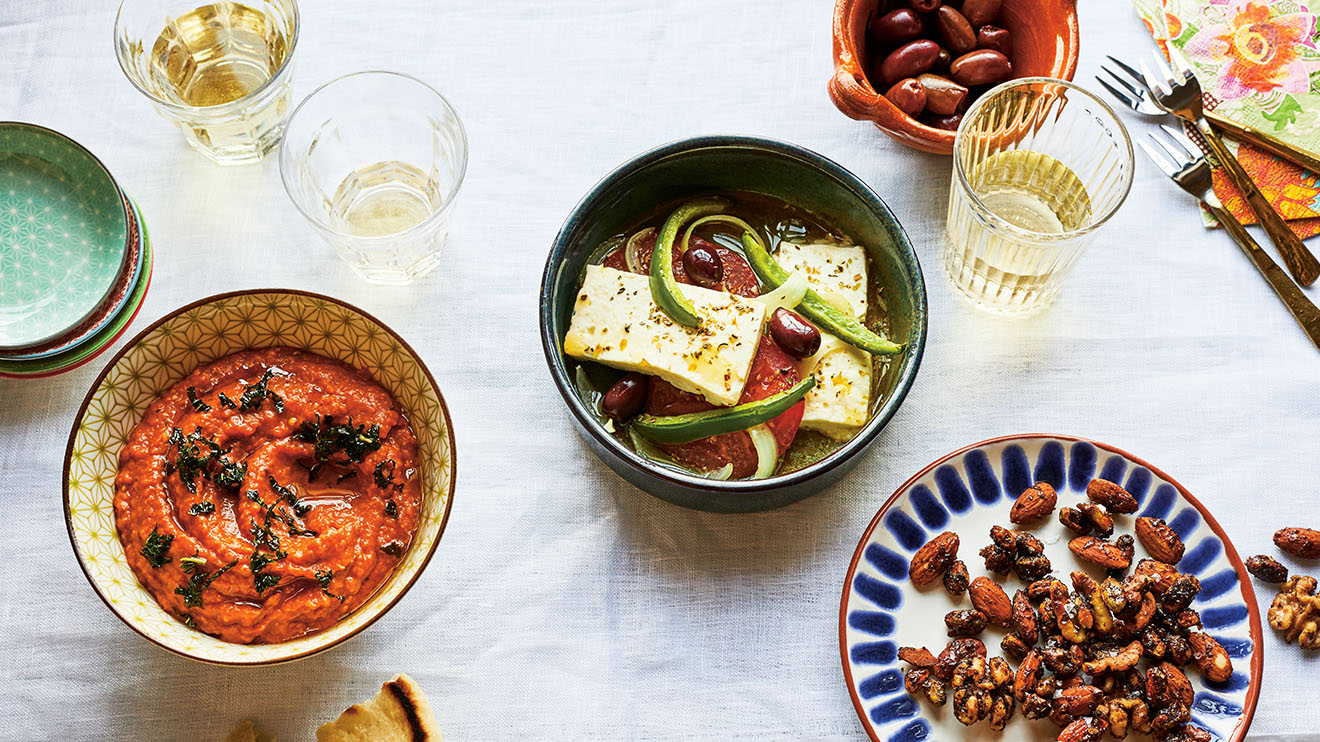 1. Baked Feta
Think of this dish as a warm Greek salad: tomatoes, bell peppers, olives and feta cheese all roasted together in cold-pressed olive oil, just waiting to get loaded onto fresh pita. We used green peppers here for a bright crunch that makes magic with the fragrant oil. Cooking the feta concentrates its salty taste, so sample it beforehand—you may want to mellow it by soaking it in water first.
2. Eggplant and Tomato Zaalouk Salad
Inspired by Moroccan zaalouk, this cooked eggplant and tomato salad differs from the better-known baba ghanouj with its zingy colour and spicy punch courtesy of paprika, harissa, cumin and lemon. Don't be afraid to let the eggplant brown—that's what makes it so sweet and meltingly tender. Top this salad with mint oil to instantly go gourmet.
3. Roasted Nuts with Honey and Sumac
Salty, sweet, spicy, crunchy… There isn't a note these nuts don't hit. They're even tart thanks to the use of sumac, a spice we love to sprinkle on fattoush salad. The deep-red powder is made from ground sumac fruit and has a tangy, lemony flavour. Letting the nuts, spices (including cumin and cayenne) and honey mingle in the pan for a minute helps create an even coating so no nut is left out.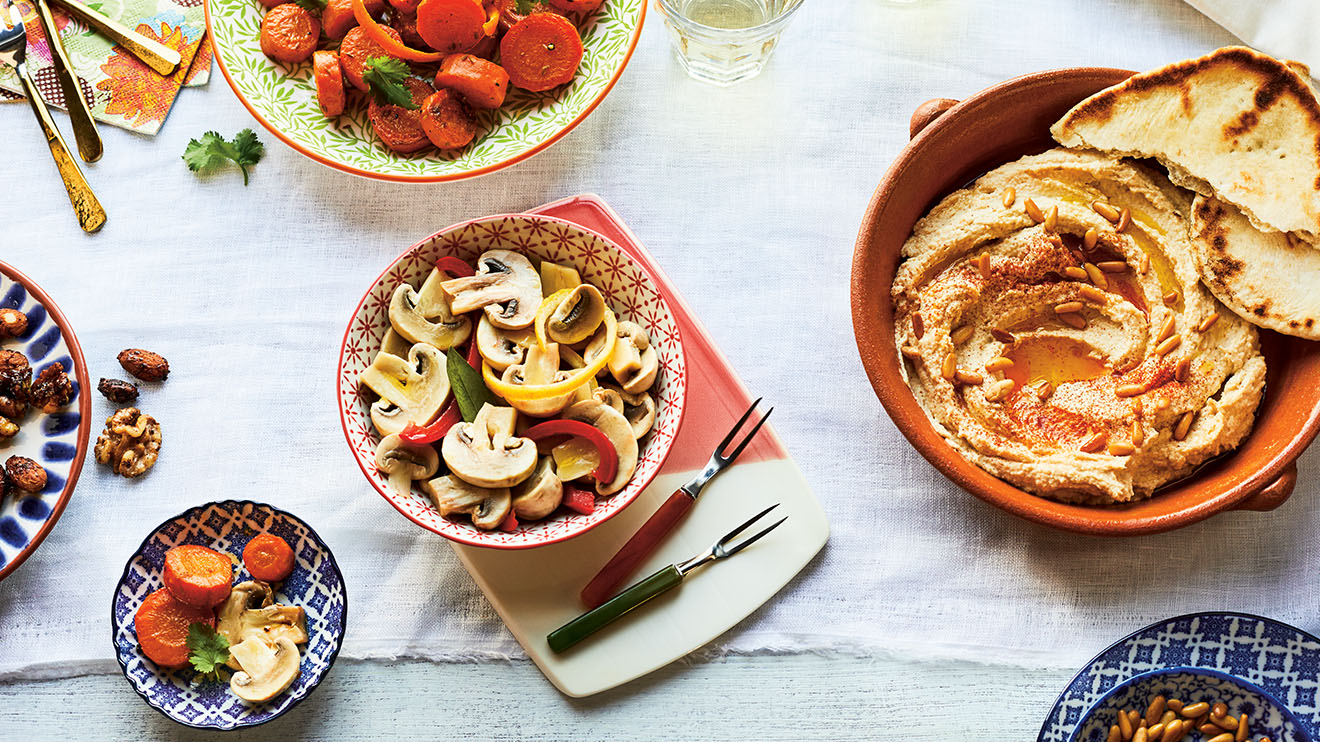 4. Marinated Mushrooms
All party spreads need at least one kind of pickles, and these can be whipped up in a flash. By cutting the mushrooms nice and thick, you keep them in toothsome chunks that sit pretty on a tear of fresh pita. Make this recipe the morning of party day, or even a couple of days before. The Provençal twist, with red bell pepper, fresh thyme, coriander seeds and white wine vinegar, brings a ray of French sunshine into the mix.
5. Carrots and Cumin
Delicious served warm, or cold the next day, this cooked carrot salad highlights the veggie's sweet nature by concentrating it during caramelization. As with our marinated mushrooms, thick slices help keep each morsel bite-worthy even after they've reduced during baking. Orange zest comes in to add a fruity flair, but the sprinkle of cumin (seconded by cayenne) is definitely what sets the tone.
6. Hummus with Pine Nuts
This simple recipe uses ingredients you likely have on hand. The je ne sais quoi that makes this hummus so creamy and addictive is twofold: First, we poach the garlic for seven minutes before puréeing it and adding it to our chickpea mix, which takes away its bite but none of its flavour. Second, we pass the hummus through a sieve, ensuring the smoothest of textures.
7. Beef Kibbeh
These eastern-Mediterranean-inspired portable meat pockets with a crunchy crust and a moist, fragrant stuffing pop with a simple squeeze of lemon. The secret to their authentic flavour? A mix of spices that are common in Middle Eastern dishes, from keftas to pilafs. We tried baking our kibbeh, but that didn't do justice to the classic deep-fried version, which crisps up the bulgur.
8. Homemade Pita Bread
Making your own pita is surprisingly simple—and fast, with only an hour to wait while the dough rises. Even more astonishing is the taste (and smell!) of these fluffy, lightly aromatic aniseed flatbreads while still warm. Much like when you're making pancakes, the pan needs to reach just the right temperature and oil quotient before the pitas come out perfect, so expect to have to sacrifice the first one or two.
9. Gluten-Free Pita Bread
Looking for a gluten-free pita option? We've got you covered! Chewy, supple and soft, this version is great for snacking, wrapping, dunking or dipping. Thanks to a simple base of cornstarch and water, these pitas retain the elasticity factor—the ultimate feat for all gluten-free bakers.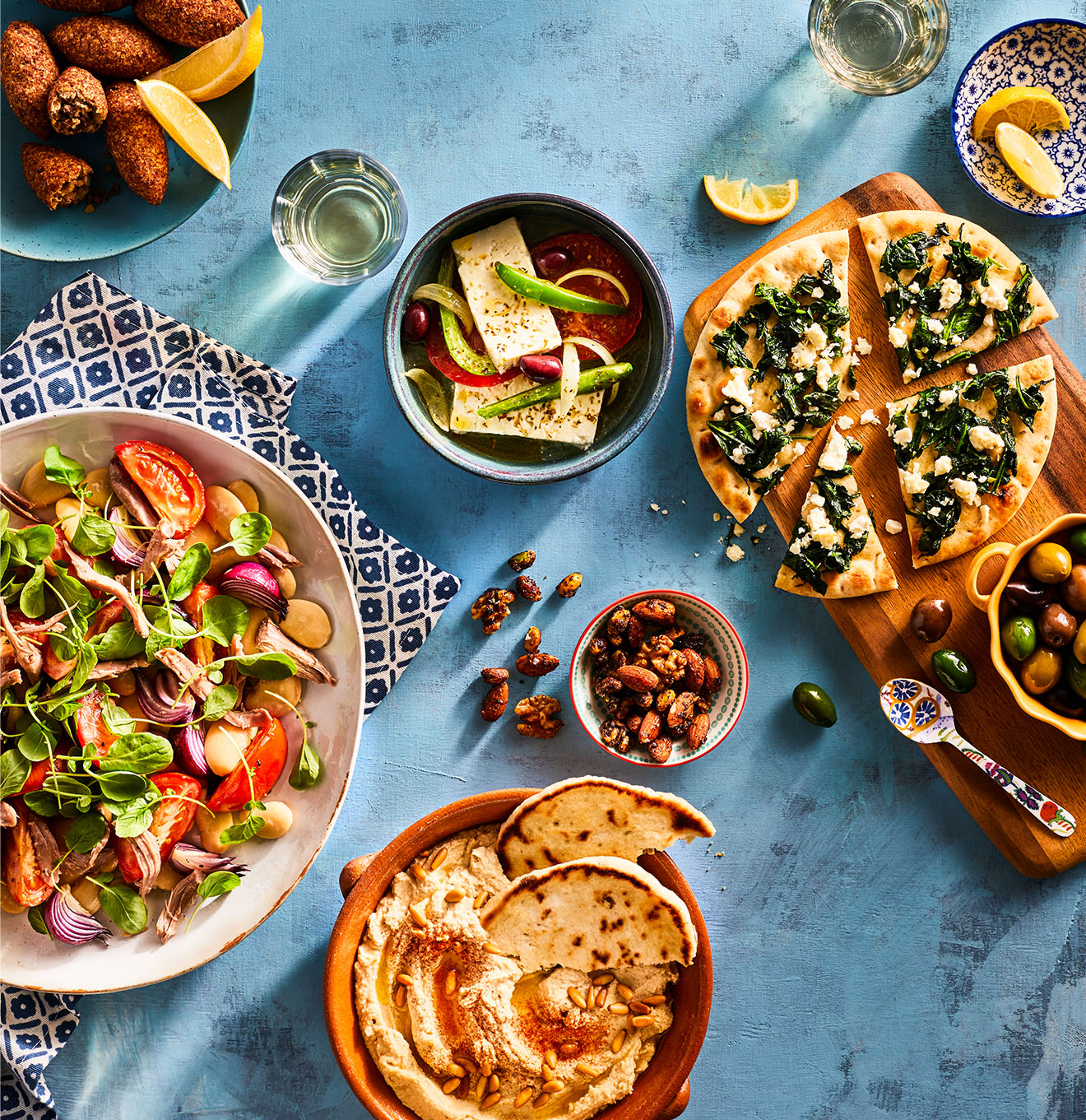 10. Introducing the perfect recipe for turning pita bread into the ultimate vehicle for a pizza. After softening the spinach leaves with garlic and oregano, drain and then spread them on the bread with the crumbled feta. To really wow everyone with your presentation, put it on a wood serving board with lemon quarters to add a pop of taste—and colour!